Some California school districts are making masks optional as the state looks toward an endemic future, but the statewide mask mandate is still enough for one school to keep a paraeducator out of the classroom.
On Tuesday night, the Board of Trustees upheld the termination of Emily Mahoney, a paraeducator in the Lodi Unified School District, who started refusing to wear a mask in October. The fight against mask-wearing has intensified as Omicron appears to be waning and some California school districts have already started lifting mandates ahead of the state's February 28 deadline for reevaluating the measure.
Mahoney was suspended from school on November 15 because of her refusal to wear a mask. She told KGTV ahead of Tuesday's meeting that she expected "without a doubt" for the Board of Trustees to uphold her termination, but stood by her decision to buck the mask requirements.
"It's not fair to them [the students] that they are not being properly educated because my face is covered, and also I believe in Jesus and it's my own conviction that I not wear a mask anymore," Mahoney told KGTV.
Newsweek reached out to the Lodi Unified School District for comment but did not receive a response in time for publication.
California lifted its mask mandate for fully vaccinated people for everyone, except for students and school staff members. It's prompted many schools to send students home if they won't wear a mask while in class, but some districts are defying the mandate and adopting mask-optional policies.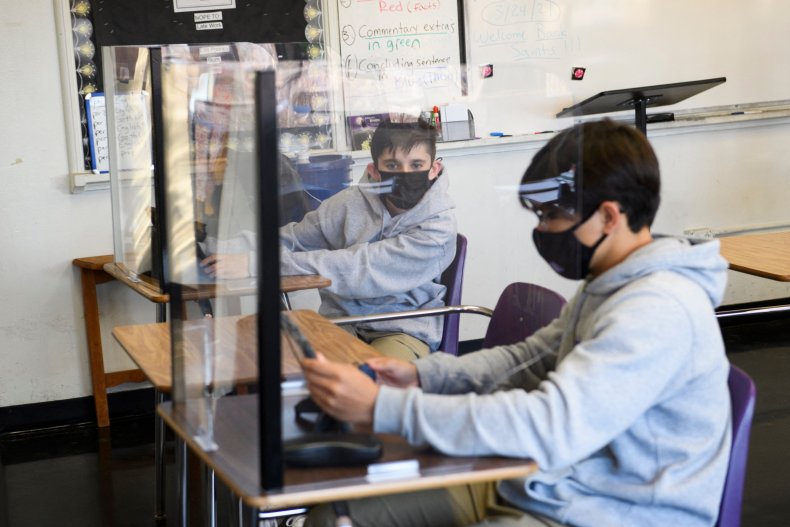 In a letter to families and staff, John Becker, superintendent of the Roseville Joint Union High School District, said the school board passed a resolution on February 10 to end masking requirements, according to EdSource. School Board President Scott Huber said the district was taking the "initiative to allow students and families to decide which option is best for them."
El Dorado Union High School District said in a statement that it would encourage students to wear masks, but wouldn't kick them off campus if they decided not to comply.
California is expecting to lift the mask mandate for schools on February 28. California Health and Human Services Secretary Dr. Mark Ghaly acknowledged during a press conference that when the mandate is lifted, schools and local health authorities can decide to implement their own mask requirements. However, since the mandate is still in effect, they're expected to abide by it.
Some health officials have argued that lifting COVID-19 restrictions could lead to a spike in cases, hospitalizations and deaths. Dr. Michael Ryan, executive director of the World Health Organization's Emergencies Programme, advocated against applying an all-or-nothing mentality to public health measures, warning that it's difficult to implement measures once they've been lifted.
Dr. Anthony Fauci, director of the National Institute of Allergy and Infectious Diseases (NIAID), expressed similar concerns that America wouldn't take kindly to more lockdowns because the "mood of the country" has changed.
However, others argue that restrictions aren't being lifted quickly enough. California's decision to lift mask mandates for vaccinated people with the exclusion of school staff and students prompted protests.
"The numbers don't even make sense to do this to our children anymore so it really should just be a choice," Sonjia Shaw, a California parent told KABC.
Carli Glock, a Lodi district parent, went to the Board of Trustees meeting on Tuesday to stick up for Mahoney. She told KGTV that Mahoney is "so brave' for standing up for her convictions.