Though most parents want to encourage their kids to get books, one parent is being dragged on Reddit for not letting their daughter use her birthday money on an expensive title.
Writing for the popular subreddit r/AmITheA**hole, u/Throwaway_18995 earned over 3,200 upvotes and 2,800 comments for their post, "[Am I the A**hole] for not buying my daughter the book she wanted?"
The original poster (OP) says that their 12-year-old was given birthday money by her stepmom, and is a big fan of Lin-Manuel Miranda's Hamilton. The OP and their daughter were out and about and passed a bookstore, and they asked if she wanted to stop in. She declined, saying she didn't have any particular book in mind she wanted.
OP suggested seeing if there was a book related to Hamilton. Their daughter didn't know if one existed so the two did a bit of research and discovered Hamilton: The Revolution by Miranda. They stopped in to see if the store had the title, but unfortunately it was out of stock—but a new shipment was due in about a month.
"I asked my daughter if she was fine with waiting, or wanted a different book as i saw percy jackson on sale and heard it was similar too harry potter," u/Throwaway_18995 wrote.
The young girl said she could wait, so the OP asked how much the book cost. The list price is $50, according to Barnes and Noble, which the OP balked at, calling it "expensive." They said it would use up all the birthday money, and instead, she should wait until November, when her aunt was coming, as she "enjoys spoiling the kids in the family."
But again, the daughter said she didn't want to wait and didn't mind that it used all the birthday money, as there wasn't anything else that she particularly wanted. The OP still refused, however.
"Since its so expensive its probably really thick. And i dont wanna spend all her birthday money on a book she'll probably only spend 1 week reading, Because she can read 400 page stories in 3 days time," u/Throwaway_18995 wrote.
The title has 288 pages, but is an large-format coffee-table book with lots of color photos, according to Barnes and Noble. The book is described as including the script for the show, along with behind-the-scenes information, all the lyrics—complete with historical footnotes, plus information on the cast and more.
The poster told their daughter the reasoning behind not letting her "waste" her birthday money, especially as the aunt can still get the book. When asked about libraries, the OP clarified in a comment that they were unable to locate any libraries nearby, only bookstores.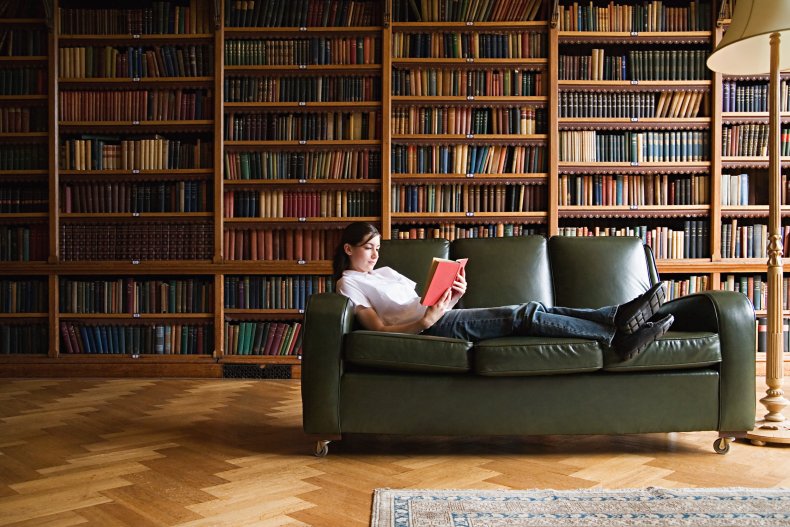 The amount of control a parent should have over their child's money is a controversial topic in the parenting world. In a piece written in April, Matt Becker, founder of Mom and Dad Money, says that his children are currently under 2 years old, so he plans to invest the money given them as gifts into a college fund. However, once they become older, he'll let them handle their birthday money as they see fit.
Financier Suze Orman agrees that while advice should be given, a child should be able to spend birthday money how they want once they turn 10. She says that forcing a child to save birthday money is counterproductive.
"Rather than see the value of saving, they get stuck on how they can't spend the money that is supposedly theirs. It sends all the wrong messages," Orman wrote.
Instead, she says that parents should let the kid decide, but first, the parent should walk through three options: saving for a "future goal", spending it or making a donation to charity. Once walked through the options, the kid will be able to properly decide which of the three they want to do—or, of course, any mixture of the options.
"All these are important. I'd rather see a child spend some of their money than put 100% in savings or give it all away. The goal here is to teach your child how to handle money, and all three options have a place in our lives," Orman adds.
Reddit widely agreed that the OP was making the wrong decision.
"[You're the A**hole]. It's a book for god's sake," u/Never_Toujours wrote in the top-rated post with 7,300 upvotes.
"I agree with [You're the A**hole]. Buy the book. When she asks for another book - take her to the library to get others! The library is super fun and somehow everyone forgets it exists," u/sparksgirl1223 agreed.
"my kids are obsessed with the libby app. They can read/listen to ALLLL the books and we never have to go to the library," u/JemBot5000 suggested.
"[You're the A**hole]. I have books that I've read numerous times. Books aren't a 'one and done'thing. Well, some books are, sure. But even so, its her birthday. It's her birthday money. You asked. She answered," u/Frequent_Inevitable wrote, adding that they would buy the book for the daughter if the OP reached out. "Message me. Tell her it's from... the one-time-only Birthday fairy that only comes on the 13th birthday and no other birthdays ever. Or something."
"Books are never a waste of money. Especially a book of historical significance. My favorite book at 13 was one I read many times over," u/ramalady wrote. "Reading improves vocabulary. They expand the mind. I love books where the villain is so well hidden or the ending is so unexpected. They really keep you guessing and sharpens your mind."
"Especially after she basically talked her daughter into getting the book. Then she just backs out. Why offer to just pull out at the last minute. [By the way,] it was her money. [You're the A**hole]," u/No_War_4429 wrote.
"It's even worse than that. Daughter didn't want anything, so OP suggested the Hamilton book abs for daughter interested in it. OP even researched it. Then OP took her back to the bookstore to see if they had it, only to decide then that buying it was a bad idea," u/itsazoo2011 wrote. "OP— don't dangle carrots in front of a child if you're not prepared to actually let them have the carrot."
"Kids these days, blowing all their money on books about significant historical figures. The horror," u/rpsls wrote.
Newsweek reached out to u/Throwaway_18995 for comment.