Paris Jackson Talks Dad Michael's Race, Disses Halsey in New Acting Role
Paris Jackson has trended on Twitter over a character she plays in the new Prime Video series, Swarm.
Jackson, 24, the daughter of late singer, Michael Jackson, plays stripper Hailey in the new series created by Donald Glover (Atlanta) and author Janine Nabers.
The show follows protagonist, Dre (Dominique Fishback), a young Houston native rabidly obsessed with global pop phenomenon, Ni'Jah, whose music and fan base bear a striking resemblance to Beyoncè.
In Swarm's second episode, Dre finds work as a stripper and is befriended by her colleague, Hailey, and is surprised to learn why she picked Halsey as her professional moniker.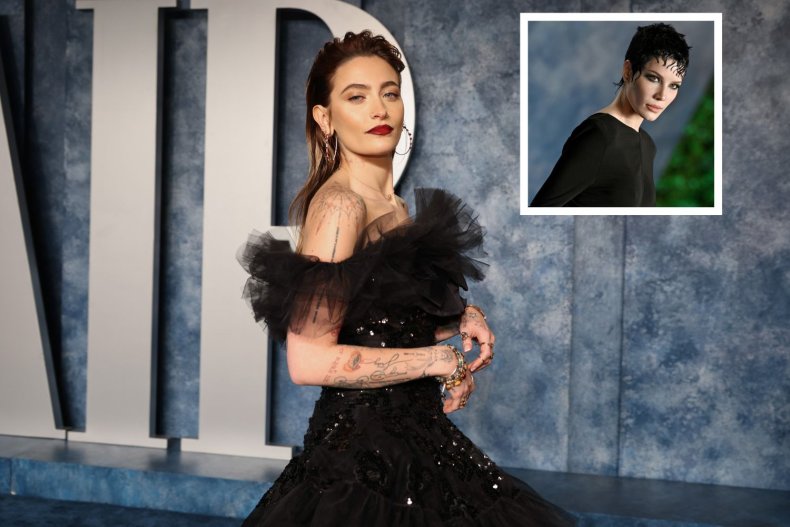 Hailey tells Dre she feels "connected" to her because "I understand what it feels like to not be accepted."
"I mean, I ran away from my last relationship because he couldn't accept me being black," Hailey says, and a shocked Dre replies, "you're Black?"
"Yeah my dad's half... that's why my stage name's Halsey. You do know who Halsey is right? Have you been living under a rock she's like the best singer out!"
Viewers watching the show reacted in shock to the scene which they suggested was art imitating life and also at the obvious dig at Halsey.
"The fact that it's Paris Jackson makes it 10x funnier," tweeted one person.
Another added: "Halsey catching a stray from Paris Jackson via Donald glover & Janine Nabers is crazy."
And a third wrote: "paris jackson saying that too....like there's so many layers here."
Singer Halsey, best known for her hits "Closer" (with The Chainsmokers) and "Without Me" is the daughter of a half-Black father and white mother.
She faced criticism in 2020 for not "claiming her black side" during the Black Lives Matter protests following the police killing of George Floyd.
Halsey hit back at the backlash saying she did not feel she had a right to speak out on the issues in the same way as the Black community because she was "white passing."
"im white passing. it's not my place to say 'we.' it's my place to help. i am in pain for my family, but nobody is gonna kill me based on my skin color," she tweeted in June, 2020.
"I've always been proud of who I am but it'd be an absolute disservice to say 'we' when I'm not susceptible to the same violence.(sic)"
In a 2017 interview, Halsey described how it felt "weird" to grow up biracial
"I look like a white girl, but I don't feel like one. I'm a black woman. It's been weird navigating that," she told Playboy magazine.
As for Jackson, she has spoken previously how her famous father helped her to feel proud of her Black identity.
"(He) would look me in the eyes and he'd point his finger at me and he'd be like, 'You're Black. Be proud of your roots.' And I'd be like, 'OK, he's my dad, why would he lie to me?' So I just believe what he told me. 'Cause, to my knowledge, he's never lied to me," she told Rolling Stone magazine in 2017.
Jackson also slammed people who photoshopped her skin color to appear lighter or darker than she really was.
"I appreciate everything y'all make for me, I enjoy every single edit I see. But please stop lightening my skin to make me look more white. And please stop darkening my skin to make me look more mixed," she wrote on Twitter in 2018.
"I am what I am. I'm aware of what I look like and I [am] finally happy with it."