Parler Explains Why It Alerted FBI to Violent Posts, Users Still Mad: 'I Don't Like Snitches'
Social media site Parler clarified the reasons behind its decision to refer violent content to the FBI in a Saturday post, but some of the platform's users were less than impressed.
Parler, which faced significant backlash in the wake of the January 6 attack on the U.S. Capitol by former President Donald Trump's supporters, referred violent content to the FBI at least 50 times prior to the pro-Trump riot, The Wall Street Journal reported on Thursday. The social media site shared a link to the article, drawing backlash from some members of the online platform. Parler has built its platform by positioning itself as being opposed to censorship and staunchly in favor of free speech.
"In reaction to yesterday's news stories, some users have raised questions about the practice of referring violent or inciting content to law enforcement. The First Amendment does not protect violence inciting speech, nor the planning of violent acts. Such content violates Parler's TOS. Any violent content shared with law enforcement was posted publicly and brought to our attention primarily via user reporting. And, as it is posted publicly, it can properly be referred to law enforcement by anyone. Parler remains steadfast in protecting your right to free speech," Parler posted on Saturday in response to criticism.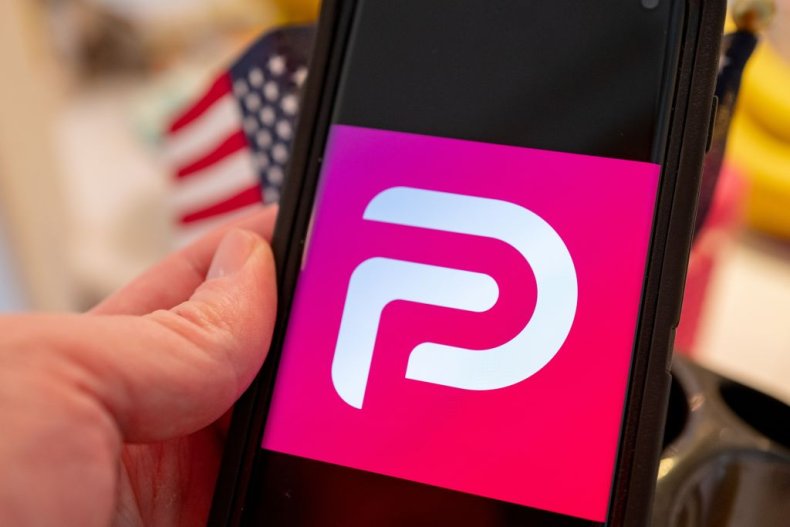 But some users of the site were still unhappy with Parler's decision.
"I don't like snitches," user MelodySuarez wrote in response to the explanation.
"Snitches get stitches or end up in ditches," user Gravedigger typed in response, in what appeared to be a threat of violence.
"Freedom of speech is just that! Freedom! Go read the Constitution again and circle back!" user Paulstrasshofer wrote.
"Jack, is that you running Parler?" user RightWingCornhusker typed. This was an apparent reference to Jack Dorsey, the CEO and co-founder of Twitter, which has faced conservative criticism for blocking Trump and other right-wing figures who circulated conspiracy theories or promoted violence. (Vermont Senator Bernie Sanders has also questioned Twitter's removal of Trump from its platform.)
"Do you consider any post on Parler to be public? Asking for a friend ;)" user TimPatriot2021 wrote in an apparent sarcastic dig at the company's decision to report some content.
At the same time, some Parler users were supportive of the company's decision to report violent content.
"I think there should definitely be that line where the buck stops. I like to make friends, I appreciate every opinion, but terroristic stuff or violence against anyone.... who wants that?" user MariahLealtad wrote.
"Exactly. There is no place for violence at all. You can say what you want but if you say something stupid there will be consequences," user Jschenard weighed in.
"Thank you for explaining the law and your policies in such a concise manner!" user azriela typed in response to the explanation.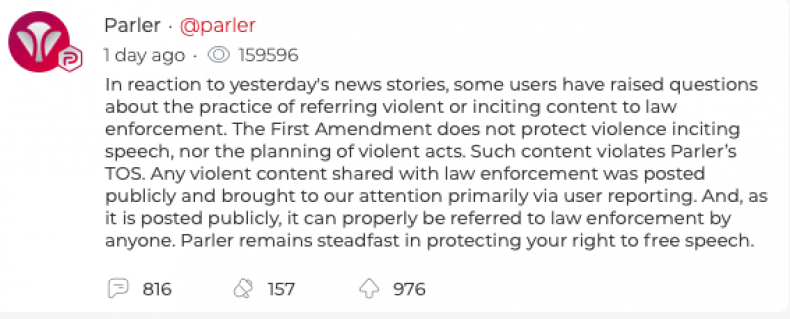 Among the posts referred to law enforcement by Parler, one from December 24 showed a user calling for an "armed force" of 150,000 people to "react to the congressional events of January 6," according to the Wall Street Journal. Another example shared in the report was of a user explaining that "armed" individuals would be attending the events of January 6. They said that people would carry concealed weapons and that "real chaos" would ensue if Congress "does the wrong thing."
Newsweek reached out to Parler for further comment but did not immediately receive a response.