When Patriots Visit Trump White House, Safety Won't Go: 'They Don't Want Me'
As is tradition after a Super Bowl win, the New England Patriots will likely head to Washington, D.C. to visit the White House sometime in the next few months. That is, most of the Patriots will visit the White House.
The last time the Patriots won the Super Bowl, in 2017, they visited President Trump, but some, including quarterback Tom Brady, chose not to go. This time around, as of Monday morning only one player had announced that he wasn't going to the White House following this season's win.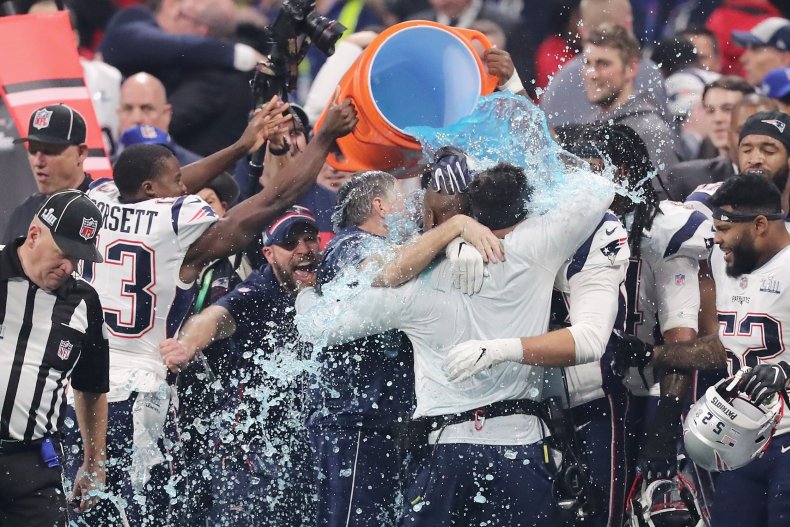 Duron Harmon, a safety for the Patriots who was instrumental in Sunday's game, told TMZ after the game that he wouldn't be going to the White House for the traditional visit. He broke the news in a video from TMZ in which he discussed his postgame plans and whether or not he thought teammate Julian Edelman was Hall of Fame–worthy.
When asked whether he was going to the White House, Harmon responded, "Nah man, they don't want me at the White House."
Harmon said he would be interested in following in the steps of the Golden State Warriors, who opted for a meeting with former President Barack Obama instead of a visit to the White House. "Obama, man, come holler at me man, we love you over here," Harmon said into the camera.
During their 2017 visit to the White House, a number of Patriots players did not attend. Brady said family matters prevented him from attending, and it's unclear whether the quarterback, who is friends with Trump, will visit this year or not. Other Patriots who didn't attend in 2017 included Martellus Bennett and Devin McCourty.
When the Philadelphia Eagles won in 2018, several players said they would be skipping the visit to the White House. Before that Super Bowl, Trump urged players to stand during the national anthem, which has become a time for players to protest injustice in the United States.
When Trump learned that most Eagles players were planning not to attend, he canceled the visit altogether. He announced it on Twitter, saying, "The Philadelphia Eagles Football Team was invited to the White House. Unfortunately, only a small number of players decided to come, and we canceled the event. Staying in the Locker Room for the playing of our National Anthem is as disrespectful to our country as kneeling. Sorry!" CBS Sports, however, reported that no Eagles players kneeled or stayed in the locker room during the anthem for the Super Bowl that year.