Patriots' Tom Brady to Miss Donald Trump's White House Super Bowl Party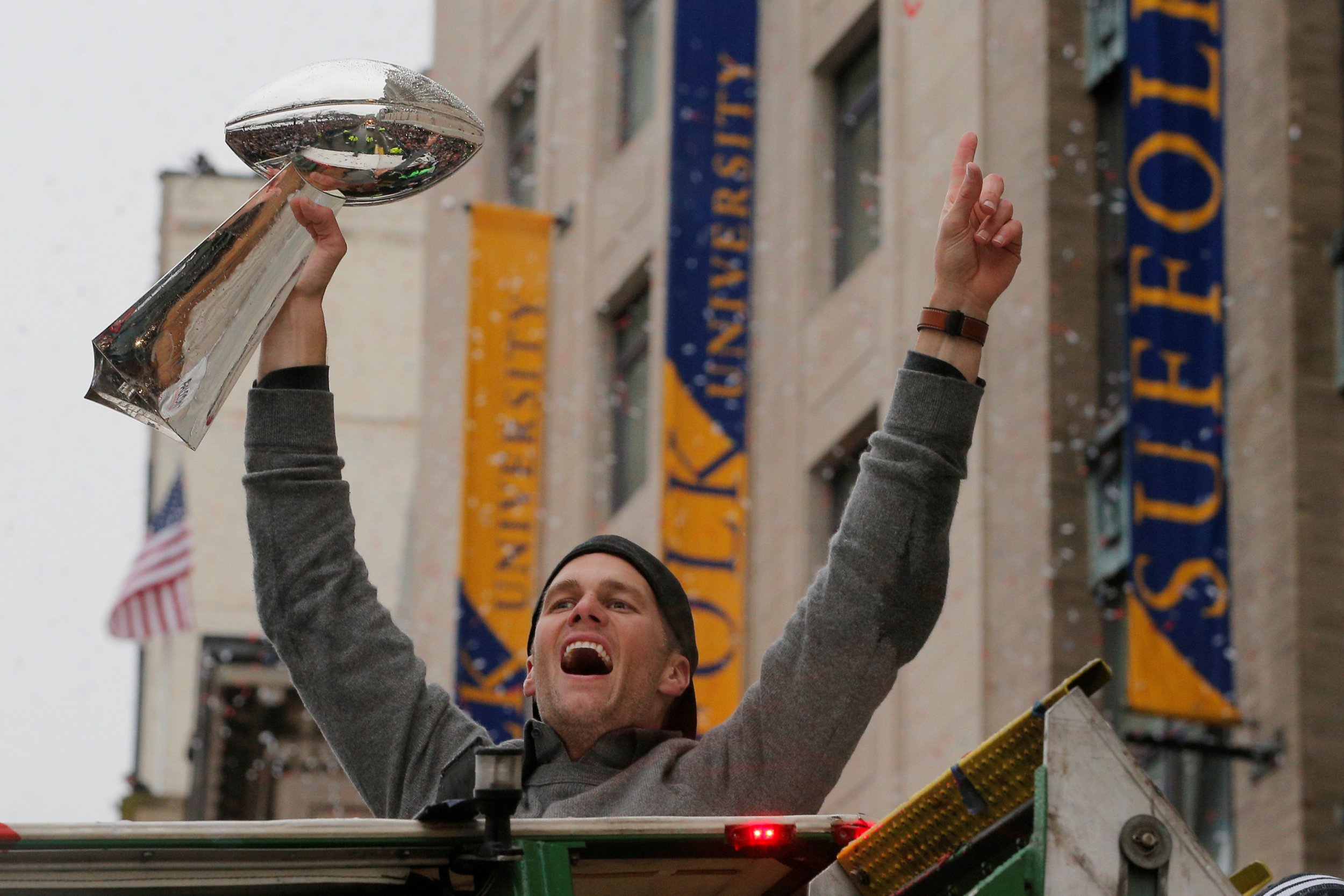 Tom Brady, quarterback of the Super Bowl-winning New England Patriots, will skip the team's traditional White House ceremony on Wednesday afternoon because of "personal family matters," according to a statement on NFL.com. Brady has been questioned repeatedly about his ties to the businessman turned president since September 2015, when one of Donald Trump's signature "Make America Great Again" red hats was spotted in his locker.
Related: A list of pro athletes who have skipped White House celebrations
Brady apparently backed out of the celebration at the last minute. "Thank you to the president for hosting this honorary celebration and for supporting our team for as long as I can remember," Brady said in a statement, which was first reported by ESPN's Mike Reiss in a tweet. "In light of some recent developments, I am unable to attend today's ceremony, as I am attending to some personal family matters."
The ceremony will occur just hours after Aaron Hernandez, the convicted murderer who was formerly a star tight end for the Patriots, hanged himself in his Massachusetts prison cell early Wednesday morning. Hernandez was acquitted five days ago in a double murder case.
Brady isn't the only member of the championship team who won't gather in the Rose Garden to raise the Vince Lombardi Trophy with Trump. Six other Patriots have said they will skip the president's football party at 1600 Pennsylvania Avenue, expressing reservations about visiting the commander in chief, whose policy decisions and personal conduct have led to low approval ratings in polls.
Other athletes have skipped previous White House celebrations with former presidents, including NBA legends Larry Bird and Michael Jordan, Boston Red Sox outfielder Manny Ramirez and Baltimore Ravens center Matt Birk. Meanwhile, the Chicago Cubs organization made history—both on and off the field—when it moved up its White House visit to celebrate its 2016 World Series win with President Barack Obama to January 16, just four days before Trump's swearing-in ceremony.
The Patriots won the Super Bowl in February by overcoming a 25-point second-half deficit to defeat the Atlanta Falcons in overtime, 34-28. It was the team's fifth Super Bowl win. In addition to Brady, the team's owner, Robert Kraft, and head coach, Bill Belichick, seem to have cozy relationships with Trump, which didn't sit well with many fans throughout the football season that coincided with the 2016 presidential election.
The sports teams' White House celebrations, a tradition that dates back to at least President Andrew Johnson in 1865, allow players to meet the president, tour the White House and be recognized as world champions—not to mention participating in a photo op; presenting a personalized jersey, helmet or other memorabilia to the commander in chief; and enjoying what is usually a lighthearted speech with many jokes by the president. Trump hasn't yet responded (er, tweeted) regarding Brady's decision to miss the party.
This isn't the first time Brady has skipped a presidential celebration with his team: After the Patriots' win in Super Bowl XLIX, he cited a prior "family commitment" and missed the celebration at the Obama White House in April 2015. At the time, there were various theories about the nature of Brady's reported commitment, including that he was making time to buy an Apple Watch in New York City and that he was holding a grudge against the White House press secretary for his comments about Deflategate.
It remains to be seen whether any additional news will come out about Brady's 2017 commitment. Perhaps, like golfer Dustin Johnson, he "fell down the stairs."