Pastor Nikki Haley Idolizes Is Covered in Controversy
A controversial pastor who in the past has made disparaging comments about Jews and same-sex marriage opened Nikki Haley's campaign launch event on Wednesday.
John Hagee is the founder and senior pastor of Cornerstone Church in San Antonio, Texas, a non-denominational evangelical church that touts more than 22,000 active members.
He gave a prayer during Haley's first public event in her home state of South Carolina after declaring her candidacy for the 2024 presidential race.
Following the legalization of gay marriage in the U.S. in 2015, Hagee cited the Bible and rejected the notion that it was acceptable.
"Marriage is exclusively between a man and a woman," Hagee said, courtesy of a resurfaced video posted on Twitter by Right Wing Watch, which monitors and exposes the activities of radical right political organizations. "Same-sex marriage will never be accepted in heaven as legitimate, so says God almighty.
"This Supreme Court has made America the new Sodom and Gomorrah. God will have to judge America, or he's going to have to apologize to Sodom and Gomorrah."
That comment was preceded by another made in 1999 in which Hagee, a televangelist at the time as well as a staunch supporter of Israel, said that "God sent Adolf Hitler to help Jews reach the promised land."
The comments were uncovered in 2008 after Hagee had endorsed Republican presidential candidate John McCain. While Hagee did eventually apologize to the Anti-Defamation League, the audio of the remarks went viral and led to McCain disavowing Hagee's comment and his support as part of the campaign.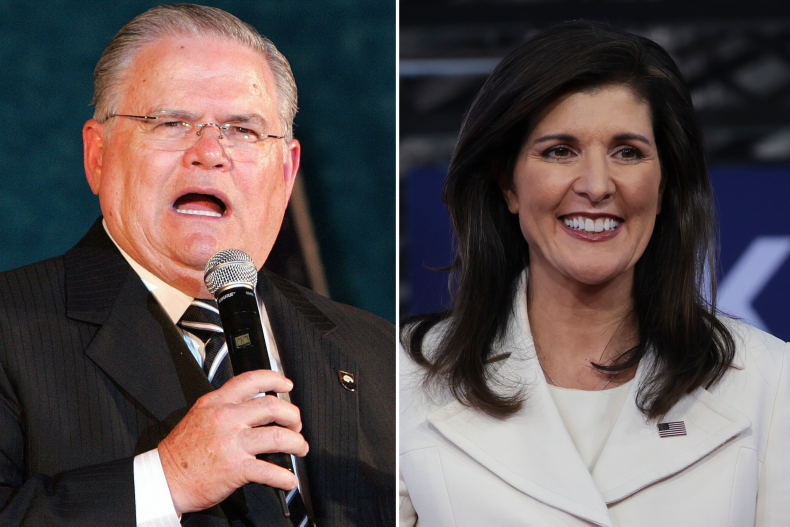 "Obviously, I find these remarks and others deeply offensive and indefensible," McCain said in 2008, according to the New York Times. "I did not know of them before Reverend Hagee's endorsement, and I feel I must reject his endorsement."
When Haley took the stage on Wednesday, one of the first people she mentioned in a positive light was Hagee.
"Pastor Hagee, I still say I want to be you when I grow up," Haley said.
Haley joins the GOP fray with former President Donald Trump, who has wished her "luck." Polling has shown her trailing Trump and Florida Governor Ron DeSantis by large margins. She also trails former Vice President Mike Pence by a couple of percentage points.
Her entry into the race has been praised by Republican Representative Nancy Mace, who touted Haley's help in her own 2022 campaign. Mace also said the GOP needs a female on the ticket in some facet.
Kirk Randazzo, professor of political science and department chair at the University of South Carolina, told Newsweek that Mace's assessment regarding female representation in the Republican Party is accurate.
"Not only does the party have a reputational problem because of Donald Trump and his treatment of women (including recent attacks against Mace and other female politicians), but also...the abortion issue since the Supreme Court's decision in Dobbs that overturn Roe v. Wade," Randazzo said. "With state legislatures, especially ones dominated by Republicans, passing more and more extreme bans on abortion access, the Republican Party has been portrayed as waging a war on women.
"It was precisely this issue that allowed Democrats to perform far better than expected during the 2022 midterm elections," he added. "This issue is only becoming more problematic."
Haley's approach is what makes her a formidable candidate, he added. She has the luxury of vying for a vice presidential position, which can offer more flexibility in how she addresses other candidates and issues.
She may also only be the female candidate, let alone a minority. The issue may involve visibility and having a resounding message that reaches the Republican base.
"Haley brings a sense of maturity and level-headedness that the Republican Party needs," Randazzo said. "With images of people like Marjorie Taylor Greene and Lauren Boebert trying to steal soundbites regardless of how crazy their statements might be, the Republicans risk having ordinary individuals view their party as one that cannot govern...Nikki Haley offers a calmer version of leadership that focuses on cooperation and consensus, which is vastly different from the current image."