Republicans 'Need a Woman' on 2024 Ticket: GOP Rep.
Nikki Haley's 2024 presidential campaign is being praised by another female Republican in her state: Representative Nancy Mace.
The former South Carolina governor, 51, jumped into the GOP fray on Tuesday by releasing a video detailing her aspirations, which include being tougher on China and distancing herself from culture wars while helping to establish a "new generation" of Republican politics.
Mace, who represents South Carolina's 99th district, expressed excitement for Haley's announcement while speaking to CNN This Morning anchor Kaitlin Collins on Tuesday. But she wouldn't go so far as to endorse her in what is currently a tiny GOP field.
"I want to see how the field shakes out and see how it's set, but I will tell you I have great love for [Haley] and I'm excited to see her in the race," Mace said. "I've said this multiple times before: I believe Republicans need to have a woman on the ticket in one way or another, and she would be fantastic."
"I have a daughter," she added. "I want to see our daughters have someone to look up to who can be in the White House one day."
Mace worked for Trump's 2016 campaign prior to seeking office.
"Nikki Haley is a very good friend of mine, she's a mentor, she works harder than anybody I know," Mace said. "When I had my Republican primary last year with the former president coming after me vigorously—I was one of the only Republicans to beat him in a primary last year—she was one of the only people to return my call."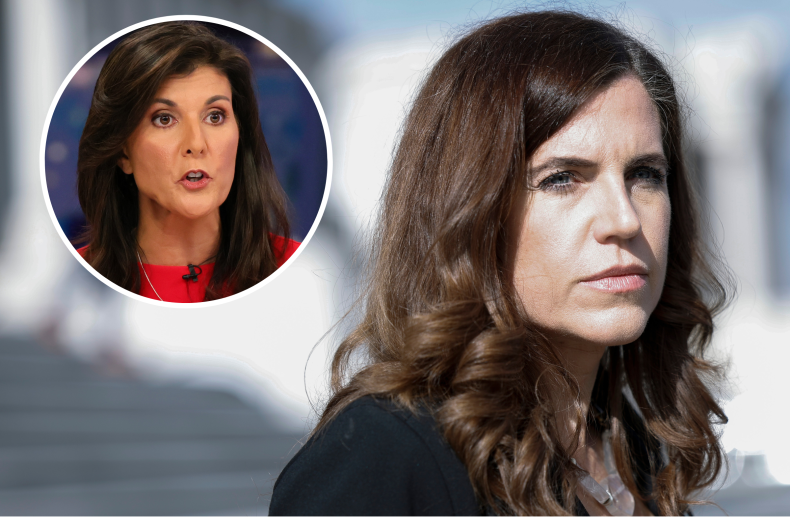 Haley was "one of the only elected officials with as high a profile" to endorse her, support her, and raise money for her, she added.
"Even though Nikki Haley said, 'I would never run against my president, he was a great president, the best president in my lifetime,' I told her she should follow her heart and do what she wants to do," Trump told Newsweek in a statement. "I wish her luck!"
Mace and Trump had a falling out following the January 6 insurrection, in which Mace was one of the few Republicans to publicly chastise the former president for his role in fueling the riots.
It led to Trump endorsing Mace's primary opponent, Katie Arrington.
Trump called Mace "terrible" and "very disloyal," though the now two-term congresswoman remained optimistic and said nearly one year ago today that she would "win without him."
Mace was victorious last June, drawing a half-hearted congratulations from Trump even after he and GOP PACs attacked her until election day.
Following her stint as South Carolina governor, Haley, 51, served as Trump's U.N. ambassador from 2017 to 2018.
"It's undeniable that the GOP is in the throes of an historic transformation: it has been for decades," Jordan Ragusa, associate chair of the Department of Political Science at the College of Charleston, told Newsweek. "It's a very straight line between the Tea Party's emergence in 2010 and today's alt-right."
While female representation is part of it, he said the number of women on the ballot is not an immediate issue. He referenced Mace being part of the record-setting amount of successful female Republican candidates in 2020 who are making strides to combat Democrats' advantages among that demographic.
"In my mind the key is that Republican women are often just as socially conservative as the men, including on issues like abortion," he added. "And while female Republicans supported Donald Trump at lower levels than their male counterparts, he still enjoys substantial support among prominent Republican women [like] Elise Stefanik, Rona McDaniel, and yes, Marjorie Taylor Greene."
A Reuters/Ipsos poll conducted between February 6-13 and released Tuesday shows only 4 percent of support for Haley among registered Republicans.
That pales in comparison to Trump's 43 percent, as well as the 31 percent received by Florida Governor Ron DeSantis should he also decide to run.
Former Vice President Mike Pence received about 7.5 percent in the same poll.
Other Republicans who may join the field include New Hampshire Governor Chris Sununu, former Arkansas Governor Asa Hutchinson, former CIA Director Mike Pompeo, former Maryland Governor Larry Hogan, and South Carolina Senator Tim Scott.
Newsweek reached out to Mace's office for comment.