Despite publicly criticizing Representative Nancy Mace and mounting a campaign to unseat her, former President Donald Trump congratulated the congresswoman on her primary win even after she defeated his own endorsement in the House race.
Trump has been vocally opposed to Mace's reelection ever since she voted to certify the results of the 2020 presidential election and condemned Trump in the wake of the January 6 Capitol riot. She was, however, not among the 10 House Republicans who voted to impeach Trump.
In a quest to oust all of his GOP critics in Congress, the former president has made a series of endorsements in this year's primaries backing the challengers to elected officials he dislikes. In South Carolina, Trump backed Katie Arrington, a former member of the South Carolina House of Representatives, in the race against Mace.
Despite his previous criticisms of Mace, he joined Arrington in conceding the race on Tuesday night, saying she would "easily" win reelection over Democrat Annie Andrews, who ran uncontested.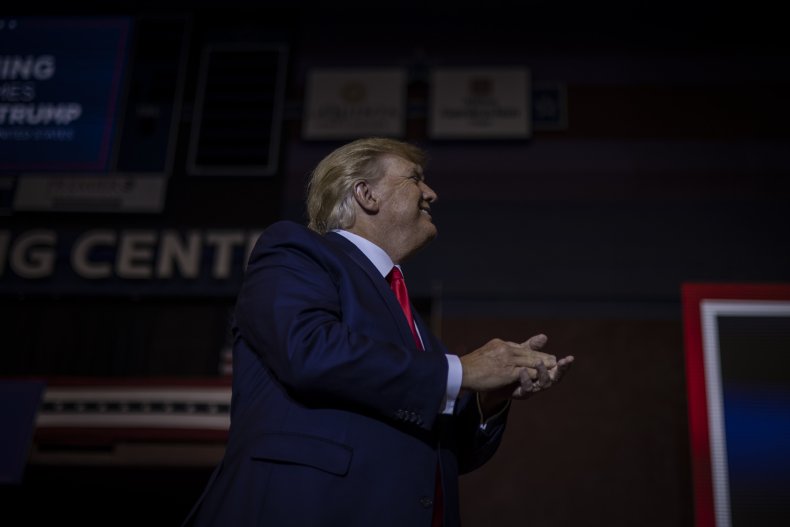 "Katie Arrington was a long shot but ran a great race and way over performed. Congrats to Nancy Mace, who should easily be able to defeat her Democrat opponent!" Trump wrote in a post on his social media platform Truth Social.
His congratulations come just two days after his Save America PAC released a statement saying Mace was "despised by almost everyone" in a last-minute push for her opponent.
In an interview with CNN last year, Mace said that Trump's "entire legacy was wiped out" on January 6. But she ultimately decided against voting for his impeachment.
Even though she has been critical of Trump in relation to the Capitol riot, Mace still expressed support for the former president, going so far as to travel and shoot a video in front of Trump Tower in New York City and stating she'd vote for him in 2024 should Trump win the GOP nomination. She also appeared to forgive Trump for endorsing Arrington, saying he was "given bad advice" that led to the decision.
But her efforts to avoid Trump's ire had appeared to fail as he continued to rail against the freshman congresswoman, calling her "nasty" and "disloyal."
Those criticisms were echoed by Arrington spokesperson Chris D'Anna, who told Politico in a statement: "When she tucked her tail between her legs to film her infamous Trump Tower video, I hope she stopped by CNN to apply for a job, she'll need one come June 14th."
Although Mace was a key Trump target in this year's midterms, she did win the endorsement of former Trump ally Nikki Haley, who had served as the U.N. Ambassador under his administration before falling out of favor with the former president.