Pastor Rick Wiles Apparently Has COVID After Refusing Vaccines He Called 'Global Genocide'
Conservative pastor Rick Wiles has apparently fallen ill with COVID-19 after condemning the vaccines that fight the disease, baselessly claiming they're being used to carry out a "global genocide."
Wiles—the founder of the conspiracy-promoting TruNews website and the senior pastor of Flowing Streams Church in Florida—asserted on this show in late April that he would not get vaccinated against COVID-19 and would survive the "global genocide."
"I am not going to be vaccinated," he said. "I'm going to be one of the survivors. I'm going to survive the genocide.
He added, "You and I are witnessing the first global mass murder and it's being led by Satan's team on the planet. You must survive it. Do not be vaccinated."
Then this week, TruNews, in a post to its official Gab account, noted that there was a COVID-19 outbreak at Wiles' church and asked for prayers.
"Flowing Streams is experiencing a sudden cluster of flu and Covid among some employees and their relatives. Rick Wiles made the decision tonight to close the offices and studios until a TBA date next week," the Gab post explained. "Our team needs to tend to sick family members. Please pray for your TruNews team."
On Saturday, TruNews made a follow-up post, urging supporters to pray specifically for Wiles. "URGENT REQUEST - please be praying for Rick Wiles right now," the organization wrote. "Please repost so that there's an army of people praying."
A Saturday email to supporters of Wiles was sent out by Flowing Streams Vice President Raymond Burkhart. In that message, Burkhart said Wiles had been transported to the hospital.
"Rick is very much in need of your continued prayers. Today, he was taken to the emergency room, and under medical advice, was admitted to the hospital. He is currently on oxygen and is expected to remain there for a number of days," he wrote.
In a previous Friday note to supporters first reported by RightWingWatch, Wiles' organization asked for prayer and said that the pastor was "very weak." It explained that Wiles' fever had subsided and that he did not have any "respiratory issues." But it said that there was concern over how fatigued he continued to feel. The letter included a prayer for supporters to repeat.
Polling has shown that conservative white evangelical Christians are one of the groups most likely to be skeptical about COVID-19 vaccines. A mid-February survey conducted by Pew Research showed that about 45 percent of white evangelicals said they "definitely" or "probably" will not get vaccinated against the virus.
While some Christian leaders—like Wiles—have promoted conspiracy theories about the COVID-19 vaccines, others have called on their followers to get vaccinated. Evangelical Christian leader Franklin Graham, president of the Billy Graham Evangelistic Association and humanitarian aid organization Samaritan's Purse, has repeatedly urged people to get the shots.
"I thank God for the vaccine," Graham told CNN earlier this month.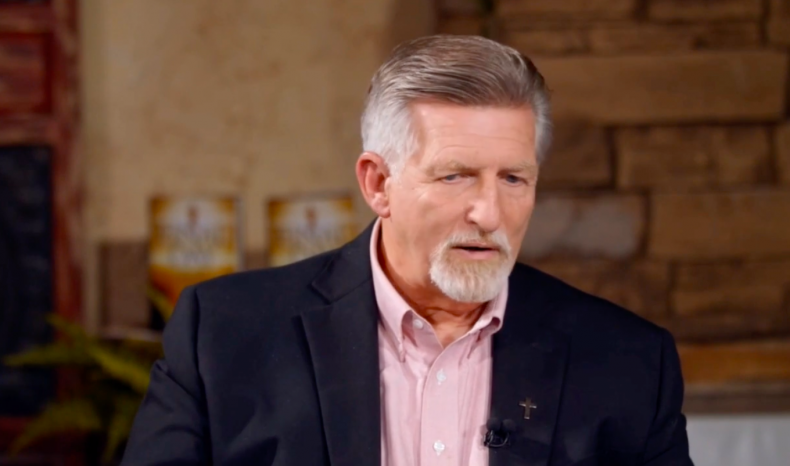 Although conspiracy theories about the vaccines have circulated widely, scientists and medical professionals have repeatedly attested to the safety and efficacy of the approved vaccines. Rigorous scientific trials have clearly demonstrated that the vaccines are safe and highly effective against preventing severe cases of COVID-19.
Newsweek reached out to TruNews for further comment but did not immediately receive a response.
Newsweek, in partnership with NewsGuard, is dedicated to providing accurate and verifiable vaccine and health information. With NewsGuard's HealthGuard browser extension, users can verify if a website is a trustworthy source of health information. Visit the Newsweek VaxFacts website to learn more and to download the HealthGuard browser extension.
This article has been updated with additional information about Wiles' condition, noting that he has been hospitalized.