Pastor Scott Lively Claims God Allowed Trump to Lose Election for Being Pro-LGBT
Scott Lively, a longtime anti-LGBTQ pastor, has claimed that God allowed former President Donald Trump to lose the 2020 election because of Trump's alleged support of the LGBTQ agenda. Despite Lively's claim, most national and international LGBTQ rights groups consider Trump to be the most anti-LGBTQ president of all time.
In last Sunday's installment of the "Swamp Rangers" radio program with co-host Richard May, Lively claimed that Trump had promoted the LGBTQ agenda by giving Richard Grenell high-ranking positions in his administration, according to Right Wing Watch. Grenell served as Trump's ambassador to Germany, a special envoy for Serbia and Kosovo peace negotiations and as acting director of national intelligence.
Trump's approach on the "homosexual issue" was "his biggest mistake," Lively said, adding, "Frankly, I think is the reason why we lost the election."
"He defied God on a fundamental tenet of the Bible, and never repented of it, doubled down on it," Lively said. "Trump fully endorsed and backed and applauded [Richard] Grenell [who] was an outspoken advocate for the central doctrine of the progressive movement, which is queer theory."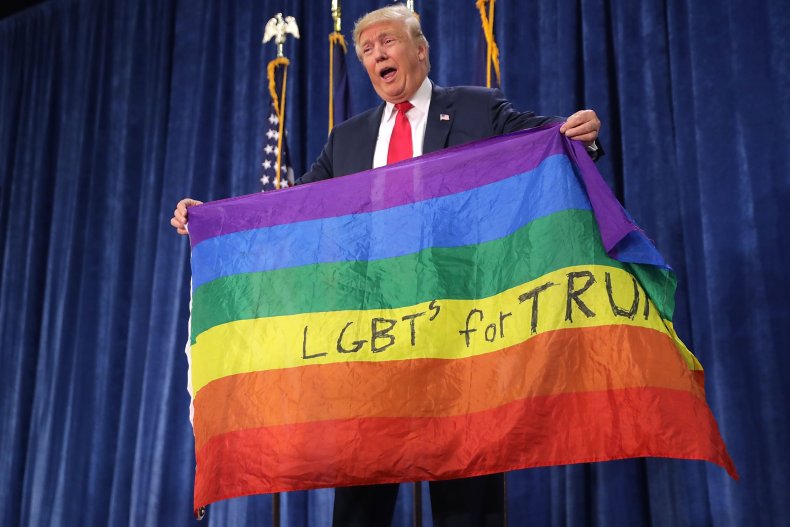 "If God had given [Trump] favor, nothing that mankind could have done could have removed him from that office," Lively continued. "And yet the one thing that he did during that time that would virtually guarantee God's favor from being removed was to put his own personal stamp of approval on behavior that God condemns in the harshest possible terms in the Bible, which is specifically male homosexuality."
On August 19, 2020, Grenell claimed that Trump is the most "pro-gay president in American history," but LGBTQ activist organizations like GLAAD and the Human Rights Campaign (HRC) largely consider Trump to be the most anti-LGBTQ president of all time. Both have kept running records of his anti-LGBTQ policies and appointees on their websites.
In September 2017, Trump's Department of Justice wrote amicus briefs to the Supreme Court stating that businesses should have to right to deny services to same-sex couples. As recently as June 2020, Trump's Department of State fought in court against granting U.S. citizenship to the foreign-born children of American same-sex couples, and in July 2018, the State Department said that international laws criminalizing same-sex relationships were a form of "religious freedom."
While Trump ostensibly set up a campaign in favor of decriminalizing homosexuality around the globe in February 2019, Trump himself claimed to know nothing about the campaign when asked about it.
Furthermore, numerous national and international organizations that advocate for LGBTQ rights—including the HRC, the Council for Global Equality, OutRight Action International and the LGBT Rights Program at Human Rights Watch—have all said that the program accomplished nothing, merely continued pre-existing U.S. human rights policy and was little more than a public relations move meant to make Trump seem more LGBTQ-friendly than he actually was.
As for Lively, he has previously called homosexuality "abnormal, wrong, harmful and perverse", has compared it to child and animal rape, and supports laws criminalizing consensual same-sex relationships and preventing any government funds from being used to acknowledge the existence of LGBTQ people, according to the Southern Poverty Law Center (SLPC)
He is also the author of The Pink Swastika, a book that alleges that all of the Nazis under Adolf Hitler's control during World War II were actually homosexuals. The book has been discredited by history professor Jon David Wyneken and humanities and social sciences professor Jonathan Zimmerman.
In a statement to Newsweek, Lively called both Right Wing Watch and the SLPC "extreme left-wing hate groups incapable of honesty." He also called the aforementioned LGBTQ rights groups "equally leftist and thoroughly dishonest about Trump."
Lively added that "Trump has struck a fairly smart balance on LGBT issues by showing basic respect" for people who experience same-sex attraction and "honoring relatively conservative 'gays' like Rick Grenell with appointment to high office," but added that ancient Biblical law curses any national leaders who endorse "homosexual sin."
Update (1/27/2021, 12:11 a.m.): This article has been updated to include a statement from Lively.