Pat Robertson Says God Will 'Intervene' in Favor of Texas SCOTUS Lawsuit
Prominent televangelist Pat Robertson described Texas Attorney General Ken Paxton's effort to overturn Joe Biden's victory over Donald Trump in the Supreme Court as "a miracle," saying God will intervene to keep the president in office.
Paxton's lawsuit argues that Georgia, Michigan, Pennsylvania and Wisconsin unlawfully changed their election laws during the coronavirus pandemic. The legal challenge has been widely panned, with some critics suggesting that Paxton—who is under investigation by the FBI for alleged corruption—is looking for a pardon from Trump.
Robertson, a former Southern Baptist minister, made the remarks Thursday during his show The 700 Club on the Christian Broadcasting Network, of which he is the chairman. The well-known evangelical figure, who is 90, praised the Texas attorney general's move, touting the unsubstantiated claims of widespread voter fraud promoted by Trump and his GOP supporters.
"God is never late. We declared on this program, and you joined with me, that God almighty was gonna do a miracle and stop the theft of our election and the fraud that was being perpetrated on the American people, and that God himself would intervene," Robertson told his viewers.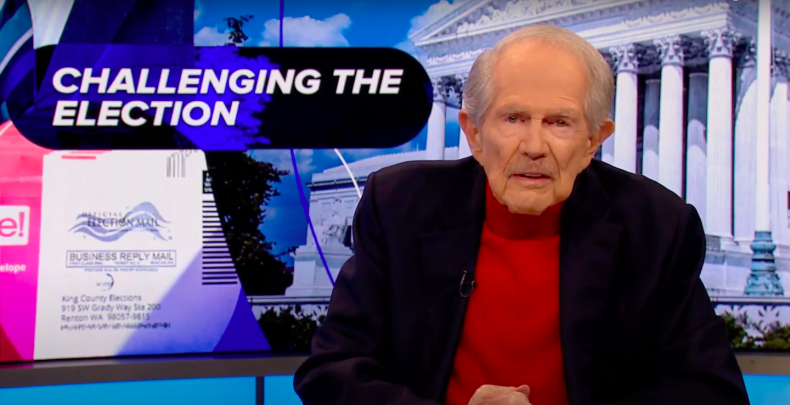 The televangelist held up a copy of the brief filed in the Supreme Court by Paxton. "They're going to the Supreme Court to say 'this election was rigged and you've got to overturn it,'" he said, before reading from the documents. "There's time to get this thing fixed."
He added, "The Trump team didn't get in gear, but nevertheless there is a miracle taking place."
Roberts later told Newsweek in a statement that it is God's will to preserve Americans' freedom.
"The will of God is to bless America and to provide the blessing of liberty to our children and grandchildren. I am not aware of any socialist country which created a prosperous economy and preserved freedom for its citizens," the televangelist said. "Therefore, I would have to say the will of God is to prevent America from sliding into socialism or communism or, for that matter, unrestrained anarchy."
Notably, Biden and the Democratic Party are not socialists or communists. During his Democratic primary campaign, Biden explicitly rejected socialism. The president-elect defeated Senator Bernie Sanders of Vermont, a self-described democratic socialist, while positioning himself as a moderate alternative who could build bridges with Republicans and independents.
Even Senator John Cornyn, a Texas Republican, questioned the legal theory behind Paxton's brief, suggesting it lacked merit.
"Number one, why would a state, even such a great state as Texas, have a say-so on how other states administer their elections?" Cornyn told CNN on Wednesday. "We have a diffused and dispersed system, and even though we might not like it, they may think it's unfair, those (election policies) are decided at the state and local level and not at the national level."
Senator Ben Sasse, a Nebraska Republican, was more critical, suggesting that Paxton was actually looking out for his own personal interests with the lawsuit.
"I'm no lawyer, but I suspect the Supreme Court swats this away. From the brief, it looks like a fella begging for a pardon filed a PR stunt rather than a lawsuit—as all of the assertions have already been rejected by federal courts and Texas' own solicitor general isn't signing on," Sasse told the Washington Examiner on Thursday.
Although President-elect Biden was projected as the winner of election more than a month ago, Trump has refused to concede. The president and his supporters have pushed, without evidence, baseless claims of widespread voter fraud, arguing that the election was "rigged." Legal challenges brought to court by Trump and his supporters have nearly all failed, with judges noting that they have not provided evidence to back their claims.
In addition, Attorney General William Barr said last week that there is no evidence of widespread fraud that would change the election's outcome. Close allies of the president have previously described Trump's legal team as a "national embarrassment," urging the president to accept the reality of his election loss.
But a significant majority of Republicans appear to believe the president's unfounded claims. Polling by NPR/Marist published on Wednesday showed that nearly three-quarters of Republicans do not trust the election's outcome. A separate poll by Daily Kos/Civiqs showed that just 18 percent of frequent viewers of the conservative Fox News network trust the election results.
Robertson, like many other prominent evangelicals, has been a staunch supporter of the president. Exit polls from the election showed that 75 percent of white evangelical Christians voted for Trump. That number was down somewhat from 2016, when 81 percent of the religious community said they backed the Republican nominee.
Updated December 11, 2020 at 9:51 a.m. ET: Additional comment from Pat Robertson has been added.