Republican U.S. Representative Majorie Taylor Greene has denied a recent report linking her to the January 6 "Stop the Steal" rally preceding the Capitol riot. Greene called the article a "pathetic piece of trash."
Two organizers of the rally told Rolling Stone that they spoke with either Congresswoman Greene of Georgia or someone from her office while planning the event. At the rally, former President Donald Trump encouraged his followers to march to the Capitol to try to overturn his 2020 election loss. The ensuing protest culminated in a violent riot at the U.S. Capitol.
The report states rally planners had been in contact with congressional offices of Greene, fellow Republican Representatives Paul Gosar, Lauren Boebert, Madison Cawthorn, Andy Biggs and Louie Gohmert.
Greene called the article's allegations "ridiculous" and called the article itself a "pathetic piece of trash" in comments she made to the right-wing outlet The Daily Caller.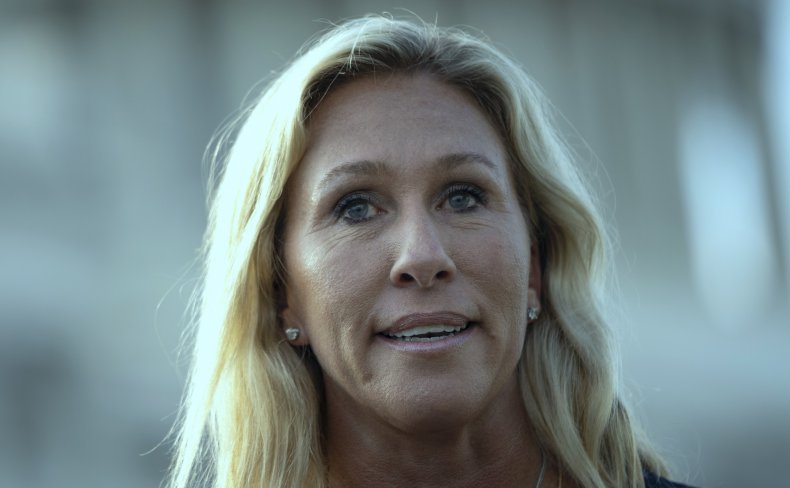 "They're talking about their sources and sources and quoting sources, but not giving names, so that just reminds me of the whole Russian collusion lie, and the type of language that [Democratic Representative] Adam Schiff uses when he's talking about sources," she told the publication.
"The whole thing is their same playbook," Greene continued. "Make up a story, publish it, then all the other outlets rinse and repeat."
In the past, Greene has agreed with the baseless claim that an unprecedented nationwide conspiracy of voter fraud "stole" the 2020 election from Trump.
"As a lifelong Georgian, I do not believe Georgia voted for Joe Biden," Greene said during an appearance on Newsmax TV weeks after the 2020 election. "I'm solidly convinced that we elected—or re-elected—President Trump."
Biden narrowly won Georgia by a margin of 11,779 votes.
Greene has cheered on efforts to re-examine the 2020 election for proof of fraud. Earlier this year, she launched an "America First" tour starting in Mesa, Arizona, claiming that ballot audits will prove Trump right.
"We know what the people want," she said at one of the tour stops in May. "The people overwhelmingly support President Trump as the leader of the Republican Party."
At the January 6 rally, Trump spoke to a crowd of thousands of supporters. In his speech, Trump incorrectly said that if Vice President Mike Pence simply refused to certify the election's results in Congress, it would make Trump president. Trump also told the crowd, "If you don't fight like hell, you're not going to have a country anymore."
The crowd marched to the Capitol and then began a protest that turned into an insurrectionist riot.
Five people died during the insurrection and roughly 140 police officers were injured. The police injuries include a broken spine, a lost eye, lost fingers, brain damage and multiple cases of PTSD. Two Capitol Police officers have died by suicide since the insurrection.
While ransacking the Capitol, the rioters shattered windows while trying to access congressional chambers, smeared feces in the hallway and stole computer equipment, potentially constituting a national security breach.
In Greene's past social media comments, she has advocated for violence against House Speaker Nancy Pelosi and former President Barack Obama, said that an airplane never hit the Pentagon during the September 11 terrorist attacks, accused former Secretary of State Hillary Clinton of slicing off a child's face and wearing it, and many other conspiracy theories.
Newsweek contacted Greene's office for comment.