This year is a big one for fans of Patrick Stewart's Jean-Luc Picard. Not only is Star Trek: Picard returning for Season 2, but it is also the 35th anniversary of the character's debut in The Next Generation.
Since Stewart returned as the character in early 2020, he had embarked on a major undertaking: He assembled the nearly 200 episodes of TNG and rewatched them for research for his upcoming memoir.
"I was most fearful about writing about Star Trek," the actor told Newsweek during a recent press junket. "But given that my work and my career have changed in the last 30 years as well, I can now honestly make assessments of the work that I did as an actor in the seven seasons and for feature films."
Asked what he learned from watching the show, Stewart candidly said that he could tell he was "a little uncomfortable" in the early seasons because he "was aware that Gene Roddenberry [Star Trek creator] was not sure that I was the right person to play Jean-Luc Picard."
This story has gone down in Star Trek legend. Roddenberry's preferred choice was thought to be Patrick Bauchau, the Belgian actor who at that point had just come off of playing the henchman Scarpine in the Bond movie A View to a Kill. Stewart, meanwhile, was the choice of TNG producer Robert Justman, who had seen Stewart give a lecture at UCLA.
"Halfway through this evening event in UCLA," Stewart recounted. "Robert turned to his wife and said, 'we found the captain.' And it took about six months for him to persuade Gene that it was the right thing to do."
As Stewart previously told The Hollywood Reporter: "I am told that somewhere in the cellars of Paramount, there is a memo which came from Gene to everybody in production saying that he did not want to hear my name mentioned again."
Despite this initial hostility to Stewart taking the role, the actor told Newsweek that Roddenberry warmed to him, and this led to an improvement in his acting. "By the second season, it was becoming more relaxed and more comfortable. And we were bonding as an ensemble," the X-Men actor said.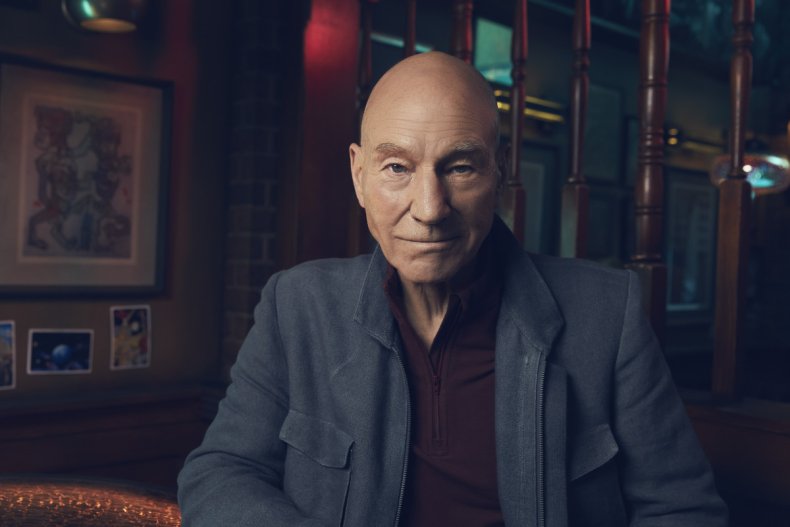 As a renowned theater actor, Stewart understands the importance of an ensemble—and one of the ways he bonded with a co-star makes him seem almost like a cliché of a British thespian.
In a Guardian piece celebrating Stewart's 80th birthday, his Picard co-star Alison Pill told the story of the actor reading a Bertolt Brecht poem to her on set. "He read a Brecht poem without a whiff of pomposity....while sitting at someone's knee listening to poetry seems to be something of another age, it simply feels right when the knee at which you sit is Patrick Stewart's."
Asked about this by Newsweek, Stewart said: "Alison is a rather special person. I like her immensely, but I also admire her too. She's a wonderful actress and a very, very smart woman. And we had been talking about some poetry and what it meant to us. And then this opportunity arose, and I seized it."
Actor John de Lancie, who returns as Q in Picard Season 2, compared working with Stewart to playing tennis: "It's a little bit like going out on the tennis court, and deciding to play a really good game with an opponent that also plays a really good game and deciding 'let's really swing these rackets here.' You know we're gonna have a good time."
Working on Picard is not all reading poetry, however. Season 2 takes the character in a number of interesting and challenging directions. Not only in facing off with an old adversary, Q, but he is boldly going into a more tender romantic relationship than we have seen from the character before.
Asked about the latter, Stewart teased: "He develops first a very, very close and admiring relationship with the role that Orla Brady plays [Laris, Picard's housekeeper]. It becomes a closer, more emotional connection than I think we've ever really seen him have before, in a romantic sense. There's quite a lot that is said about that."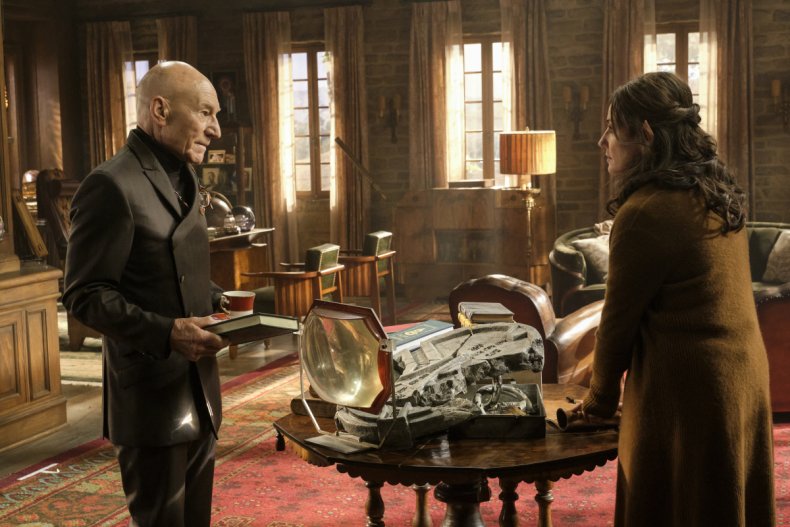 This is what persuaded Stewart to return to the character: The chance to play new sides of the character. Asked how the season was pitched to him, he said the producers told him: "You have aged over 30 years since you last put on Jean-Luc Picard's uniform. So you have been changing, but let's assume that Jean-Luc has also been changing during those very same 30 years, what might have become of him? Where is he? What is he doing? What is his emotional state as he gets older and older?
"I found that intriguing, that they would permit me to use Star Trek: The Next Generation as a kind of launchpad for new material and new experiences and new revelations about him which is what we have been trying to show."
Star Trek: Picard Season 2 starts Thursday, March 3 on Paramount+. Episodes air weekly on Thursdays.