Patriot Prayer Members Armed With Snipers Positioned Themselves on Roof Ahead of August Protest, Police Reveal
Members of the far-right group Patriot Prayer armed with sniper rifles had to be "redirected" from a rooftop ahead of a planned march in Portland, Oregon, police have revealed.
Portland Police Bureau Assistant Chief Ryan Lee said officers found a number of people positioned on top of a garage roof with a "cache" of guns directly above where a planned rally was due to take place on the afternoon of August 4.
All firearms were confiscated, and the people, who had permits to carry concealed weapons, were moved on without any arrests being made.
The incident was finally revealed during a press conference involving Portland Police and Mayor Ted Wheeler after the city experienced yet another weekend of violence, when members of Patriot Prayer clashed with anti-fascist counterprotesters on Saturday, October 13.
"The Portland Police Bureau discovered individuals who positioned themselves on a rooftop parking structure in downtown Portland with a cache of firearms," Wheeler said during a press conference, reports Oregon Live.
Berk Nelson, a senior mayoral aide, confirmed that "long guns" were among some of the weapons the Patriot Prayer members had in their possession.
When asked why these details are only just emerging months later, Portland Police Chief Danielle Outlaw responded: "Hindsight is always perfect."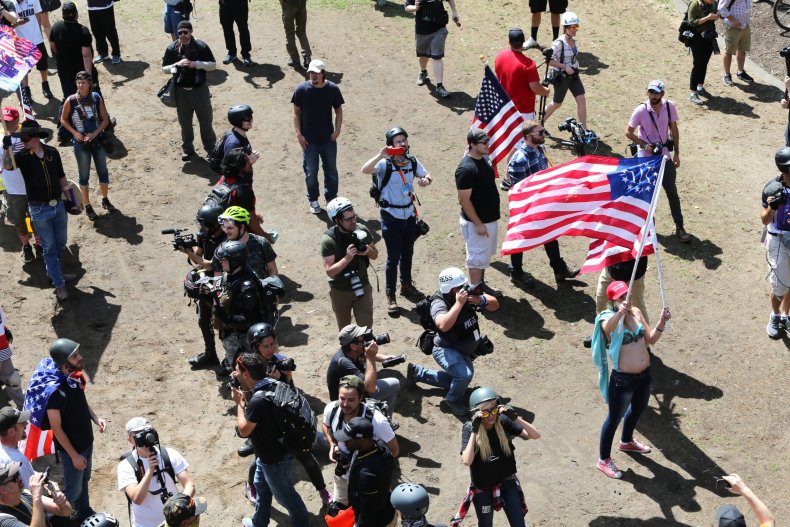 "We've pushed out a lot of information about our concerns about potential violence," she added (via Portland Mercury).
Patriot Prayer's leader, Joey Gibson, said the press conference is the first time he heard of the rooftop incident.
"It sounds like they completely exaggerated it," Gibson told Oregon Live. He added police would have surely arrested those involved if they believed it was a serious incident or that people's lives were at risk.
Police later arrested four people and seized multiple weapons throughout the day during the disorder that broke out at August's rally.
Patriot Prayer, who deny allegations they are a hate group, have staged several rallies in Portland in recent months, each one breaking out into violence and being met with counterdemonstrations.
Clashes erupted once again following the city's October 13 Patriot Prayer gathering, which was billed as a "march for law and order."
Portland Police said in a statement officers observed people in possession of hard-knuckled gloves, firearms, batons and knives during the disorder, with people also using pepper spray. Rubber bullets were also used by officers in order to break up a fight.
Following the latest day of violence, Wheeler said he intends to crack down on the "recurring street brawls" in Portland.
"There are some basic ideals we should be able to agree on as Americans: We don't tolerate violence in our streets," he said in a statement. "Violence is not—and has never been—a legitimate means to a political end.
"I will not allow continued, planned street violence between rival factions to take place in Portland, Oregon. And I will ask those in positions of influence—elected officials, lawyers and law enforcement, community organizations, and people of conscience—to join with me.
Wheeler added: "This is not a partisan issue. This is not about ideology. This goes beyond Democrat and Republican. This is about delivering a strong and principled message that we will not tolerate violence in our community."