Paula Vogel's 25-Year-Old Play Debuts on Broadway With the Original Leads
Paula Vogel's Pulitzer Prize–winning play How I Learned to Drive has had a long and successful history ever since it opened off-Broadway at New York's Vineyard Theatre in 1997. The play, which is about incest and sexual assault, is at once a cri de coeur, a comedy of manners and a bit of a therapy session. Its original cast starred Mary-Louise Parker, David Morse and Johanna Day and was directed by Mark Brokaw. Now, in a very unusual, if not unprecedented move, the show has debuted on Broadway with those four principals returning in their original roles. It has also received three Tony Award nominations, for best revival of a play, best performance by an actress in a leading role in a play (Parker) and best performance by an actor in a leading role in a play (Morse).
Anyone who did not see the original production should see this production, and anyone who did see the original production should absolutely see this production. Aside from more informed performances, it is a textbook example of how to approach a tough subject without lapsing into preachiness. There is humor and there is pain. There is so much that is current, but none of that feels forced. Nothing in the text or the presentation betrays when this was written, and nothing in the production even winks at current hot-button topics. For Vogel, this is a personal play; it couldn't be more personal.
Vogel told Newsweek, "I am a survivor." Hearing those words after seeing this play, it is tough to not tear up. It would have been very easy to excuse her making Uncle Peck a villain, but as written and certainly as played by Morse he is anything but. In fact, in some ways, he even seems very decent.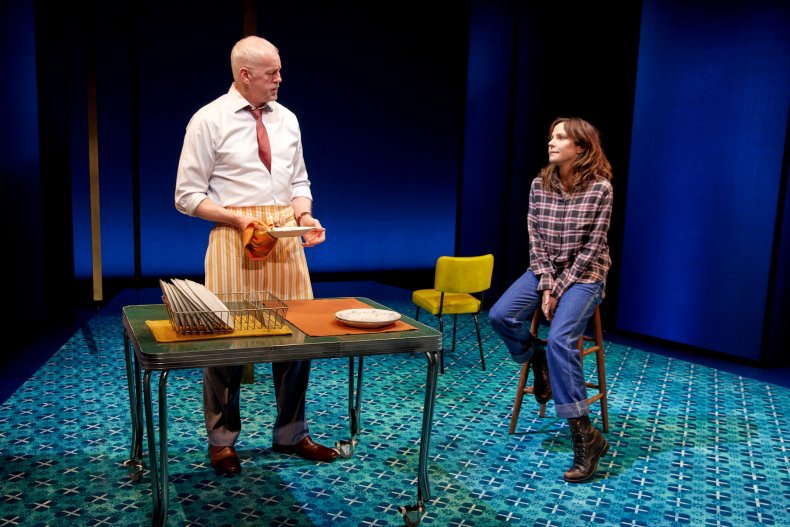 David Morse: A Potentially 'Extraordinary' Atticus Finch
When asked if that was intentional, Vogel told Newsweek, "Yes, it was. I had said in the original stage directions that I wanted whoever plays Uncle Peck to be the actor you would choose for To Kill a Mockingbird to play Atticus Finch. David Morse would make an extraordinary Atticus Finch.
"I can talk about this now because the people in my family are dead, but this play is autobiographical. One thing I have been grappling with for a very long time is that I think for many of us who've experienced this kind of predatory behavior as children is that there is an actual affection—whether you want to call it Stockholm Syndrome—that children feel for their seducer. The victims tend to be children who are not getting sufficiently parented or cared for, and, as kids, we look for someone who will care for us. So, there is an affection.
"Moreover, I find that the mistake we all make—and it's an understandable mistake—is to think of pedophiles as demons and monsters. And we may feel that in the aftermath of processing our pain and our dissociation. But the truth of the matter is, seeing somebody as a human being, rather than a mythic monster is much easier to come to grips with, to forgive oneself and to be able to reduce the power that that person had in our childhood.
"So, yes, [making Uncle Peck decent] was very deliberate, and the day that David Morse walked in to do the first reading, I just knew this was an extraordinary actor for the role."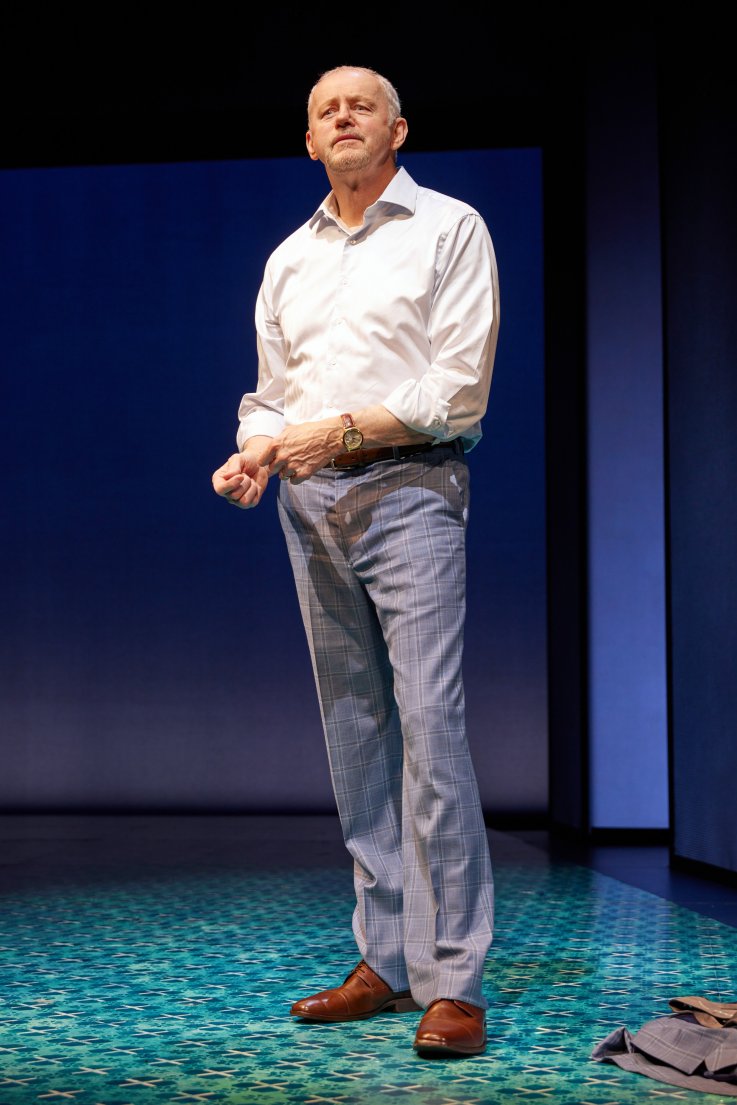 David Morse portrays a sexual predator so charming and decent that he could easily play Atticus Finch in "To Kill a Mokingbird."
Jeremy Daniel
These days it is not uncommon for plays dealing with any sort of sexual subject matter to have an intimacy coach. There was no such person when How I Learned to Drive debuted, and there is none in this production.
Vogel told Newsweek, "I do understand why intimacy coaches are necessary: There can be a real abuse of power in terms of directors and actors. And certainly, growing up, acting at Catholic University and in my first jobs in theater departments, I saw a lot of abuse of power by older acting teachers with young women MFA candidates."
That, however, has not been necessary in these productions, Vogel said, "with a wonderful, great human being, Mark Brokaw, as the director and these two magnificent titans of acting. So, I have to say I've never felt safer in the American theater than being in the room of How I Learned to Drive, both 25 years ago and now."
As to why they have brought back these three actors, Vogel told Newsweek that she would have brought back the whole company from the original production, but certain roles need to be played by younger actors. For her that company was special. "In order to dig deeply into a subject that most people feel is too dark to put on the stage, you have to embrace safety, trust and go toward a feeling of lightness, a feeling of vibrancy and buoyancy, and we had it together as a company. We could protect each other emotionally. We did that the first time, and it was an extraordinary and deep experience. About 10 years later, we started saying, 'You know, we should try and do this again.' But it took a very long time to make the pieces come together."
They were all set to open this revival in 2020 when the pandemic shut them down.
"We were in rehearsals when we shut down," Vogel said, but in many ways, it was worth it. "I have to say, all through this, they gave me so much joy and so much peace of mind, in being able to do this play the way they did in 1997. I am extraordinarily grateful and lucky to have these actors back. I have always thought that repertory theater is the greatest theater that we can do. Because it allows actors to go back and tackle King Lear two or three times in their lifetime. [It allows us to see] the extraordinary capacities that actors develop over a lifetime.
"So, I was very excited to see with all the roles they've done, what depths are in these actors, and it's astonishing, to see the distance they've come since 1997.
"This cast owns this play and as far as I'm concerned, they own me for the rest of my life. They can always have the shirt off my back."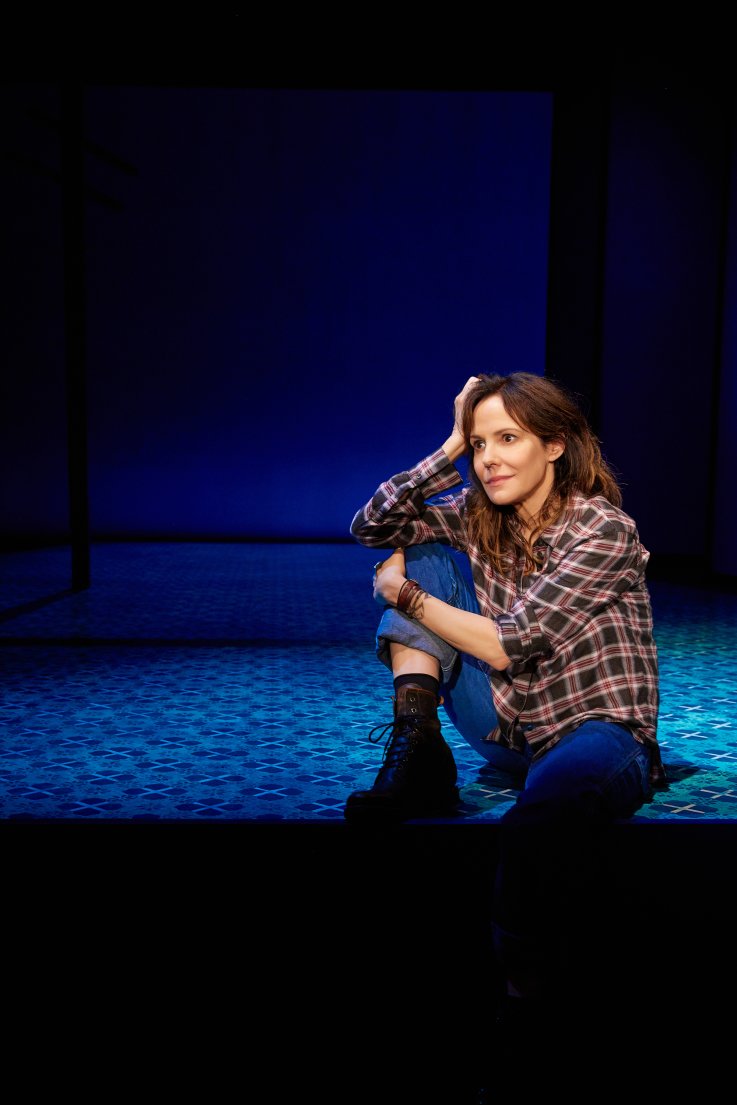 Mary-Louise Parker reprises her emotional wrought character Lil Bit, in Paula Vogel's gut-wrenching, yet very funny play "How I Learned to Drive," now on Broadway.
Jeremy Daniel
What We Have Learned
"One of the things I feel is that we now are literate about pedophilia, because we've had Donald Trump in the White House and he's a close friend with Jeffrey Epstein. And we've gone through Neverland as a documentary, we've gone through Spotlight as a documentary, we've gone through Senate hearings."
And how does this affect the play in performance? Vogel told Newsweek, "I think people worry about whether or not they should laugh, and it's a funny play. And the laughter in there and the comedy in there are very deliberate because I'm a survivor; and the only way you survive is to tell the joke. Find the funny in it and own it.
"This time, I feel stronger than I did last time. I had a tagline when I was writing this. I said to Doug Aibel at the Vineyard Theatre, 'Hey, I've got the perfect tagline,' and I said, 'It takes a village to molest a child.'
"And he said, 'No, we're not using that.'
"But looking at it with all of the knowledge that we have that this continues in our midst, I feel that as we're sitting here as adults, we have to remind ourselves how vigilant we have to be about our children. We should be protecting them, making sure that they keep their innocence, and that's a hard call for parents these days.
"So, I feel that tagline actually is even more appropriate now."
Writing How I Learned to Drive was a relief, Vogel told Newsweek, "It was a catharsis. It really surprised me. I wrote it in two weeks, though I worked on it in my head for 20 years. I wanted to tell my story. My main question to myself was, 'How do I tell a story about abuse without abusing the audience?'
"I became terrified. That I had to give it to my family. I became terrified that people would see this and think, Oh my god, what's wrong with you to write a play like this?
"I thought I'd be stoned. But when I got into the rehearsal room with Mary-Louise Parker, and Johanna Day and the sublime David Morse, and Mark and Kerry O'Malley and Michael Showalter, I felt the safest I felt in years."
Theater and Therapy
"And there's a sort of remarkable thing: I really believe theater is an important tool in terms of trauma, and we all have trauma. If you can get to a point where you can express it, rather than keep it internal. Then actors come along and pick up your words and your situation, and there's almost a sense that they lift the burden from the writer to come fair play in a way and you get to see it from the outside. It's Gestalt therapy really.
"I always joke about this: I say I'm so glad I went into theater: Think of the thousands of dollars I saved in therapy.
"Whether it be the people we lost in COVID, the epidemic of gun violence, the relationship right now in our communities of politics and me watching people get called pedophiles—which is really kind of insulting to any survivor—we need to be able to come together and express the trauma so it's outside, so it starts becoming externalized so we start the healing."
How They Learned to Wright
In addition to her career as a playwright, at Brown and Yale Universities, Vogel has taught some of the finest playwrights of the past 30 years, including Lynn Nottage, Sarah Ruhl, Nilo Cruz, Bridget Carpenter, Adam Bock and Quiara Alegría Hudes. This gives her as much if not more satisfaction as does her writing.
"Five of my students to date have won the Pulitzer at an earlier age than I did. I just wanted to make sure they got through the gate before I did, and, and that's joyful. too. But I've always known that I was going to be a late bloomer because I write a certain kind of play." Vogel is an open and active member of the LGBTQ community.
"I hope that I can hang on long enough to be the Grandma Moses of playwriting."
In the meantime, she can savor How I Learned to Drive, which grows richer with the passage of time and should be revived every few years, especially—but not exclusively—with this group of artists.
How I Learned to Drive, produced by the Manhattan Theatre Club, is now playing at the Samuel J. Friedman Theatre, 261 West 47th Street, New York, through June 12 only. For tickets and more information go to ManhattanTheatreClub.com.