Speaker of the House Nancy Pelosi, a California Democrat, said Tuesday that a compromise COVID-19 stimulus bill is being written, expressing optimism about a final agreement being reached.
Negotiations over another round of economic stimulus have been ongoing since summer, despite the benefits of the bipartisan $2 trillion CARES Act, which was approved in March, largely lapsing at the end of July. Meanwhile, economists and Federal Reserve chair Jerome Powell have urged lawmakers to take further action, as millions of Americans remain unemployed and concerns about the possibility of long-term economic damage mount.
"We all want to get an agreement because people need it and it's urgent and our economy needs it," Pelosi told Bloomberg TV in an interview. "Hopefully by the end of today we'll know where we all are."
"We're starting to write the bill, and then we can have the negotiation," she said. "But I'm optimistic. You know legislation's tough." Pelosi said that the bill would need to be fully written by the end of the week for there to be hope of it passing by Election Day.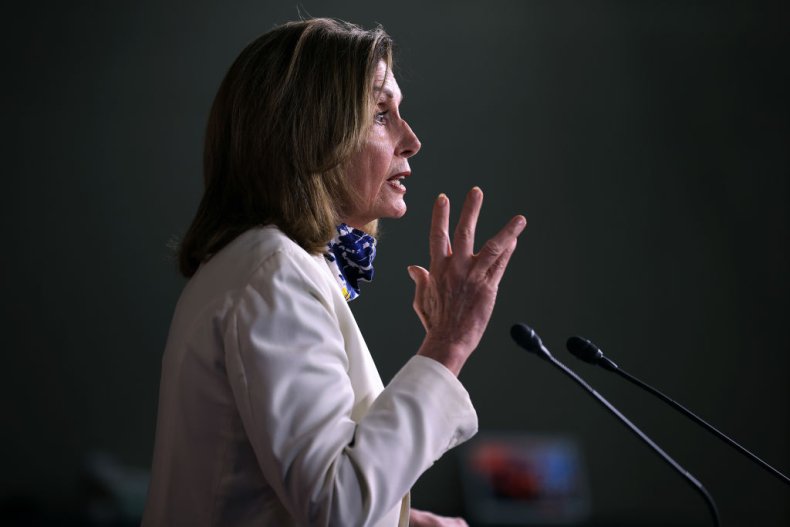 In another promising sign that a breakthrough is possible, Senate Majority Leader Mitch McConnell, a Kentucky Republican, committed to bringing a House Democrat and White House approved bill to the Senate floor. "If a presidentally [sic] supported bill clears the House at some point we'll bring it to the floor," McConnell said.
However he notably did not commit to doing so quickly. Currently, Senate Republicans are rushing through the confirmation process of President Donald Trump's Supreme Court nominee Amy Coney Barrett, planning to hold a final vote before the election.
Many Senate Republicans have expressed significant qualms and opposition to another massive stimulus package, after already supporting the $2 trillion economic bailout earlier this year. Although Trump initially put forward a $1 trillion plan with Senate Republicans at the end of July, the president has voiced a willingness to come up significantly in recent days. On Tuesday morning, the president suggested he wanted to spend even more than Democrats on the package.
"I want to do it even bigger than the Democrats. Not every Republican agrees, but they will. I want to do it even bigger, because this is money going to people who did not deserve what happened to them," he said in an interview with Fox News morning show Fox & Friends.
House Democrats initially passed a more than $3 trillion package—the HEROES Act—in May. But Republicans and the White House dismissed that as a Democratic "wish list." At the beginning of October, House Democrats passed a relatively smaller $2.2 trillion package—demonstrating a willingness to compromise. But again, GOP lawmakers largely balked at the proposal. The White House then offered a $1.8 trillion package, and Treasury Secretary Steven Mnuchin and Pelosi have been negotiating from there.
Although there have been significant disagreements, all sides largely agree on several major proposals. For instance, Republicans, Democrats and the White House all want to include an additional $1,200 stimulus check or direct payment to the majority of Americans. They all want to bolster the Paycheck Protection Program (PPP), which was included in the CARES Act and provided forgivable loans to keep workers on payroll during the pandemic. Additionally, they want to renew additional federal unemployment payments to jobless workers. But while Democrats have demanded these payments stay at $600 per week, Republicans want the amount decreased.
The details of a final agreement, and whether it would pass in the Republican-controlled Senate, remain unclear. But it appears that it would have a chance of passing in the Senate with the support of Democrats and some Republicans.
Earlier this month, Senator Mike Braun, an Indiana Republican who sits on the Senate Budget Committee, said he suspected a number of GOP lawmakers would support a large stimulus deal. Although he said a big topline figure would concern many of his colleagues, he noted "that doesn't mean that you might not get 10 to 15, maybe 20 Republicans in the Senate that may go along with what the Senate Democrats would be OK with."
Newsweek reached out to McConnell and the White House for further comment, but they did not immediately respond.