Pence Tries to Intimidate North Korea With 'Maximum Pressure' Campaign Before Heading to Olympics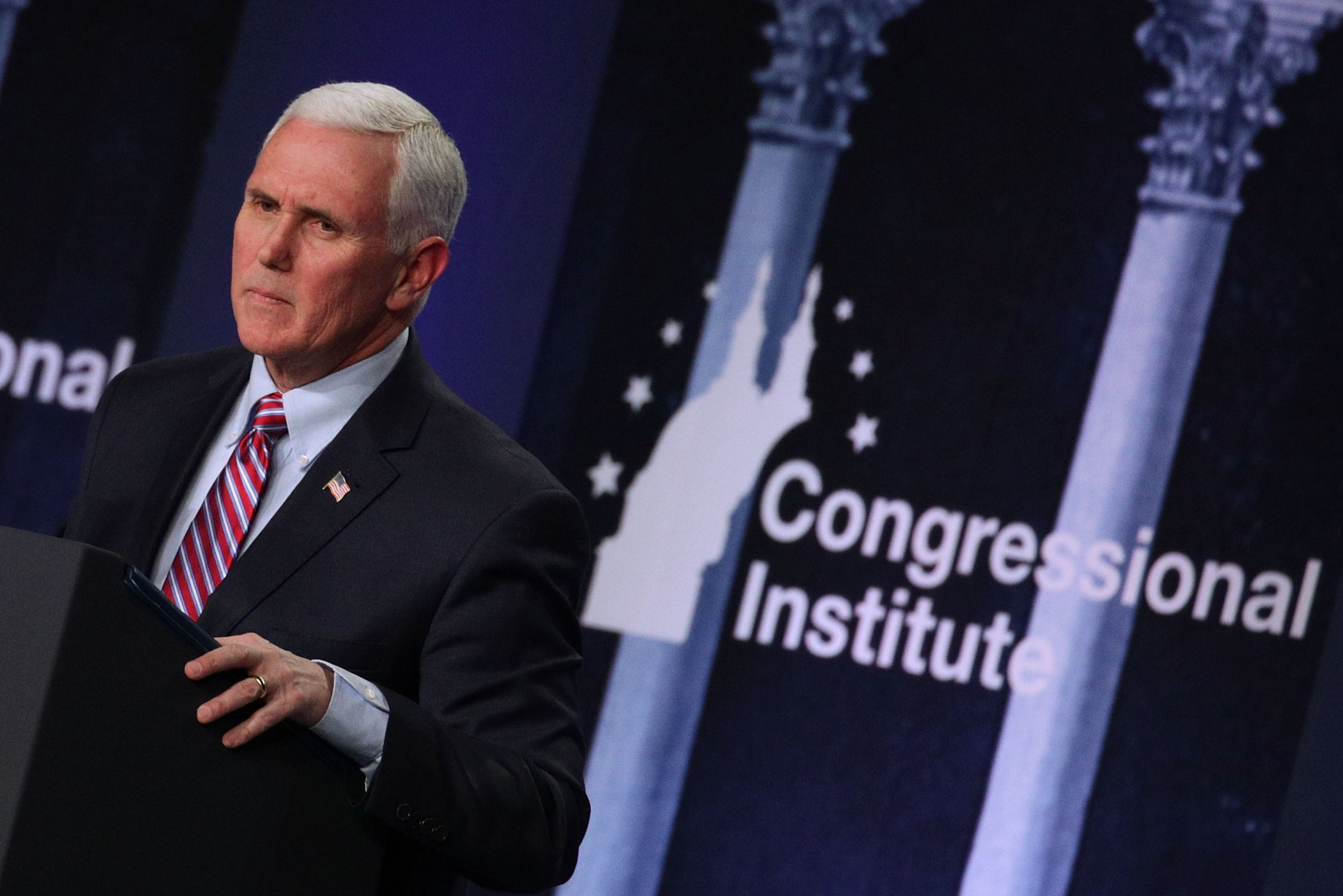 Ahead of his upcoming trip to South Korea for the Pyeongchang 2018 Winter Olympic Games, Vice President Mike Pence is taking steps to intimidate North Korea, saying in a speech that the United States would soon unveil its "most aggressive" economic sanctions on the rogue state.
"Together with Japan and our allies, let the world know this: We will continue to intensify our maximum pressure campaign until North Korea takes steps toward complete, verifiable, and irreversible denuclearization," Pence said in the Wednesday speech in Tokyo.
The vice president was in Japan to meet with Prime Minister Shinzo Abe as part of a six-day tour through Asia to discuss security and stability on the Korean Peninsula, according to the White House.
Pence reiterated a line from his speech in a Wednesday tweet, writing "The United States of America will soon unveil the toughest and most aggressive round of economic sanctions on North Korea EVER – and we will continue to isolate North Korea until it ABANDONS its nuclear and ballistic missile programs once and for all."
Pence arrived in Japan on Tuesday after stopping at Joint Base Elmendorf-Richardson in Anchorage, Alaska, on Monday. Earlier this week, a Trump administration official said that Fred Warmbier, the father of Otto Warmbier, will accompany Pence and team USA as a guest at the Olympic games.
Otto Warmbier was a student at the University of Virginia when he traveled to North Korea in January 2016. He was detained by North Korean officials three weeks later for removing a propaganda poster in Pyongyang and made a televised apology in February 2016. After being held in a North Korean prison for 17 months, Warmbier, comatose, was returned to the United States in June 2017. He died days after his return.
North Korea said that Warmbier's death was "a complete mystery."
Pence said the purpose of his trip to Asia is not only to support the U.S. team, but also to highlight North Korea's continued threat to the United States and its allies.
"At every opportunity, the V.P. will point out the reality of the oppression in North Korea by a regime that has enslaved its people," an unnamed aide to the vice president told Axios on Sunday. "We will not allow North Korea's propaganda to hijack the messaging of the Olympics."
When North Korea agreed to send athletes to the Olympic Games, the country's delegation head, Ri Son Gwon, assured its southern neighbor on January 9 that, "North Korea's weapons are only aimed at the United States, not our brethren, China or Russia."