U.S. Military and Russia Clash Over Donald Trump's Boast of Victory Over ISIS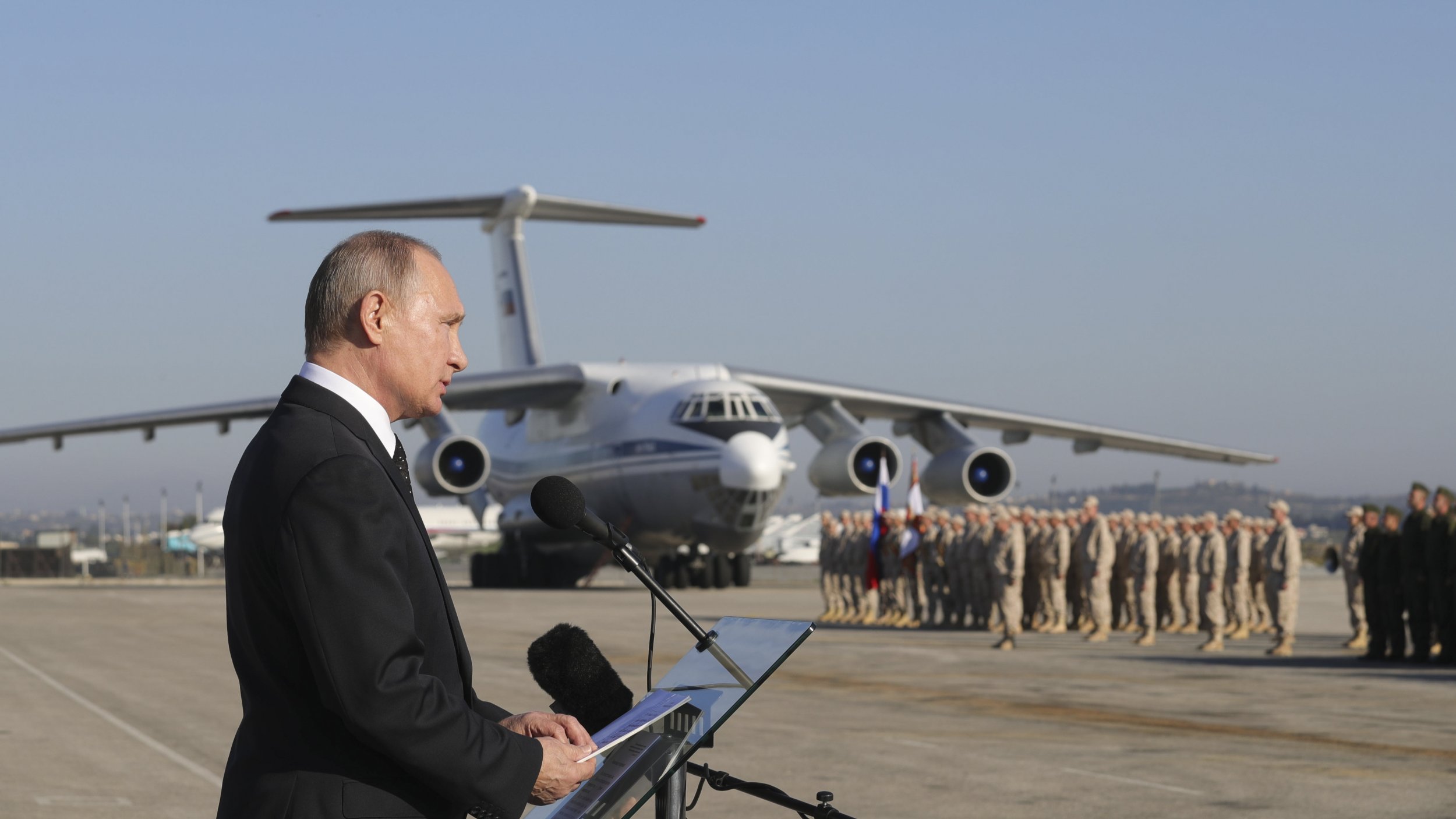 Russia's Defense Ministry has criticized the U.S. over what it claims are mixed messages about its fight against the Islamic State militant group (ISIS) in Syria.
The Russian military was irked by President Donald Trump's taking credit for defeating the Islamist group, while the military has maintained forces on the ground in Syria. Moscow's blunt response came after Trump saluted U.S. Defense Secretary James Mattis for doing a "fantastic job" in fighting the group last week and once again praised the U.S. "campaign to obliterate ISIS" during a defense budget signing on Tuesday. "As you know, we've won in Syria, we've won in Iraq. But they spread to other areas, and we're getting them as fast as they spread," Trump said.
Russia's President Vladimir Putin has attempted to portray Moscow as the winner in the Syrian war, and his defense ministry took offense at Trump's words, accusing U.S. defense chiefs of lying. Major General Igor Konashenkov, spokesman for Russia's Defense Ministry, said the U.S. should either pull out of Syria or stop letting President Donald Trump claim victory.
Related: Top U.K. General Warns Russian Ships Might Threaten Undersea Cables Vital for West
"It appears that either the Pentagon is consciously deceiving the international and American public, including their own commander in chief, or there no longer exist any grounds or formal pretexts for American forces to be in Syria," Konashenkov said on Friday, reported in state media outlet Tass.
Konashenkov took aim at the fact that the U.S. does not plan to end its military intervention in Syria. Russia, a military ally of Syrian President Bashar al-Assad, has long argued that it is part of the only legitimate intervention in the country because the Syrian autocrat asked for Moscow's help and not that of the U.S. and its allies.
Keen to present Russia as the ultimate victor in Syria, Konashenkov said that the message from the U.S. not only showed "the poorly concealed desire that we weren't there, but also the lack of control the U.S. has on the situation on the ground," state news agency Itar-Tass reported.
Ironically, Konashenkov's words came only a day after Putin himself submitted a treaty to Parliament that would allow his forces to remain in Syria for decades to come, despite announcing Russia's mission accomplished and once again declaring a withdrawal days prior.
In reality, the Russian-held airfield in Khmeimim continues to operate as a Russian air base, and the naval port in Tartus could be upgraded to host up to 11 military ships and remain in Russian hands for close to 50 years more.
Asked by Newsweek to comment on Konashenkov's statement, the Pentagon refuted the allegations, saying Washington "has been clear about its operations in Syria."
"Suggestions that the Department of Defense has deceived anyone about its objectives in Syria are demonstrably false," said spokesman Adrian Rankine-Galloway. "The recurrent pattern of misleading and false official statements from Russian government sources is unhelpful and does nothing to advance Russia's stated goals of ridding Syria of ISIS and other terrorist organizations.
"U.S. forces will continue to work by, with, and through partner forces to defeat the remaining vestiges of ISIS and to prevent a reemergence of the terrorist group," he continued, backing the effort to resolve the Syrian conflict through the U.N.-brokered peace talks in Geneva. Russia, although party to those talks, created another set of negotiations with only a fraction of the conflict's participants involved.
In recent months, Moscow has doubled down on the narrative of the war, accusing the U.S. not only of being ineffective in fighting ISIS but of shielding the group from destruction. The Russian defense ministry went as far as to publish "irrefutable evidence" of this alleged activity last month in the form of images from the air, which Russians subsequently discovered were screenshots from a computer game. Moscow deleted the images but did not retract the allegations. Earlier in November, a BBC investigation showed that Syrian fighters supported by U.S. air strikes agreed to let ISIS fighters flee Raqqa alive, though a coalition spokesman denied that the military was privy to such a deal.
U.S.-coalition strikes have limited themselves largely to hitting ISIS-held territories, taking back the group's former strongholds in Syria and Iraq (Raqqa and Mosul, respectively). Russian operations have varied between targeting ISIS and a host of other groups opposed to Assad, without carrying out attacks abroad.
In recent months, Russian forces focused on Syria's southeast, where clusters of ISIS forces continued to operate. The first order of business of the operation that began in 2015 was not ISIS but territories held by Assad's opposition. Local monitoring groups estimated civilian casualties of Russian air strikes to be well into the thousands, outpacing the reported monthly bloodshed by ISIS in some instances; however, Russia has denied all reports of hitting civilian targets.