Despite heartfelt tributes and widespread sorrow at the death of Queen Elizabeth II, Britain's longest-reigning monarch, many people are refusing to mourn her passing.
The Queen died peacefully at Balmoral Castle in Scotland on Thursday afternoon, Buckingham Palace said. She was 96 and had reigned for seven decades. Her son, King Charles III, has suceeded her as Britain's monarch.
But Elizabeth's passing drew mixed reactions, with some refusing to mourn her because of her leadership of what they described as a brutal British empire that was responsible for the deaths of millions of people.
Uju Anya, a linguistics professor at Carnegie Mellon University on Thursday described the late queen as the monarch of a "thieving raping genocidal empire" in a series of tweets on her death.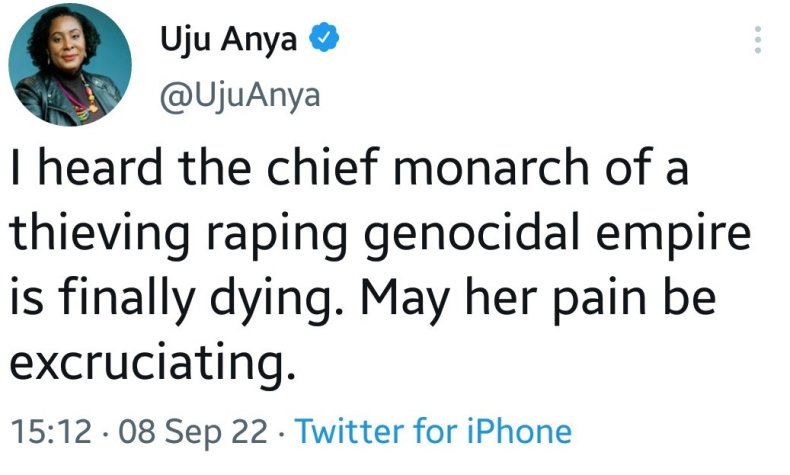 "I heard the chief monarch of thieving raping genocidal empire is finally dying. May her pain be excruciating," Anya said, in a tweet that was removed by the social media site for violating its policy.
Her comments have received a huge backlash, including from one of the richest men in the world, Amazon founder Jeff Bezos.
Although the tweet Bezos responded to was deleted, one of Anya's tweets was not removed.
"If anyone expects me to express anything but disdain for the monarch who supervised a government that sponsored the genocide that massacred and displaced half my family and the consequences of which those alive today are still trying to overcome, you can keep wishing upon a star."
She was referencing the British conquest of Nigeria in the late 19th century and early 20th century, when thousands of Nigerians were arrested, displaced and killed.
Anya's university has refused to condone her comments.
The Economic Freedom Fighters (EFF), South Africa's third-biggest political party, did not have fond words to say about the monarch's passing either.
"The Economic Freedom Fighters notes the death of Elizabeth Alexandra Mary Windsor, the Queen of the United Kingdom, and the ceremonial head of state of several countries that were colonized by the United Kingdom," the left-wing group said it a statement.
The EFF criticized the queen, who ascended to the throne in 1952, for reigning for 70 years as a head of an institution "built up, sustained, and living off a brutal legacy of dehumanization of millions of people across the world."
"We do not mourn the death of Elizabeth, because to us her death is a reminder of a very tragic period in this country and Africa's history," the statement said.
"Britain, under the leadership of the royal family, took over control of this territory that would become South Africa in 1795 from Batavian control, and took permanent control of the territory in 1806.
"From that moment onwards, native people of this land have never known peace, nor have they ever enjoyed the fruits of the riches of this land, riches which were and still are utilized for the enrichment of the British royal family and those who look like them."
The EFF statement highlighted several wars waged by the British against native South Africans in the 1800s and early 1900s and claimed that the royal family's institutional racism led to the genocide of Aboriginal people in Australia.
The party said that that the royal family's leadership "has been one of pain and suffering, of death and dispossession, and of dehumanization of African people".
It also referenced how the royal family allegedly "plundered India via the East India Company," how "its thirst for riches" caused millions of people in Bengal to die of famine in 1943 and 1944, and how it oppressed people living in the Caribbean islands.
Many historians believe that the famine in Bengal was a result of British Prime Minister Winston Churchill's wartime colonial policies rather than having anything to do with the royal family. A minority believe it was a result of drought in India, although a study published in the journal Geophysical Research Letters in 2019 seems to have debunked this theory.
"In Kenya, Britain built concentration camps and suppressed with such inhumane brutality the Mau Mau rebellion, killing Dedan Kimathi on the 18th of February 1957, while Elizabeth was already Queen," the statement added.
Most historians refer to these camps as prison camps or detention camps rather than concentration camps.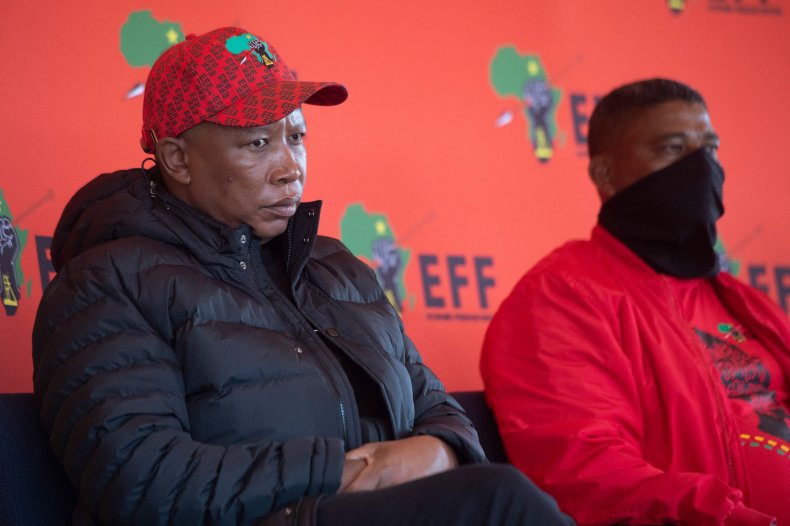 "During her [Elizabeth II's] 70-year reign as Queen, she never once acknowledged the atrocities that her family inflicted on native people that Britain invaded across the world. She willingly benefited from the wealth that was attained from the exploitation and murder of millions of people across the world.
"The British Royal family stands on the shoulders of millions of slaves who were shipped away from the continent to serve the interests of racist white capital accumulation, at the center of which lies the British royal family. If there is really life and justice after death, may Elizabeth and her ancestors get what they deserve," the statement concluded.
The statement is in stark contrast to South African President Cyril Ramaphosa's tribute, calling Elizabeth "an extraordinary and world-renowned public figure who lived a remarkable life."
The EFF has been accused of fomenting anti-white and anti-Indian racism and its president, Julius Malema, was charged in 2011 with hate speech for singing the song "Shoot the Boer"—a reference to South Africa's white population of Dutch, French and German descent.
An Australian professor of Indigenous Studies at at Macquarie University, Sandy O'Sullivan, tweeted that Elizabeth II "wasn't a bystander to the effects of colonisation and colonialism, she was an architect of it."
"She was the one who maintained a colonial rule, her boot on us," she added.
Former England soccer player Trevor Sinclair on Twitter said "black and brown" people should not mourn the queen's death as she allowed racism to "thrive" during her reign.
"Racism was outlawed in England in the 60's & it's been allowed to thrive so why should black and brown mourn!!" he tweeted.
Sinclair later deleted his Twitter account amid calls for him to be sacked from Talksport, the radio station he commentates for.
Newsweek has contacted Buckingham Palace for comment.