Carnegie Mellon Refuses to Condone Uju Anya Over Queen's Death Remarks
Carnegie Mellon university has refused to condone remarks made by one of its academics who wished Queen Elizabeth II "excruciating" pain as she died on Thursday, for ruling a "thieving raping genocidal empire."
Dr Uju Anya, a Nigerian-born U.S. professor who teaches applied linguistics, critical sociolinguistics, and critical discourse studies at the Pittsburgh-based college, criticised the late monarch in a barrage of tweets while she was under medical supervision, only hours before her death.
"I heard the chief monarch of a thieving raping genocidal empire is finally dying. May her pain be excruciating," Anya said in one tweet, which was later removed by the social media site for violating its policy.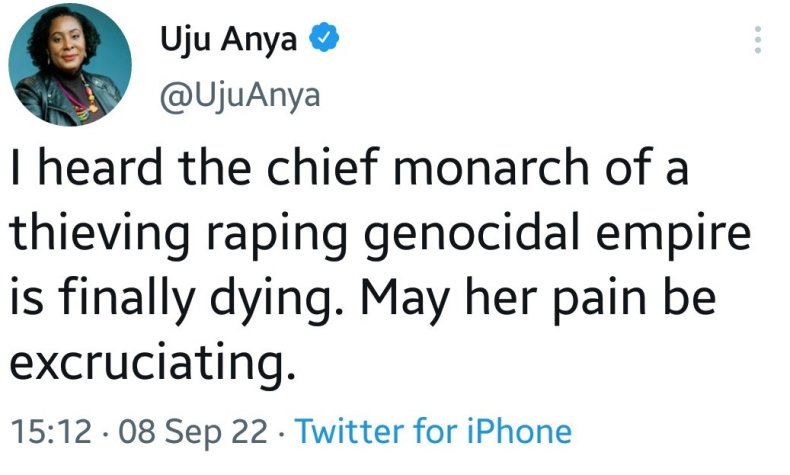 Twitter also removed the following tweet from the professor: "That wretched woman and her bloodthirsty throne have f***** generations of my ancestors on both sides of the family, and she supervised a government that sponsored the genocide my parents and siblings survived. May she die in agony."
In a statement posted on its official Twitter account, the university said: "We do not condone the offensive and objectionable messages posted by Uju Anya today on her personal social media account.
"Free expression is core to the mission of higher education, however, the views she shared absolutely do not represent the values of the institution, nor the standards of discourse we seek to foster."
Newsweek has contacted Anya for comment.
Anya's comments caused opprobrium, and drew the attention one of the world's richest men.
"This is someone supposedly working to make the world better? I don't think so. Wow," Amazon executive chairman Jeff Bezos, who is said to be worth around $136 billion, tweeted in response.
Although the tweet Bezos responded to was deleted, one of Anya's tweets was not removed.
"If anyone expects me to express anything but disdain for the monarch who supervised a government that sponsored the genocide that massacred and displaced half my family and the consequences of which those alive today are still trying to overcome, you can keep wishing upon a star," the tweet said.
She is referencing the British conquest of Nigeria in the late 19th century and early 20th century, where thousands of Nigerians were arrested, displaced and killed by British colonizers.
Although loved by many, Britain's Royal Family has also attracted controversy for its brutal rule over the British Empire. Although Queen Elizabeth II, who died in Scotland on Thursday afternoon aged 96, has acknowledged the empire's crimes against the colonies, she never publicly apologized for them.