Peter Meijer Proposes $2,400 Stimulus Checks under 'DOGE' Plan
Republican congressman Peter Meijer has said that the American Rescue Plan is full of waste and has touted his own proposal to cut the price tag of the stimulus package in half while increasing payments to individuals.
The Michigan freshman representative has been pushing his own alternative to the $1.9.trillion relief package with his alternative Direct Dollars Over Government Excess, called the $DOGE Plan.
He told Fox Business that his proposal, whose title is a nod to the meme turned cryptocurrency, would put more money in the pockets of Americans and give less to individual states.
Previously describing the bill currently being haggled over by the Senate as an "institutional abomination" he said Congress is not prioritizing vaccine delivery, COVID testing and getting children back to school.
Referring to the "Blue State bailout," he told the network that the current relief package gave "$350 billion right off the bat, some of which is going to states that are turning budget surpluses.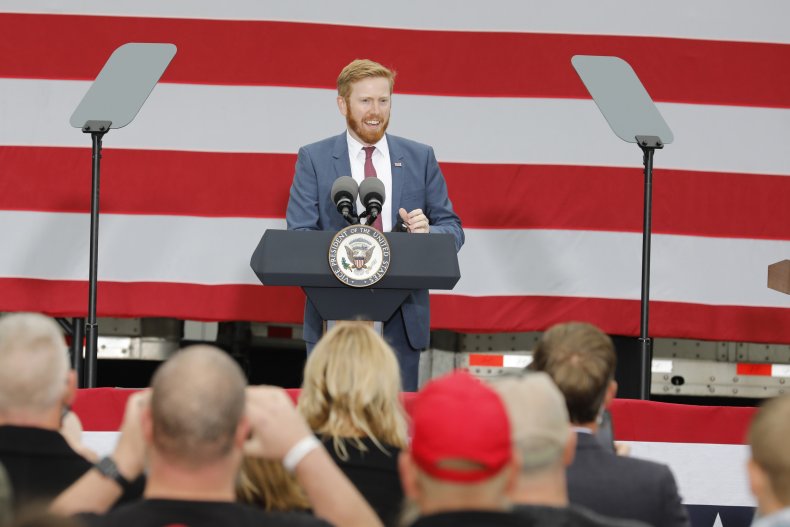 "It's $1200 per capita, per person, but that's not how it's being distributed," he said.
"So what we did was we said, 'what is the most popular thing kind people need right now? Checks. Direct cash. And what else do we need? We need vaccines, we need PPE, money to help open the schools."
"We were able to get all that into a package that was a trillion dollars less whilst almost doubling the checks," he added in the clip which he tweeted.
With it, he posted other tweets describing how his plan would include "all urgent essentials" such as vaccines, testing, PPE, school reopening and unemployment insurance.
"Give people $2400 not $1400. Focus relief where it's needed, not on random miscellany," he wrote. Newsweek has contacted Meijer's office for comment.
After the Capitol riots on January 6, Meijer took aim at those in his party who backed former President Donald Trump's claims of election fraud, describing it as "contemptible" how a number of "my fellow Republicans, told things they knew were lies."
Meanwhile, on Thursday, Vice President Kamala Harris broke a tie in the Senate over whether to proceed with a debate on the Biden administration's 628-page bill after all Republicans in the upper house voted against moving ahead with the package.
Senate majority leader, Chuck Schumer said that the relief package would pass in the coming days as Democrats aim to get a final bill to the president's desk before some relief programs expire on March 14.
"No matter how long it takes, the Senate is going to stay in session to finish the bill this week," Schumer said. "The American people deserve nothing less."