Petition to Cancel NRA Convention Over Uvalde Shooting Tops 270K Signatures
A petition to cancel the National Rifle Association's (NRA) annual convention in Texas on Friday after a mass school shooting in the state left 19 elementary students and two adults dead this week has garnered hundreds of thousands of signatures.
Opponents of the NRA view it holding its annual meeting in Houston as inappropriate or offensive in the wake of the tragedy this week at Robb Elementary School in Uvalde, a city some 54 miles east of the U.S.-Mexico border. Meanwhile, some high-profile Republicans—including former President Donald Trump, Texas Senator Ted Cruz and South Dakota Governor Kristi Noem—are participating in the event.
A petition by progressive advocacy group MoveOn to cancel the event has garnered substantial support online. As of the time of writing early Friday afternoon, more than 274,000 people had signed the petition on its website.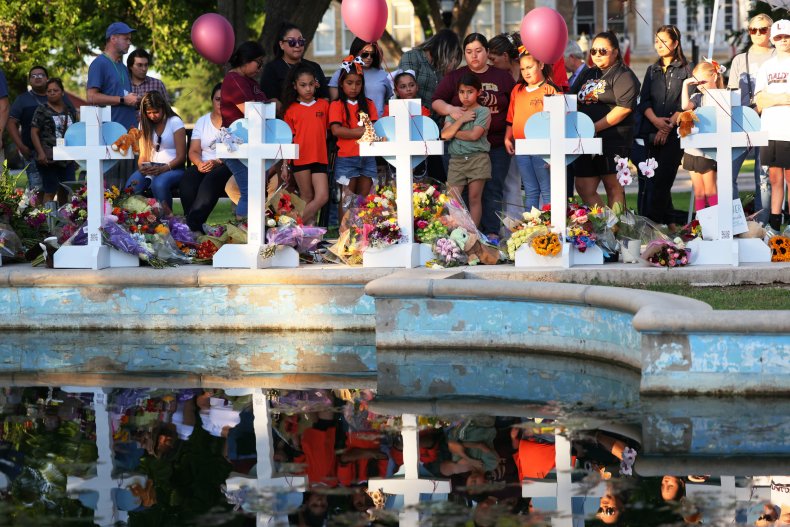 "It's beyond inappropriate for the NRA to be hosting former President Trump and other politicians to celebrate and organize a further erosion of public safety while families are still mourning the loss of their loved ones," the petition reads. "Tell the NRA and venue Houston First Corporation to cancel the upcoming Texas convention out of respect for the families lost to gun violence."
The organization added: "There's something deeply troubling when attack after attack on our schools, places of worship, and community institutions simply go on without any government response other than thoughts, prayers, and soundbites on cable tv."
"While there are differences of opinion on the NRA and the exact current day interpretation of the Second Amendment, we should all be able to agree that it's inappropriate for the largest gun lobbying organization in the world to host a celebratory convention in the very same state as this week's mass elementary school shooting," it says.
Newsweek reached out to the NRA and Houston First for comment, but did not immediately receive responses.
As the nation's most prominent gun rights lobby, the NRA is widely viewed by Democrats, some Republicans, and activists as a key obstacle to passing reforms intended to prevent or curb future mass shootings and gun violence. The group released a statement on Wednesday expressing its "deepest sympathies" in the wake of the Uvalde shooting.
"As we gather in Houston, we will reflect on these events, pray for the victims, recognize our patriotic members, and pledge to redouble our commitment to making our schools secure," the statement said.
Pulling Out After Uvalde Shooting
Some politicians and celebrities that planned to participate in the NRA event have pulled out. Politicians who have canceled include Republicans Texas Lieutenant Governor Dan Patrick, Representative Dan Crenshaw of Texas and Senator John Cornyn of Texas. Four musicians, including Don McLean, Lee Greenwood, Larry Gatlin and Larry Stewart, have said they will no longer attend as well.
"I just couldn't go," Greenwood told Fox News on Friday. "And for me to go play at the NRA just days after the shooting would be an endorsement," said the musician, best known for his song "God Bless the U.S.A." (Proud to Be an American). "People would then deem that as I like this weapon. And obviously, that weapon killed kids. And I just couldn't go."
Trump told radio talk show host Sebastian Gorka on Thursday that he would still speak at the event, describing it as "an interesting time."
"You have to give that Second Amendment great protection because, without it, we would be a very dangerous country," he said.
Meanwhile, Houston Mayor Sylvester Turner, a Democrat, dismissed the idea of his city canceling the NRA event.
"The convention has been on the books for more than two years," Turner said during a city council meeting on Wednesday, local CBS affiliate KHOU 11 reported. "It's a contractual arrangement. We simply cannot cancel a conference or convention because we do not agree with the subject matter."