Phylicia Rashad Faces Calls To Step Down As Dean Over Bill Cosby Support
Phylicia Rashad is facing calls to step down from her position as dean of Howard University's College of Fine Arts after voicing her support for Bill Cosby.
The actress, who played Clair Huxtable on The Cosby Show, sparked outrage on Wednesday, when she applauded the Pennsylvania Supreme Court's decision to vacate her former co-star's sexual assault conviction and release him from prison.
Sharing a snapshot the beleaguered actor on Twitter, Rashad wrote: "FINALLY!!!! A terrible wrong is being righted- a miscarriage of justice is corrected!"
Three hours later, she returned to the micro-blogging platform to wrote: "I fully support survivors of sexual assault coming forward. My post was in no way intended to be insensitive to their truth. Personally, I know from friends and family that such abuse has lifelong residual effects. My heartfelt wish is for healing."
While Rashad's tweet celebrating Cosby's release remains on her account, a number of Twitter users expressed outrage.
Actress Janet Hubert, who played the first Aunt Viv in The Fresh Prince of Bel-Air, tweeted: "Phylicia what are you thinking!!! I don't know you but to say this was terribly wrong. EVERYONE knew what he was doing back then. How could you NOT! Get your umbrella sista here comes the s*** shower. I am outraged that he has been released. Yes he is an old a** guilty man!"
She added: "I would have said he's old he's out and I'm happy for him, but he still ...guilty. I know 5 women who have not come forward. Enough Ya'll we know better. Powerful men do wrong things, black or white..."
Others turned their attentions to Rashad's new position at her alma mater Howard University, which was announced in May.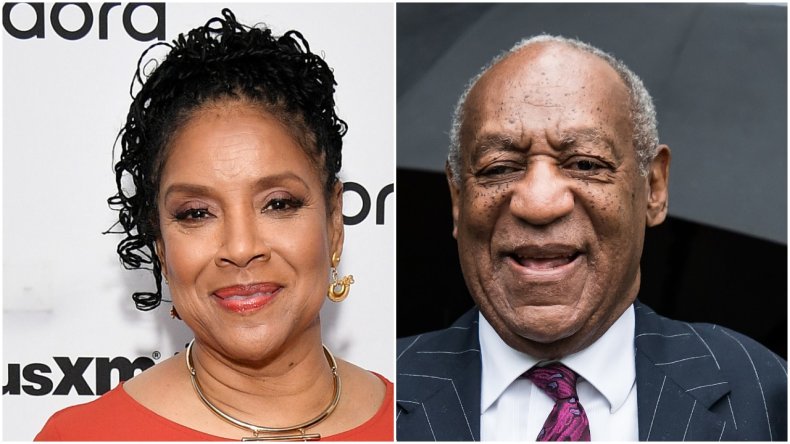 Forbes senior editor Abe Brown said: "Howard University will have to fire Phylicia Rashad over her Crosby-defending tweet by the end of the day, right? (End of the week at most?) Unclear how there could be another outcome."
"Phylicia Rashad should STEP DOWN as the dean of Howard University's College of Fine Arts," tweeted @MJFINESSELOVER. "Having an r*pe apologist as dean of a college will put students' safety on the line and demonize survivors when they report their cases on campus."
Wrote @Metsfan19863: "If I were the women of Howard University, I think I'd have some opinions on Phylicia Rashad being Dean. What happens if one of them are assaulted?"
"Phylicia Rashad is a wonderful actress. But I'd worry about her ability to appropriately respond to the inevitable sexual assault allegations that will land on her table as the new dean of Howard University's College of Fine Arts," said @Josh_B_Rosner.
"Does Phylicia Rashad represent the Howard U. faculty's policies and points of view?" @Berrentree wrote. "That is part of a Dean's job, isn't it? This is not a good look for Howard University."
"These students aren't going to feel safe at Howard University, with Phylicia Rashad being one of the Deans-supporting an admitted rapist," @For_The_Masses tweeted. "A petition has already started against her, and if she was wise she would step down."
Following Rashad's tweets, a statement was released on Howard University's Twitter account, which read: "Survivors of sexual assault will always be our priority. While Dean Rashad has acknowledged in her follow-up tweet that victims must be heard and believed, her initial tweet lacked sensitivity towards survivors of sexual assault.
"Personal positions of University leadership do not reflect Howard University's policies. We will continue to advocate for survivors fully and support their right to be heard. Howard will stand with survivors and challenge systems that would deny them justice. We have full confidence that our faculty and school leadership will live up to this scared commitment."
On Wednesday, the court ruled that Cosby's conviction should be vacated in part because a previous agreement he had with a prosecutor prevented him from being criminally charged.
In 2005, then-Montgomery County District Attorney Bruce Castor said he found "insufficient, credible and admissible evidence" on the charges against Cosby. Castor also agreed with Cosby's lawyers not to file criminal charges.
Cosby was first charged with sexual assault in 2015, after former Temple University employee Andrea Constand accused him of drugging and molesting her in 2004. He was convicted in 2018 and received a 3-to-10-year sentence. He had served more than two years by the time he was released on Wednesday.
In 2020, Cosby's lawyers appealed the 2018 conviction to the Pennsylvania Supreme Court.
Around 60 additional women also accused Cosby of drugging and raping them over the course of decades.
Newsweek has contacted representatives for Howard University and Phylicia Rashad for comment.