Celebrity and television personality Piers Morgan stood firm on his criticisms of Meghan Markle on Wednesday, following her explosive Sunday interview with Oprah Winfrey.
"I believe in freedom of speech. I believe in the right to be allowed to have an opinion," Morgan said, speaking to reporters. "If people want to believe Meghan Markle, that's entirely their right."
Morgan, however, added: "I don't believe almost anything that comes out of her mouth, and I think the damage she's done to the British monarchy and to the queen at a time when Prince Philip is lying in hospital is enormous and, frankly, contemptible."
"So, if I have to fall on my sword for expressing an honestly held opinion about Meghan Markle, and that diatribe of bilge that she came out with in that interview, so be it," he concluded.
Morgan's comments followed a Wednesday morning tweet, saying he still doesn't believe Markle after quitting his job hosting ITV's Good Morning Britain, a popular U.K. morning show, over remarks he made about Markle on the show.
"On Monday, I said I didn't believe Meghan Markle in her Oprah interview," Morgan tweeted. "I've had time to reflect on this opinion, and I still don't. If you did, OK. Freedom of speech is a hill I'm happy to die on. Thanks for all the love, and hate. I'm off to spend more time with my opinions."
The tweet linked an image featuring a quote from Winston Churchill, the former prime minister of Great Britain from 1940 to 1945. The quote said "some people's idea of free speech is that they are free to say what they like, but if anyone says anything back, that is an outrage."
Morgan announced he was leaving Good Morning Britain on Tuesday. His decision to leave the program came after he faced criticism for his response to an interview Prince Harry and Markle did with Winfrey last weekend.
During their conversation with Winfrey, Markle revealed that she dealt with suicidal thoughts during her time as a member of the royal family, and that her pleas for help were rejected.
Markle, who is biracial, also claimed that while she was pregnant with her son Archie, an unnamed member of the royal family had "concerns" about how dark the baby's skin color would be. Harry confirmed the conversation, saying he had been "a bit shocked," but declined to identify the person who made the comment.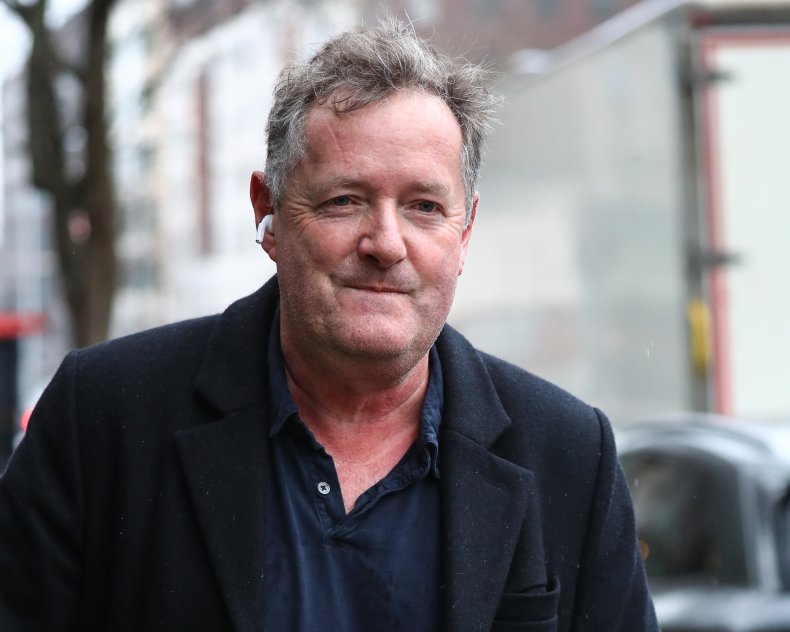 During a segment on Monday's episode of Good Morning Britain, Morgan criticized Harry and Markle for what he called the "onslaught" against the royal family.
"I'm sorry, I don't believe a word she says," Morgan said Monday. "I wouldn't believe her if she read me a weather report."
His comments drew much online criticism and prompted calls for Morgan to be fired from the program.
Morgan spoke about the interview again on Tuesday, saying that he has serious concerns about Markle's comments. He said "mental illness and suicide are clearly extremely serious things... and if somebody is feeling that way they should get the treatment and the help they need."
Newsweek reached out to Morgan, but didn't hear back in time for publication.