Piers Morgan Faces Calls to be Fired Over Meghan Markle TV Comments
British television personality Piers Morgan faced numerous calls for his dismissal following his comments on Prince Harry and Meghan Markle's interview with Oprah Winfrey, including a remark invalidating Markle's mental health struggles.
The morning after the explosive Sunday interview with the duke and duchess of Sussex aired on CBS, an incensed Morgan took to Good Morning Britain—the breakfast show he co-hosts on U.K. television network ITV—to vent his apparent outrage at the couple's revelations.
"This is a two hour trash-a-thon of our royal family, of the monarchy, of everything the queen has worked so hard for," Morgan said angrily. "And it's all being done as Prince Phillip lies in hospital."
Viewers found some of Morgan's comments—which undermine the couple's most troubling allegations—to be insensitive and potentially harmful.
One such reaction was to Markle opening up about her struggle with suicidal ideation during her time with the royal family, as well as alleging she was denied help by the institution. Morgan inferred Markle was lying.
"Okay, let's have the names," said Morgan. "Who did you go to? What did they say to you? I'm sorry, I don't believe a word she says, Meghan Markle. I wouldn't believe her if she read me a weather report."
Throughout the segment, Morgan also disputed racial elements of Markle's experience, including a shocking claim regarding concerns among the royal family over how dark her son Archie's skin color may be upon his birth.
Morgan reacted by stating: "Sorry, that claim is going to be devastating in the way it's been depicted in that interview. We don't know the context of that conversation, we don't know it definitely happened. I'm not taking anything they said at face value, I think it's completely self-serving."
Hundreds of social media users were outraged by Morgan's remarks, with many calling for his removal from the show and vowing to lodge complaints with U.K. broadcast regulator Ofcom.
As a result of the uproar on social media, a petition calling for Morgan to be removed from Good Morning Britain, which was started back in October 2019, saw a resurgence of interest. The petition is currently at over 73,000 of the target 75,000 signatures.
Morgan reacted to the activity by encouraging people to sign any of the various petitions to have him fired which are doing the rounds.
"It's clear @itv either sack him or stop doing their Britain Get Talking mental health campaign," wrote comedian Jack Rooke, referring to ITV's mental health awareness campaign. "it's one or the other & all the mental health awareness celebs/charities should be firm that you can't broadcast a full dismissal of someone's suicidal ideation at a time like this."
"itv running an entire mental health campaign around reaching out to people who need it the most while allowing piers morgan to say he doesn't believe a black woman had suicidal ideation on their flagship show says everything you need to know about corporate wellbeing posturing," tweeted entertainment journalist Lucy Ford.
Sports journalist David Law wrote: "Woman says she's had suicidal thoughts in interview. Piers Morgan says 'I don't believe her' on national TV. Everything else aside, that's a dangerous message."
"If he wasn't a broadcaster, a man with this level of obsessive behaviour towards a woman he doesn't know and has done nothing wrong is beyond creepy," tweeted London-based DJ Funk Butcher. "This brand of journalism that exists in this country that we all watched Diana be subjected to is being played out again before us. So at what point does it become too much? @GMB editorial have a duty of care."
Former civil servant Siobhan Benita wrote: "Isn't it telling that today is #InternationalWomensDay and yet somehow Meghan Markle's story has become all about what Piers Morgan thinks"
Morgan's own guests on Good Morning Britain were unhappy with his reaction to the interview.
Television personality Trisha Goddard was praised for her appearance on the segment. In a viral clip, Goddard criticizes Morgan for downplaying the racist overtones in the alleged discussions over Archie's skin color.
"What gets me is, why is everybody else such an expert about racism against black people?" she said. "I'm sorry Piers, you don't get to call out what is and isn't racism against black people. You can call out all the other stuff, I'll leave you to call out all the other stuff you want, but leave the racism stuff to us, eh?"
Lawyer and activist Dr. Shola Mos-Shogbamimu took her own guest appearance as an opportunity to call Morgan a "liar" and a "disgrace."
"You constantly use your platform as a wealthy, white, privileged man, with power and influence to aggravate and escalate the bigoted, racist, sexist and misogynistic attacks on Meghan Markle," she said. "And you do it so shamelessly."
Morgan had previously spoken of his personal grievance with Markle, claiming he met up with the former Suits actor once in 2016 then never heard from her again after she encountered her future husband.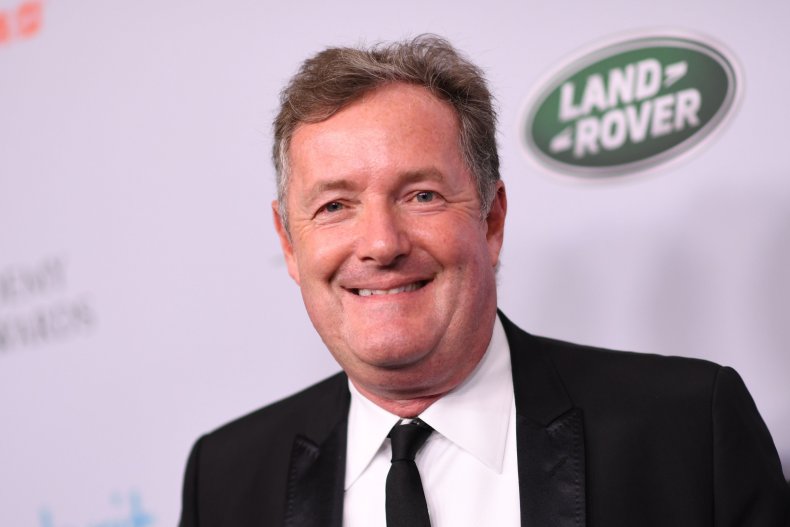 Update 3/8/21, 3:45 p.m. ET: This article was updated to include additional information about a petition to have Piers Morgan fired, and his reaction to this.