Piers Morgan Slams 'Brat' Prince Harry for Missing Grandfather's Memorial
Prince Harry was accused by Piers Morgan of sulking in his California mansion as the royals paid respects to Prince Philip in London.
Harry, wife Meghan Markle and their two children, Archie and Lilibet Mountbatten-Windsor were missing from Westminster Abbey as the rest of the royal family gathered for a memorial service to the Duke of Edinburgh.
It comes against the backdrop of Harry saying through a legal representative that it was unsafe for the family to visit Britain unless the British government reinstate his police protection.
The event, broadcast live on BBC One, sparked controversy in Harry's absence after Prince Andrew walked Queen Elizabeth II to her seat weeks after settling a sexual abuse lawsuit out of court.
Morgan wrote on Twitter: "Imagine missing your mentor grandfather's memorial service because you're such a spoiled brat you'd rather sulk in your Californian mansion than be there to support your grandmother? Shameful."
Dr. Shola Mos-Shogbamimu, a prominent U.K. author and activist, took a different view and wrote on Twitter: "Prince Harry has NOTHING to regret in missing Prince Philip memorial service.
"Remembering his grandfather isn't a public right! He attended FUNERAL! Stop making up c*** about #HarryandMeghan Be mad at why #RoyalFamily chose dishonourable Prince Andrew as Queen's companion today."
Harry filed a judicial review after a U.K. Home Office decision to remove his police security detail in September 2021 and the case has so far been bogged down in discussions over which documents should remain confidential.
A legal representative for the duke said in a January statement sent to Newsweek: "Prince Harry inherited a security risk at birth, for life. He remains sixth in line to the throne, served two tours of combat duty in Afghanistan, and in recent years his family has been subjected to well-documented neo-Nazi and extremist threats.
"While his role within the Institution has changed, his profile as a member of the Royal Family has not. Nor has the threat to him and his family.
"The Duke and Duchess of Sussex personally fund a private security team for their family, yet that security cannot replicate the necessary police protection needed whilst in the U.K. In the absence of such protection, Prince Harry and his family are unable to return to his home."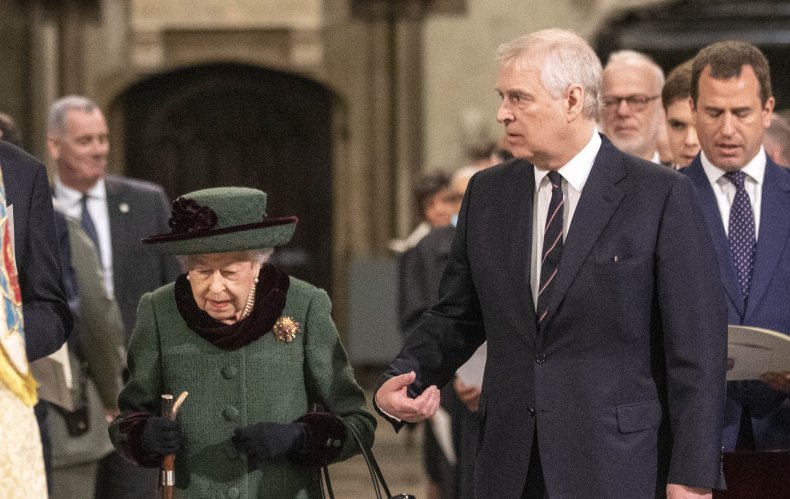 The queen appeared visibly moved during the service in which British Prime Minister Boris Johnson and senior politicians from both the government and opposition gathered to hear about Philip's legacy.
David Conner, the Dean of Winsor, told the service: "Nobody would ever doubt his loyalty and deep devotion to our queen and to their family.
"Yet, there were times when he could be abrupt; maybe, in robust conversation, forgetting just how intimidating he could be. A kind of natural reserve sometimes made him seem a little distant.
"He could be somewhat sharp in pricking what he thought to be bubbles of pomposity or sycophancy. On the other hand, we should not forget that he himself was sometimes wounded by being unfairly criticized or misunderstood."
For more royal news and commentary check out Newsweek's The Royal Report podcast: