Piers Morgan Tells Sam Smith to 'Shut Up' About Becoming a 'Fisherthem'
Piers Morgan has said that Sam Smith "needs to shut up" after the musician spoke about a desire to one day become a "fisherthem" rather than a fisherman.
The British singer, who uses the pronouns they/them, revealed a passion for fishing during an appearance on BBC's The One Show.
"I love fishing! Yes, I do! Yeah, I'd love to be a fisherthem!" Smith said.
One of the interviewers asked in response: "What? Like a fly fisherman?"
"I'd be any type of fisherthem," Smith replied. "I think I would like to—one day, I'd just like to end my days fishing, like sitting on a bank.
"I do it on the sea and I do it on lakes. I've never done it alone. Someone's always taught me," Smith explained.
The clip garnered much attention on social media, but the attention was focused less on Smith's revelation and more on the singer's use of fisherthem.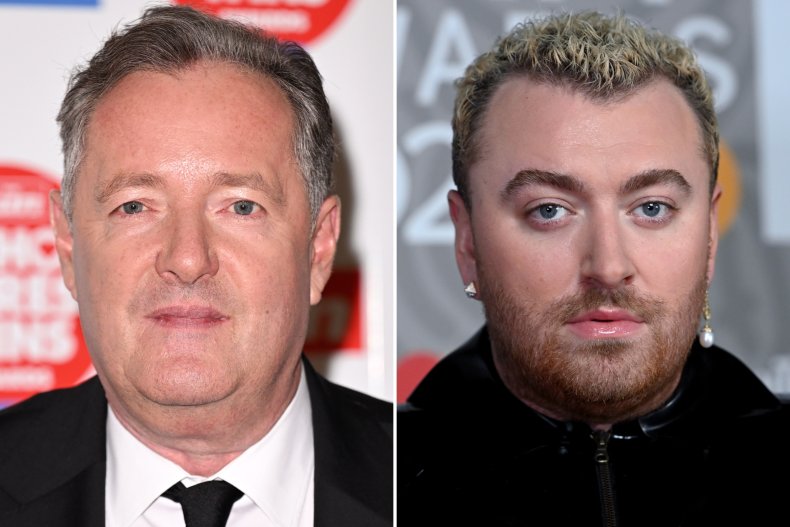 On Wednesday, TV personality Morgan shared a clip of the interview on Twitter, adding a caption that said: "Sam Smith needs to shut up."
While Smith's use of the term sparked widespread derision on the platform, many others spoke out against Morgan.
"It says a lot about people's character on how much they're talking and crying about this," tweeted one. "Who's the real snowflake?"
Another commented: "The fact that this bothers you so much says more about you than it does about Sam Smith."
And another said: "It takes a special kind of negative spirit to see someone talking about how they love to fish and laser focus on their pronouns."
Morgan's post comes after Smith's performance at the Grammy Awards earlier this month was branded "satanic" by some prominent conservatives.
Smith, who along with German singer Kim Petras scooped up a Grammy for best pop duo/group performance, sang their hit single "Unholy" at the star-studded show.
During the performance, Smith sang while sporting a red ensemble that included a devil horn hat. While onstage, the singer was surrounded by dancers who resembled the character Samara from the classic horror film The Ring.
Petras performed in a cage surrounded by flames while flanked by famed drag stars Violet Chachki and Gottmik, who were dressed in dominatrix-inspired outfits while sporting devil horns.
Asked about their supposedly devilish performance backstage at the Grammys, Petras said it was inspired by not feeling accepted by religion.
"I think a lot of people, honestly, have kind of labeled what I stand for and what Sam stands for as religiously not cool, and I personally grew up wondering about religion and wanting to be a part of it but slowly realizing it didn't want me to be a part of it," she said.
"So it's a take on not being able to choose religion," Petras continued. "And not being able to live the way that people might want you to live because, as a trans person, I'm already not kind of wanted in religion. So we were doing a take on that, and I was kind of hell keeper Kim."
Smith and Petras made history at the Grammys by becoming the first nonbinary person and openly transgender woman, respectively, to win a Grammy in their category.