Piers Morgan's Co-host Speaks Out in First Show Since His Departure
Piers Morgan's co-host on Good Morning Britain has spoken out after he quit the show in the wake of criticising Prince Harry and Meghan Markle over their bombshell interview with Oprah Winfrey.
Susanna Reid, who has presented alongside Morgan on the ITV breakfast program for five years, said it is "certainly going to be very different" without him as she made a statement during the first show since his departure on Tuesday.
Morgan's decision to leave came after he faced a severe backlash for saying that he did not believe the Duchess of Sussex who had told Oprah she felt suicidal during her time as a working royal in the UK.
The presenter later clarified that, while he has misgivings about Markle's claims, "mental illness and suicide are clearly extremely serious things…and if somebody is feeling that way they should get the treatment and the help they need."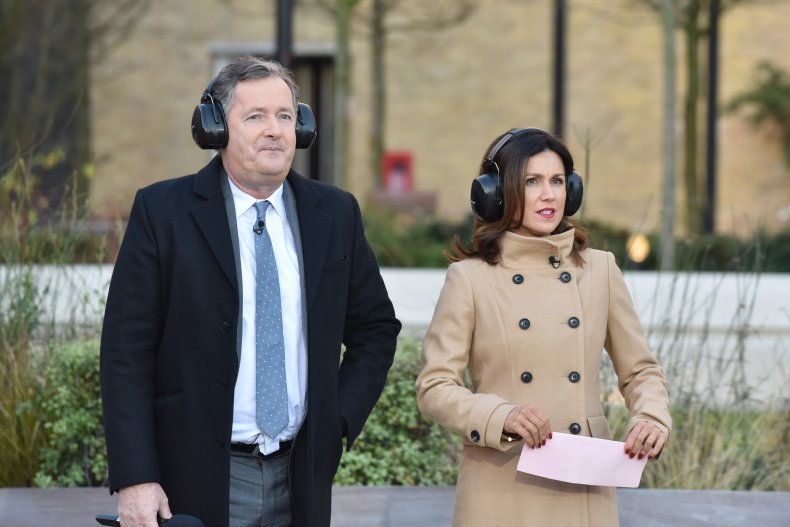 Addressing her co-host's departure, Reid spoke directly into the camera on Wednesday's show, saying: "A number of people of course will know the news and many of you will not and will be surprised that Piers Morgan is not here this morning. Now Piers and I have disagreed on many things and that dynamic is one of things that viewers love about the programme."
She went on to say he is "without doubt an outspoken, challenging, opinionated, disruptive broadcaster" with many critics and many fans. Reid also made clear that she disagreed with him about Markle's interview but she also defended him, saying he had clarified his comments about her mental health during Tuesday's show.
She said: "There are many voices on GMB and everyone has their say. But now Piers has decided to leave the program. Some of you will cheer and others will boo. He has been my presenting partner from Monday to Wednesday for more than five years. During Brexit and the pandemic and other issues, he has been a voice for many of you and a voice that many of you have railed against. It is certainly going to be very different but shows go on, and so on we go."
During his initial tirade against the couple on Monday, Morgan called the interview "a two-hour trash-a-thon of our royal family" and expressed his doubt over the authenticity of Markle's claims, saying: "Who did you go to? What did they say to you? I'm sorry, I don't believe a word she said, Meghan Markle. I wouldn't believe it if she read me a weather report."
He was then faced with an onslaught of criticism and hundreds of complaints to OfCom, the British broadcasting watchdog, which has now launched an investigation into the show.
During the live broadcast the next day, Morgan stormed off the GMB set after a heated debate with weatherman Alex Beresford, who was arguing in support of Markle.
The presenter later returned to the air to clarify his comments on her mental health, saying his "real concern was a disbelief" that Markle went to the royal household and was told she could not have any help. He said: "If that is true a) that person should be fired and b) the royal family have serious questions that need to be answered."
But later on Tuesday, the broadcaster released a statement saying: "Following discussions with ITV, Piers Morgan has decided now is the time to leave Good Morning Britain. ITV has accepted this decision and has nothing further to add."
Morgan himself spoke out about his departure from the show on Wednesday, writing on Twitter: "I said I didn't believe Meghan Markle in her Oprah interview. I've had time to reflect on this opinion, and I still don't. If you did, OK. Freedom of speech is a hill I'm happy to die on. Thanks for all the love, and hate. I'm off to spend more time with my opinions."
He shared an image of Churchill alongside the quote: "Some people's idea of freedom of speech is that they are free to say what they like, but if anyone says anything back, that is an outrage.
The graphic below, provided by Statista, shows the most complained about British TV moments of recent history.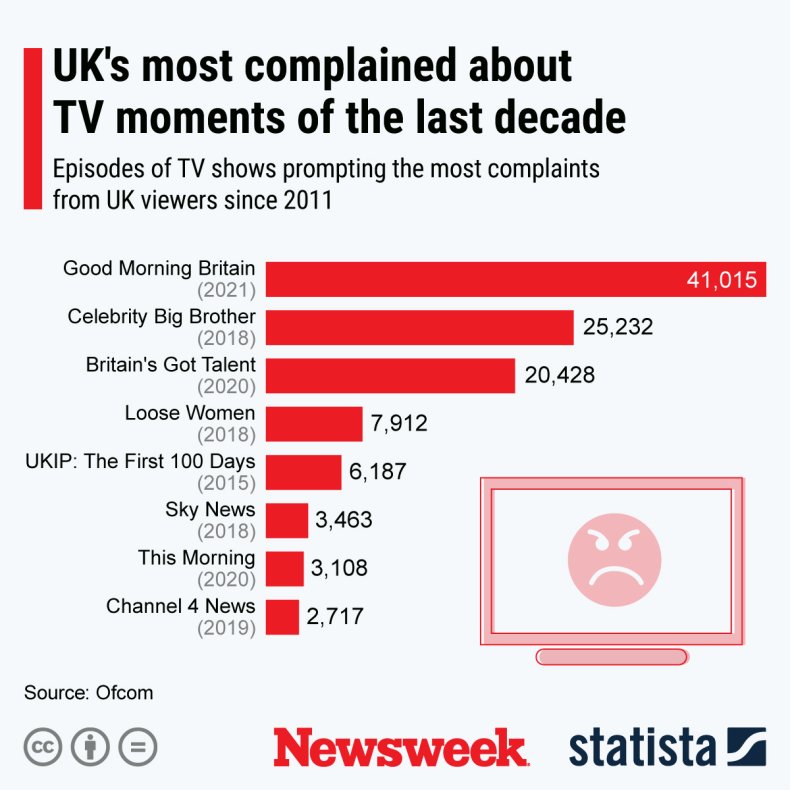 Update 3/10/21, 12:30 p.m. ET: This article was updated to include an infographic.