Pink is known for her no-nonsense attitude—and that extends to trolls online. The singer hit back at a social-media user this morning who attempted to insult her and British comedian Eddie Izzard, and she explained to fans how she used the cruel joke as a teaching moment for her children.
Posting to X, the social network formerly known as Twitter, user Glub Glub (@luvglubglub) shared a photo of Izzard, 61. The actor and comedian was wearing a pink-and-orange stripey dress and spiky hair styled similarly to Pink's iconic short crop. "Happy birthday @Pink," the poster wrote alongside the snap, tagging the 44-year-old pop star in the caption.
Pink recently finished a U.K. tour for her ninth album Trustfall, with a deluxe edition of the record expected to be released sometime in November. It includes collaborations with big names such as Chris Stapleton, First Aid Kit and The Lumineers, and reached the No.1 spot on the Billboard Top Album Sales chart upon its release in February.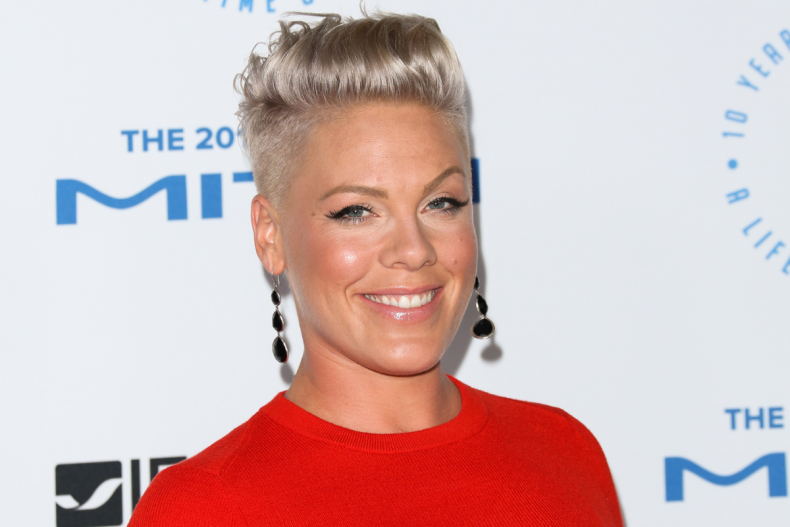 In response to the Izzard photo, Pink reposted the image, writing: "Thank you so much. I just showed my 12 year old daughter your post.
"I explained to her that I've never met you, I don't know you, and I have no idea why you would go out of your way to be hateful. It was a good lesson in ignorance.
"Thank you. I still don't know you. Congrats. You're no one," Pink added.
However, the "So What" singer wasn't done. In another post, she called Glub Glub's comment a wasted opportunity.
"There are so many pictures you could've chosen that were actually me that were worse than this picture, you nameless f****," Pink said. "At least be creative next time dum dum."
Fans applauded the songstress for defending Izzard, with Fuh King Chill writing: "More people need to be like Pink!"
"I was a big fan before I followed you on Twitter. Now I am a bigger fan!" posted @KettlesP.
"Always thought you're beautiful inside and out," commented anwar.
"Thank you for speaking up and sharing," wrote Anatya L.
"I feel like if people are going to tear someone down/criticize them then they should have to do it bearing their own name. Anonymity is so cowardly," posted Bekah.
Rolland agreed, commenting: "As Taylor Swift says "Say it in the street, that's a knock-out, but you say it in a Tweet, that's a cop-out."
In a follow-up post, Pink wrote that she uses posts such as these to teach her daughter Willow Sage, 12, and son Jameson Moon, 6—whom she shares with husband Carey Hart—about not letting the haters get you down.
"I post these things to show the kids I know- my own kids as well, that we are all occasionally treated badly," Pink said.
"I show them because they know me, and they know that my self-esteem does
Not rely on the opinions of others. Good/bad. Whatever. I love Me."
Newsweek has reached out to Pink for comment via email.