Internet Obsessed With Dog and Her Unicorn Themed Birthday Celebrations
They say every dog has its day, and this dog certainly got hers when this pit bull mixed breed received an adorable birthday party, complete with balloons, presents and of course, a cake.
The proud owner wasn't going to let Akira's birthday go by without a celebration, so they put together a little fun party for the dog, who seemed to enjoy all the attention she received.
Posting a video on the dog's own TikTok account, @akirablackpit, the dog was seen sitting at the table with all the birthday staples: presents and a cake. Alongside the video, the caption reads: "She deserves the whole world," and she definitely got that on her big day.
The 2021 American Pet Products Association (APPA) Pet Owners Survey found that 70 per cent of U.S. households own a pet of some sort, including 69 million dog owners across the country.
Though these dog owners love their pets, they will find themselves spending more than other pet owners on their beloved pooches.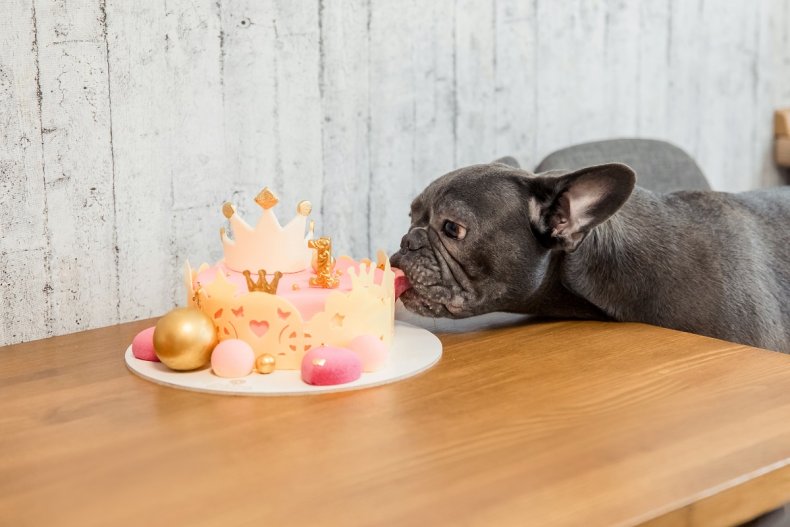 The survey discovered that dog owners will spend an average of $287 on food, and an additional $81 on food treats, so Akira definitely won't be going without when it comes to her birthday. With dog owners also spending $56 on toys throughout the year, there's no doubt Akira was spoiled for presents and treats.
The pit bull mix and her owners love a bit of pink, so her birthday wouldn't have been the same without a pink crown, unicorn plates and a pinata all with the matching pink color scheme.
Akira's owners aren't the only ones throwing their dog a birthday party, as the trend grows in popularity and more people want to celebrate their dogs like any other family member.
Janice Costa, dog trainer and therapy dog evaluator, has discussed the reasons why owners are increasingly pampering their pets, wanting them to feel loved just like everyone else.
Costa told Newsweek: "They are not just pets, they are companions, confidantes, travel partners and life partners, or in many cases they are the new kids. We all need to love and be loved, and dogs are eager to fill that role.
"In an increasingly divided and often lonely world, dogs bring joy and make people feel less alone, so it's not surprising that people increasingly look for ways to show their appreciation for their four-legged best friends.
"Throwing birthday parties for your dog is just another way to celebrate that bond, and a fun way to recognize the dog's importance in your home."
Having a birthday celebration for the dog will be a memory to cherish for you and the dog, as long as it's done in a safe way and won't overwhelm the dog.
Costa suggests using healthy treats made with dog-friendly ingredients, inviting other dogs round who your own dog is familiar with, or taking them on their favorite walk, which are all great ways to make the dog feel special.
Since her owners posted the video of Akira's birthday party on February 3, it has generated over 195,000 views and over 42,000 likes already.
With hundreds of comments on the TikTok post, many people were quick to wish Akira a happy birthday, as one doting person commented: "Yeah she does deserve the whole world, happy birthday cutie pie."
Another TikTok user wrote: "It's never just a dog, it's a best friend."
Do you have funny and adorable videos or pictures of your pet you want to share? Send them to life@newsweek.com with some details about your best friend and they could appear in our Pet of the Week lineup.