Woman Shot With Stun Gun on Plane After Fight Breaks Out Over Face Masks
Police used a stun gun on an airline passenger after an onboard fight over allegations she had refused to wear a face mask.
The brawl on board the Spirit Airlines plane was captured on video by a passenger who watched the drama unfold shortly after the aircraft touched down in Puerto Rico. The flight which departed Newark, New Jersey, landed at at Luis Munoz Marin airport in San Juan on Sunday, according to MailOnline.
The clip, which went viral after being shared on Twitter by CBS correspondent David Begnaud, shows a woman shouting at a man while wearing a mask around her chin.
A brawl erupts with the woman lashing out towards fellow travelers and in return one man appears to pull her hair, while someone else shouts: "Stop! Calm down!".
The woman climbs on top of a seat and continues fighting until she is wrestled back by others during the incident which occurred at around 7 p. m.
MailOnline reported that the woman and her friends had been moving freely around the aircraft while not wearing a face covering. The airlines' rules state that face coverings must be worn by all passengers aged two and over who are onboard.
Anyone unable to wear a face mask due to medical reasons is unable to fly with Spirit Airlines at this time, according to its website.
Police who can be seen on the video trying to restrain the woman.
Journalist Begnaud, tweeted that he had spoken to someone named Alfredo who claimed to have been on the plane and alleged that man hit the woman before she retaliated.
Newsweek has contacted Spirit Airlines and will update the story as new details emerge.
It is not the first time a passenger refusing to wear a face mask on a plane has hit the headlines.
Last week Newsweek reported how one maskless-woman began spitting on and fellow airline passengers during a flight between Ireland and Scotland.
In that incident, EasyJet confirmed that police were called to intervene after a passenger began screaming and spitting at others over her refusal to wear a face covering. Video recorded on Flight EZY481 between Belfast and Edinburgh showed the woman pacing up and down the plane aisle and repeatedly stating, "everybody dies, that's the only thing that's real."
In July, passengers onboard one American Airlines flight clapped as a woman was removed for refusing to wear a face covering.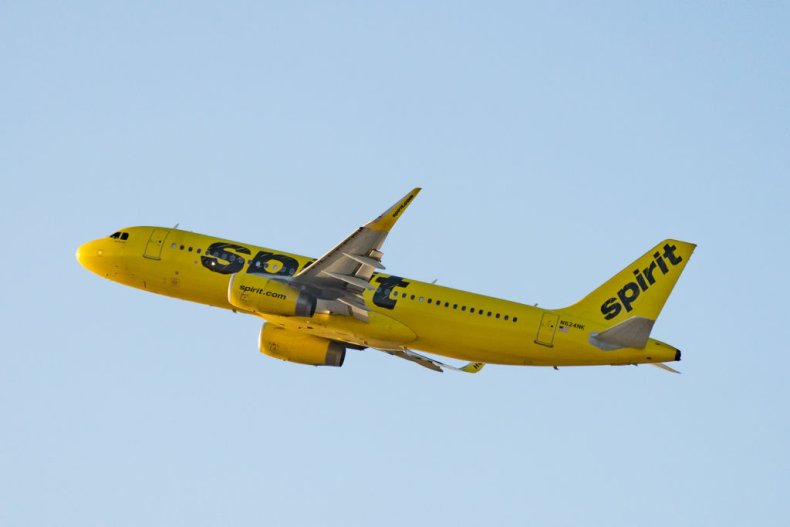 Airlines are taking a tough stance on passengers who attempt to flout their face mask rules.
Earlier this week Newsweek revealed how Delta has banned almost 500 people from future flights for refusing to adhere to its guidelines.
In a memo sent to employees, the company's CEO, Ed Bastian, said: "Throughout the pandemic, we have focused our efforts on protecting our people, our customers, and our communities.
"Wearing a mask is among the simplest and most effective actions we can take to reduce transmission, which is why Delta has long required them for our customers and our people.
""As of this week, we've added 460 people to our no-fly list for refusing to comply with our mask requirements," the memo continued."