Planned Parenthood Issues Statement After Roe V. Wade Reversal
Planned Parenthood issued a statement condemning the Supreme Court's ruling that overturns Roe v. Wade, the decision that protected a woman's right to seek an abortion.
"The Supreme Court just overturned Roe v. Wade, ending our constitutional right to abortion. We know you may be feeling a lot of things right now — hurt, anger, confusion. Whatever you feel is OK. We're here with you — and we'll never stop fighting for you," the organization, which provides sexual and reproductive health care across the U.S., wrote.
In another statement provided to Newsweek, Alexis McGill Johnson, the president of the Planned Parenthood Action Fund, said that with the decision, the Supreme Court "has now officially given politicians permission to control what we do with our bodies, deciding that we can no longer be trusted to determine the course for our own lives."
"Due to centuries of racism and systemic discrimination, we already know who will feel the consequences of this horrific decision most acutely: Black, Latino, and Indigenous communities, people with disabilities, those living in rural areas, young people, immigrants, and those having difficulties making ends meet," Johnson said.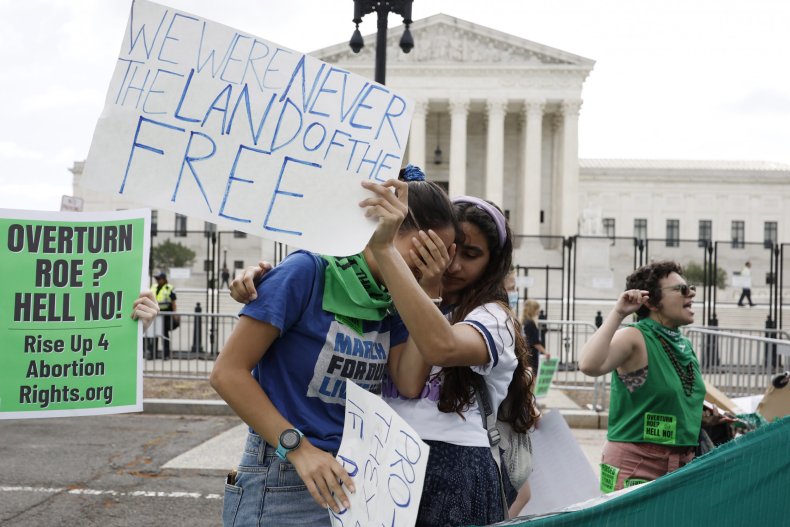 Johnson added: "To anyone today who is scared, or angry, or determined, know this — 17 million Planned Parenthood supporters proudly stand with you. We will rebuild and reclaim the freedom that is ours. We won't go back. And we won't back down."
Democrats also blasted the decision on Friday morning.
"The Supreme Court's vicious decision to overturn Roe v. Wade is one of the darkest moments in the history of this nation," New York Attorney General Letitia James wrote on Twitter.
"Make no mistake: While other states strip away the fundamental right to choose, New York will always be a safe haven for anyone seeking an abortion," she added.
The decision comes after Politico published leaked draft opinion in May showing a majority of the Court's conservative justices had voted to overturn the decision.
In the opinion released on Friday, the court wrote: "We therefore hold that the Constitution does not confer a right to abortion. Roe and Casey must be overruled, and the authority to regulate abortion must be returned to the people and their elected representatives."
The Supreme Court's move to strike down the 50-year precedent set by Roe v. Wade paves the way for roughly half of U.S. states to ban abortions: the Center for Reproductive Rights has said that twenty-five states are likely to prohibit abortion without the decision on the books. Thirteen states already have "trigger laws" that immediately ban all or most abortions if Roe is overturned.
Update 6/24/22, 11:50 a.m. ET: This story has been updated with a statement provided to Newsweek from the president of the Planned Parenthood Action Fund and additional background.