Poisoning of Putin Critic Navalny Is Chance for Trump to Walk His Tough Talk on Russia
The alleged poisoning of Vladimir Putin's number one critic, Alexei Navalny, poses a critical test for President Donald Trump's relationship with his Russian counterpart ahead of November's election.
Navalny is in intensive care after falling ill on a flight which had an emergency landing in the Siberian city of Omsk, after drinking tea which may have been laced with poison.
The circumstances of his condition are murky but the response from some U.S. lawmakers and diplomats was very clear. Thomas Pickering, a former senior State Department official and ex-ambassador to Russia, said that "if it were a poisoning, then almost everybody will believe it goes back to Putin," he said according to The Hill.
That could throw the spotlight on Trump's relationship with the Russian leader he wrote a fan letter to in 2007, which was revealed in the final volume of the Senate intelligence committee report on Russian election interference.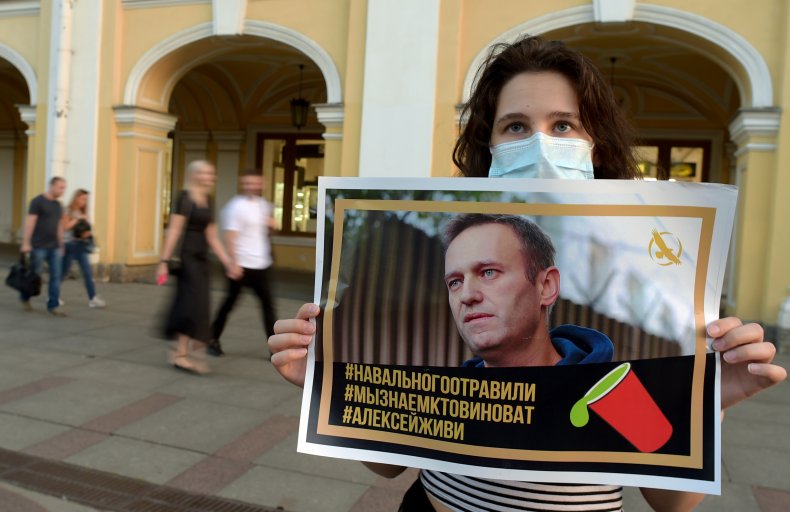 Former U.S. ambassador to Moscow, Michael McFaul, wrote a scathing Washington Post op-ed on Friday that Trump had shown in the Navalny case, "not a word of concern, let alone outrage. In the clear divide between good and evil in Russia, Trump is on the wrong side."
Meanwhile Kenneth Yalowitz, a former State Department official who served in Moscow said: "I wouldn't hold a great deal of hope that Mr. Trump would call Putin to task if this were determined to be poisoning," The Hill reported. Newsweek has contacted the White House for comment.
The rebukes show that Navalny, the unofficial leader of Russia's opposition, may not just prove to be a thorn in Putin's side, but a problem for Trump, who has said always insisted that he is tough on Russia.
However he has been criticized for not raising with Putin claims that Russian intelligence was paying Taliban militants bounties to target U.S. soldiers in Afghanistan. Trump also wants Russia to take part later this year in the summit of the G7, which Moscow was expelled from for invading Crimea in 2014.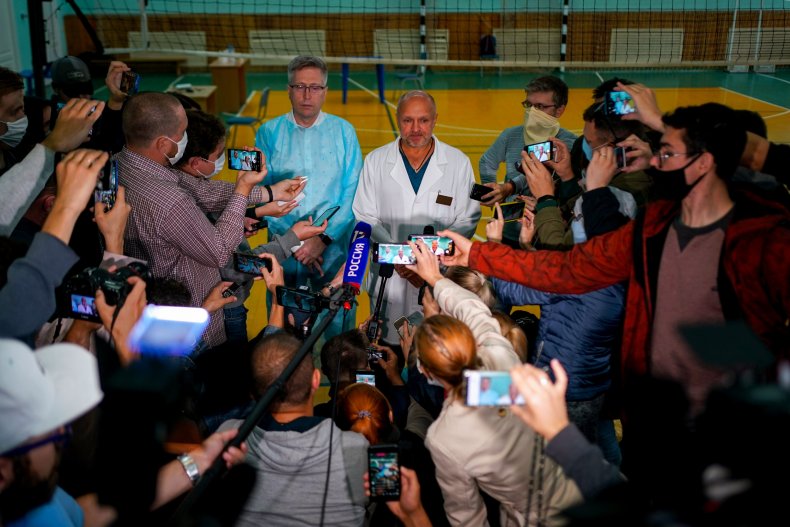 Banned from state-run television, Navalny has garnered a YouTube audience of millions who watch his team forensically uncover graft among those in the highest echelons of power.
Sen. Chris Murphy (D-Md.), from the Senate foreign relations committee tweeted: "There are few greater heroes of democracy than Alexei Navalny. It was probably just a matter of time before Putin tried to kill him." Another committee member, Sen. Bob Menendez tweeted that the "perpetrators must be held accountable for this cowardly attack."
Presenting himself as someone who could take on the likes of Putin, Joe Biden vowed to stand up to Russia, as well as China, during his address at the Democratic National Convention, and in a swipe at Trump, said that he wanted to "make it clear to our adversaries the days of cozying up to dictators is over."
The Navalny case echoes that of the former Russian spy and Putin critic Alexander Litvinenko who died in London after he was poisoned by tea laced with the radioactive isotope polonium-210.
Sen. Marco Rubio (R-Fla.), the acting chairman of the Senate Intelligence Committee, called the suspected poisoning of Navalny "at least the 31st assassination attempt against a Putin opponent/defector," over the last 16 years.
In 2018, Sergei Skripal and his daughter, Yulia, were poisoned in the English city of Salisbury in 2018, with British authorities accusing Russian military intelligence of using Novichok, which the Kremlin denied.
Navalny has been rallying his supporters to look to the protest movement in neighboring Belarus against President Alexander Lukashenko as an example what people wanting political change can achieve.
This could be a factor in Navalny's alleged poisoning, according to Bill Browder, an activist and businessman who spearheaded the Magnitsky Act which has sanctioned Russian officials.
"If the Belarusian people can get away with it, that is the green light for the Russian people to try to do the same thing and Putin is so scared of that," Browder told a discussion hosted by the Henry Jackson Society on Thursday.
"He wants to take out anybody who can rally the people of Russia to do that," he added.
Meanwhile, medical staff are trying to bring Navalny out of a coma and the chief doctor at the Omsk hospital where he is being treated has said that an "industrial chemical" was found on his skin, according to TASS. Moves are afoot to transfer him to Germany for treatment amid fears that he is too ill to travel.
"The real question is what happens after: if Navalny dies, how powerful is he as a martyr? If he survives, is his will going to be sapped or redoubled? These are human-level imponderables we really can't know," honorary professor at University College London's School of Slavonic and East European Studies, Mark Galeotti told Newsweek.