'Pokémon Go' Gen 4 Release Next Week? Leaker Posts Information On New Update
Generation 4 may becoming to Pokémon Go sooner than fans expect, according to a new leak.
According to Reddit user HiddenLeaker, Gen 4 will arrive in Pokémon Go next week. While describing the new info as "too good to be real," the redditor's past leaks have correctly predicted the Water Festival start date, along with the inclusion of Shiny Pokémon. HiddenLeaker posted the following claims on Reddit:
Gen 4 evolutions of previous gen Pokémon (they mentioned Magmortar, Electivire and Rhyperior specifically)
New evolution items, including elemental stones (not sure about this, they never had fire stone and such so I'm confused)
Double XP for evolving and spinning Pokestops
Pokémon max storage increased to 2000
Increased rate of evolution items from Pokestops
Increased spawn rate of evolved Pokemon
Gen 3 evolutions finally released in the wild (except Milotic)
New quests that reward evolution items
New raids with previous evolution item Pokémon (they mention Scizor as example)
New shop boxes with lucky eggs and raid passes
We will get a new update before the event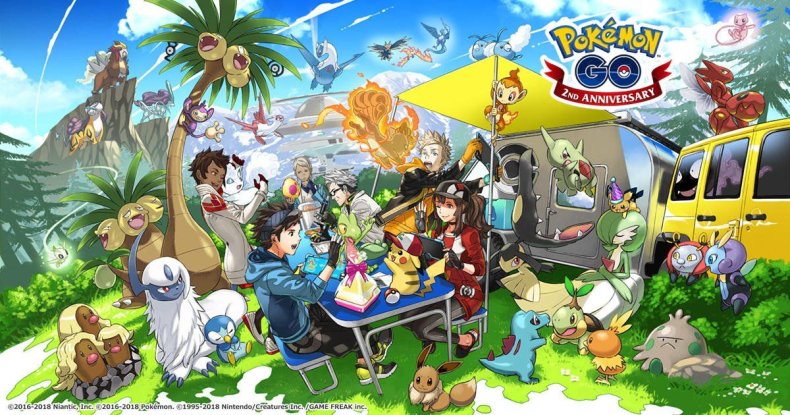 The possibility of the elemental stones (Fire, Thunder, Water) coming to Pokémon Go so late is a bit confusing, but may make sense considering Eevee is the spotlight Pokémon of the upcoming August Community Day.The elemental stones will give players a choice of which Eevee-lution they want instead of having to depend on nickname tricks or RNG.
Niantic teased Gen 4 in artwork while commemorating the second anniversary of Pokémon Go 's launch, showing the Starter Pokémon of the Sinnoh Region: Chimchar, Turtwig and Piplup. There are quite a few Gen 1 and 2 Pokémon that will evolve when Gen 4 is implemented so be sure to stock up on their candy before it does.
What do you think of this supposed Pokémon Go leak? When do you think Gen 4 is coming to the mobile game? Let us know in the comments section below