'Pokémon Go' Shiny Meltan Available For a Limited Time
Wondering what a mystery box is and how to get one in Pokemon Go? Find out everything to know about the Shiny Metlan boxes, here.
Niantic is already celebrating the Year of the Pig with Shiny Spoink, but Pokémon Go is adding another Shiny Pokémon. Meltan, the mysterious mythical Pokémon introduced in Pokémon Let's Go Pikachu and Eevee can be caught in Pokémon Go for a limited time.
For one month, Pokémon Go players will get additional chances to catch Shiny Meltan. Normally, the Mystery Box that contain Meltan only opens once every week but during this event trainers can open one every three days.
Here's all the information you'll need to catch a Shiny Meltan in Pokémon Go.
Pokemon Go Mystery Boxes: When and How to Catch Shiny Meltan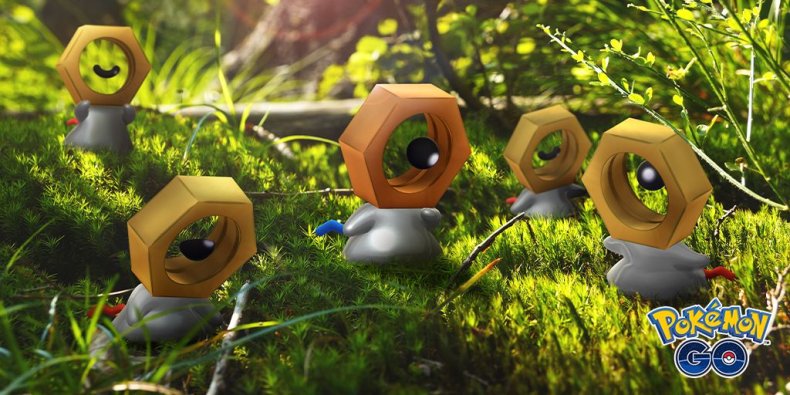 Mystery Box Event Start and End Times
Pokémon Go trainers will have a chance to catch Shiny Meltan starting February 5 at 4 p.m. EST and ends on March 4 at 2:59 p.m. EST.
How to Get Meltan in Pokemon Go
To have a chance at catching Shiny Meltan in Pokémon Go, players will need to have Pokémon Let's Go and pair the two. You can pair Pokémon Go with Let's Go by following these steps.
Once your games are paired, you simply have to make one transfer from Pokémon Go to Let's Go. After a successful transfer, your Pokémon Go account will receive that Pokémon's candy, some experience and a Mystery Box.
This Mystery Box is key to catching Meltan. Normally, trainers can only get one Mystery Box per week, but for this event players can get a Mystery Box once every three days which increases the likelihood of a Meltan encounter.
When you have your Mystery Box, you simply have to activate it from your Items list to start catching some Meltan.
Opening the Mystery Box will put a Lure around your trainer in Pokémon Go. For 30 minutes, you'll have Meltan attracted to your avatar which will help you catch as many of the Mythical Pokémon as possible within the window.
This is when you'll have a chance to catch a Shiny Meltan. You'll need to encounter each Meltan in the overworld to discover if it's a Shiny. Shiny Meltan have a darker orange color on the nut on its head than its normal counterpart.
If you want to evolve your Meltan or Shiny Meltan into Melmetal, you'll need 400 Candy so this event will help trainers gather a ton of the resource.
What do you think of this new Pokémon Go event? Do you have a Melmetal already? Let us know in the comments section below.