The latest Pokémon Go Community Day is about to begin and Squirtle, the Water-type Kanto Starter gets the spotlight.
For three hours, Pokémon Go players will be able to catch a ton of Squirtle as well as take advantage of in-game bonuses. There are possibly two types of rare Squirtle that may appear during this Community Day that trainers will want to catch.
Here's all the information Pokémon Go players need to know about the Squirtle Community Day event.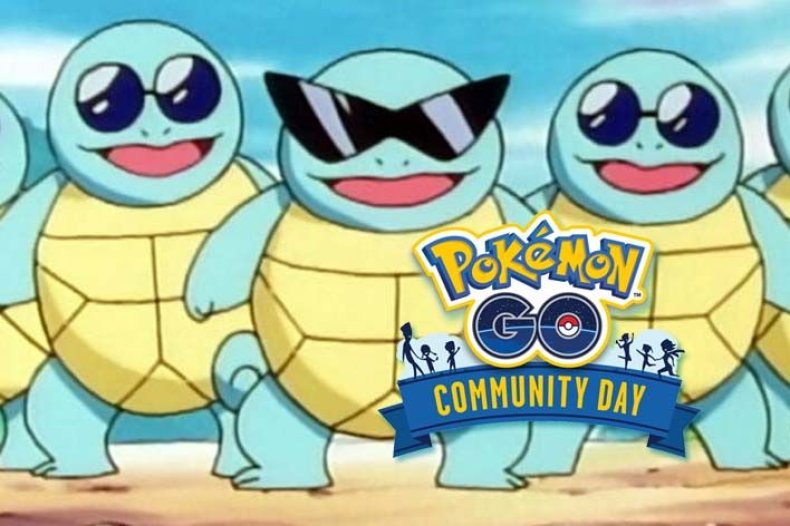 WHEN DOES POKEMON GO COMMUNITY DAY BEGIN?
The Pokémon Squirtle Community Day takes place Sunday, July 8 from 2 p.m. until 5 p.m. EDT.
SHINY SQUIRTLE?
Every Pokémon Go Community Day event introduces a new Shiny Pokémon into the mobile game and the upcoming Squirtle event will likely continue that trend. Niantic hasn't yet confirmed Shiny Squirtle will be available. However, the other Kanto Starters, Bulbasaur and Charmander, received Shinies during their respective Community Days, so it's likely trainers will have a chance to catch the rare Pokémon.
Once the Squirtle Community Day begins, we will update this section with confirmation.
SQUIRTLE SQUAD!
The next Pokémon Go Community Day will give trainers a chance at catching a unique Squirtle. The official Pokémon Go Twitter account confirmed special research tasks will be implemented during the three-hour event to give trainers a chance to encounter a Squirtle wearing sunglasses, similar to the Squirtle Squad in the Pokémon anime.
It's unclear what the research task to encounter this special Squirtle entails, or whether Squirtle will wear the sunglasses if evolved, but we'll update when confirmation is given.
HYDRO CANNON
Like the Bulbasaur and Charmander Community Day event, Blastoise that evolve from Wartortle within the three-hour window will learn an exclusive charged move: Hydro Cannon. It will have two energy bars with 100 base power.
This exclusive move will be learned by Blastoise that were not caught during the timed event, so trainers who have a powerful Squirtle caught prior to the Community Day can still teach Hydro Cannon to it.
OTHER BONUSES
Pokémon Go Community Days typically feature in-game bonuses, and on July 8 trainers will enjoy the usual three-hour Lures as well as shorter Egg hatching distances.
During the event Egg distances will be cut by 75 percent. This means 10km Eggs hatch in 2.5km, 7km Eggs hatch in 1.75km, 5km Eggs hatch in 1.25km and 2km Eggs hatch in .5km.
Are you excited for the Squirtle Pokémon Go Community Day? Let us know your thoughts in the comments section below.