'Pokemon Unite' : How to Earn Fashion Tickets, Holowear Tickets, Aeos Tickets, Coins and Gems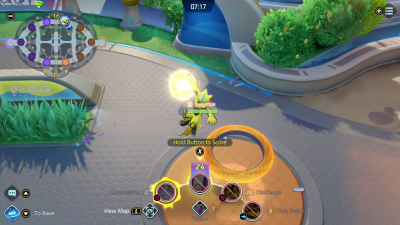 Pokemon Unite is available now on the Nintendo Switch and, as a free-to-start game, it inevitably has multiple different currencies for you to wrap your head around.
At launch, the Multiplayer Online Battle Arena (MOBA) title gives you five different methods for purchasing items from its various storefronts. These are confusingly alike (in terms of both their similar names and their denominations), with aeos tickets, aeos coins, fashion tickets, holoware tickets and gems all being traded at separate outposts.
To help you figure out which currencies can be used to buy which items, we have prepared a comprehensive guide.
Aeos Coins
Aeos coins are the most prolific currency in Pokemon Unite and are rewarded for simply finishing online matches. You can also earn these coins by progressing through the game's battle pass system, undertaking training missions, or completing daily quests.
With the coins, you are able to purchase unite licenses from the Battle Committee store, which in turn allows you to play as new characters. There are 20 pokemon for you to unlock at launch, and you should have about seven of these by the time you finish the beginners training course.
At the time of writing, the most expensive unite licenses cost 10,000 coins and the average multiplayer match rewards you with 40. As such, if you were starting from scratch (which is admittedly not the case, thanks to the generous training prizes) then you would need to play 250 matches before you could afford the best fighters.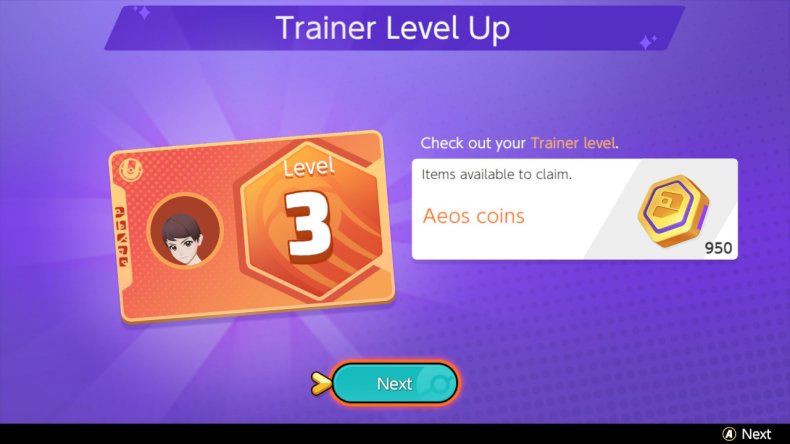 Gems
By making it so time-consuming to save up enough coins for higher-tier pokemon, the game encourages you to procure some gems instead.
Gems are Pokemon Unite's only premium currency, meaning that you have the option to get them in exchange for real-world money. These microtransactions can be used as an alternative payment method for the unite licenses and for trainer cosmetics. They are also the only currency that is accepted for certain exclusive outfits found at Zirco Trading.
You can buy gems in bundles of 60 (for $0.99), 245 ($3.99), 490 ($7.99), 1,220 ($19.99), 2450 ($39.99), 3050 ($49.99) and 6,000 ($99.99). For context, the most expensive unite licenses are priced at 575 gems and some skins can reach costs of up to 1,200 gems.
To add gems to your wallet, you will need to try and purchase an item from one of the stores and select "gems" as your chosen payment method. This will then prompt you to spend some real-world money, in exchange for one of the aforementioned bundles.
Incidentally, it has been confirmed that while Pokemon Unite does support cross-progression, any gems you have stored on your Nintendo Switch will not carry over to the mobile version in September.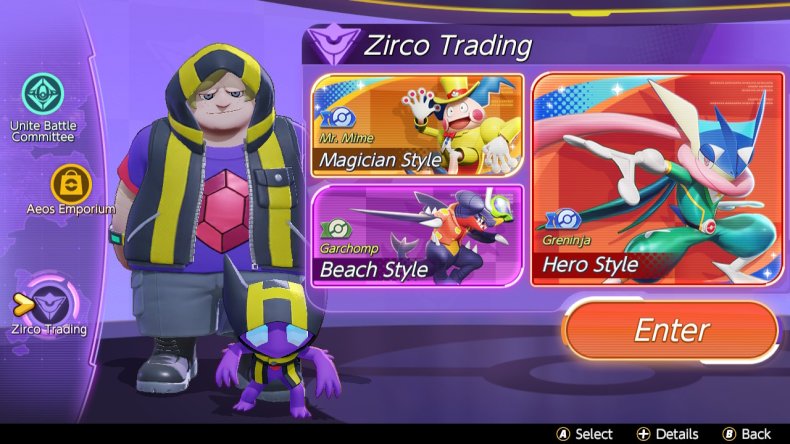 Aeos Tickets
Aeos tickets can be used to purchase cosmetic items for your trainer at the Aeos Emporium. Available products include themed hoodies, headgear, shoes and backpacks that you can dress your avatar in.
Aeos tickets are awarded in a variety of different ways. You can get them for participating in ranked matches, for leveling up your trainer, or for completing daily events.
Fashion Tickets
Fashion tickets are a slightly unusual currency, as they can only be traded on a very specific page.
If you navigate to the Aeos Emporium, there is a dedicated tab for the "Fashion Ticket Exchange." Here you will find some extra cosmetic items for your avatar, supplementing those that you can already purchase with aeos tickets.
Fashion tickets can be earned by completing Aeos Research Institute missions. They are also included as a bonus whenever you purchase a pokemon outfit from Zirco Trading.
Holowear Tickets
Holowear tickets are Zirco Trading's equivalent of fashion tickets and they can be earned by completing events.
Holowear tickets have their own dedicated tab in Zirco's, where they are used to purchase exclusive cosmetic items for your pokemon.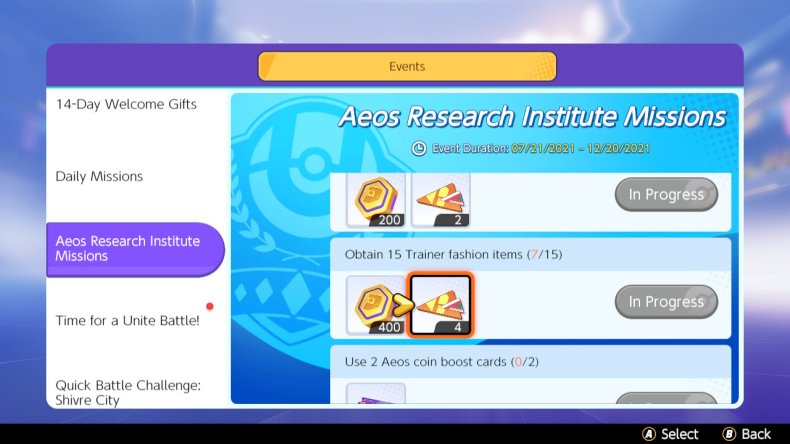 'Pokemon Unite' Currencies Broken Down
| | | | |
| --- | --- | --- | --- |
| Currency Type | Applicable Stores | Traded For | Earned By |
| Aeos Coins | Unite Battle Committee | Unite Licenses | Finishing online matches, battle pass progression, completing event quests. |
| Gems | Unite Battle Committee, Aeos Emporium, Zirco Trading | Unite Licenses, Trainer Cosmetics, Pokemon Outfits | Gems can only be exchanged for real-world money through microtransactions. |
| Aeos Tickets | Aeos Emporium | Trainer Cosmetics | Finishing ranked matches, leveling up your trainer, completing event quests. |
| Fashion Tickets | Aeos Emporium | Trainer Cosmetics | Completing Aeos research institute missions and purchasing pokemon outfits. |
| Holowear Tickets | Zirco Trading | Pokemon Skins | Completing event quests. |