Poland to Send Four MiG-29 Fighter Jets to Ukraine
Polish President Andrzej Duda has announced that Warsaw will send Ukraine four Soviet-made MiG-29 fighter jets over the coming days.
"Firstly, literally within the next few days, we will hand over, as far as I remember, four aircraft to Ukraine in full working order," Duda said at a news conference in Warsaw on Thursday. "The rest are being prepared, serviced."
The announcement comes after Polish Prime Minister Mateusz Morawiecki said Tuesday that his country could be providing the aircraft to Kyiv "in the coming four to six weeks." Duda told CNN last week that Poland was "ready" to provide Kyiv with the MiG-29 jets, adding that Ukrainian pilots would "be ready to use those planes instantly."
Ukrainian President Volodymyr Zelensky has been asking the West for months for fighter jets to assist in the war, which began when Russian President Vladimir Putin invaded his country last February. The United States and the United Kingdom have so far ruled out sending advanced fighter jets to Ukraine.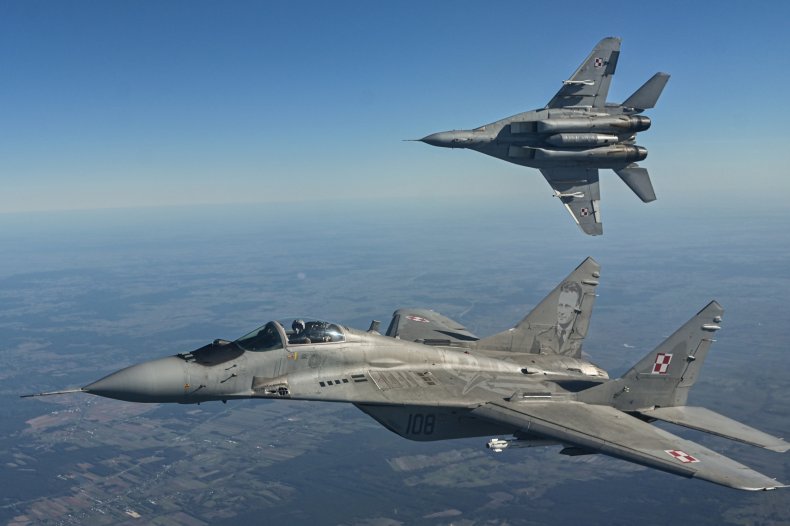 All fighter jets given to Ukraine by Poland would be replaced with South Korean-made FA-50 jets and American-made F-35s, Duda added. The Polish president didn't indicate whether other nations intend to follow suit and send Ukraine fighter jets.
Slovakia has said it would provide its Soviet-made MiG-29 fighter jets to Ukraine, and has called on allies to do the same.
"I think it's time to make a decision. People in Ukraine are dying. We can really help them," Slovak Defense Minister Jaroslav Nad said in a March 9 post on Facebook. "There is no room for Slovak politicking."
He added that it is "inhumane and irresponsible" to politicize the war.
The U.S. has so far provided Ukraine with powerful weapons such as the High Mobility Artillery Rocket System (HIMARS) and Javelin missiles and has agreed to send Kyiv M1 Abrams tanks. President Joe Biden has resisted authorizing sending F-16 fighter jets to Ukraine.
Keir Giles, a Russia expert and a senior consulting fellow at the Chatham House think tank, previously told Newsweek Kyiv needs more assistance from the West to win the conflict quickly, in order that it "is not presented with the challenge of national survival, and remaining viable as a state if it drags on for too long."
"The realization that Ukraine is defending the front line of the free world—and if it is not supported in this defense, that front line will move closer to home—has not sunk in properly in many Western capitals," he said.
The weapons provided by the West are "always too little, just in time to prevent Ukraine from losing, as opposed to the war-winning capabilities that Ukraine actually needs," according to Giles. "The restrictions on Ukraine having weapons systems that can strike into Russia itself are a ludicrous pandering to Russia's own ideas that it is not at war."
The MiG-29 entered into service for the Soviet Union in 1983.
Guy McCardle, the managing editor of Special Operations Forces Report (SOFREP), previously told Newsweek that the fighter jets are "impressive" aircraft with "superior nose-pointing capabilities" when flying at less than 200 knots.
Do you have a tip on a world news story that Newsweek should be covering? Do you have a question about the Russia-Ukraine war? Let us know via worldnews@newsweek.com.
Update 03/16/23 10:16 a.m. ET: This article was updated with additional information.