Police Prepare for Another Hot Summer of Violent Street Clashes as U.S. Reopens
Police departments around the country are preparing for a spike in street clashes between left and right-wing groups ahead of the expected loosening of coronavirus restrictions and enduring political tensions in flashpoint cities.
Police, researchers, and hate group watchdogs told Newsweek that summer 2021 could bring with it a new surge in activity, echoing the violent scenes of last summer amid racial justice protests and attempts by far-right groups to spark a second civil war.
President Joe Biden's call for unity has so far fallen flat. GOP lawmakers are mobilizing against many aspects of the new administration, such as the strong pushback against the Democratic-proposed coronavirus relief package.
Meanwhile, conspiracy theories like QAnon continue to poison political discourse, leveraged by hate groups to recruit more people to their cause.
Emboldened under former President Donald Trump, these far-right groups have marched in cities around the country attacking and threatening opponents. But they are meeting with far-left groups stirred by the Black Lives Matter movement, the resurgence of American fascism, and Republican defeats at the polls.
Last year's protests were historic but may have been bigger if not for the coronavirus pandemic. Much of the country remains under some level of restrictions, though Biden has expressed hope that Americans will be able to celebrate July 4 together.
America's vaccination project is yielding results, businesses are looking to the future, and Americans feel safer returning to normal.
Coronavirus and the resulting chaos have invigorated those on the far left and far right. America's great reopening is an opportunity to show they aren't going anywhere.
Some QAnon followers—those who believe Trump is at war with a shadowy cabal of international, devil-worshiping pedophile cannibals—have marked summer as their next best hope for a military coup that will restore Trump and begin executions of so-called "deep state" figureheads.
Trump ally and MyPillow CEO Mike Lindell—who played an unexpected but prominent role in the former president's chaotic and doomed bid to overturn the election results—excited QAnon believers this week by claiming the former president would be back in power by August.
"Trump will be back before Summer," wrote one user on "The Patriot Voice" Telegram channel, which has more than 5,600 followers. "This summer is going to be insane!" said another on a QAnon Telegram chat with more than 30,000 subscribers.
QAnon believers have been disappointed before; none of their outlandish predictions of coups, mass arrests or executions have come to pass. Telegram and Gab groups are full of frustration at the lack of progress, and some are marking summer as the final straw.
"I think if we dont see clearer pics of this by SUMMER its time TO RISE UP for a Revolution by the people for the people and with the people," one QAnon user wrote.
Another said success would "take everyone going to the capital. It'll probably happen in summer if things aren't fixed in my opinion. When enough Americans have nothing left to lose."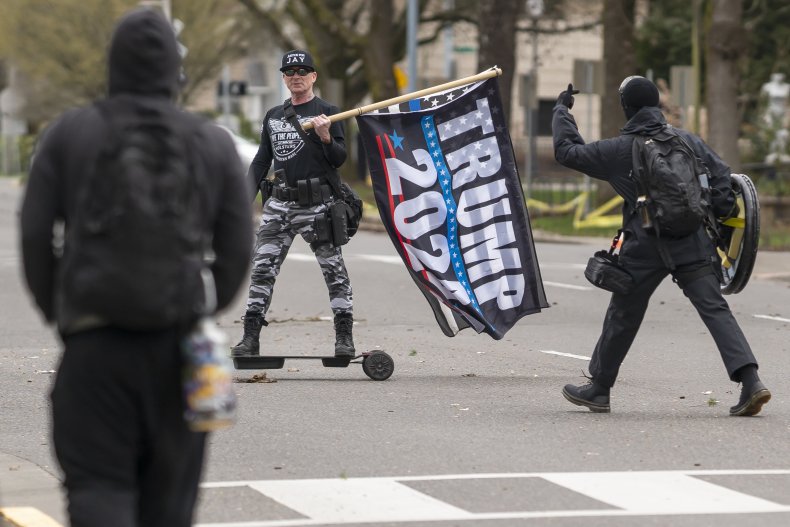 More coordinated far-right groups are also looking ahead. The Proud Boys-affiliated Western Chauvinist Telegram group, for example, told its 45,000 followers it has a range of projects "in the works," adding: "It's going to be a fun summer."
The group has also been encouraging "White Lives Matter" marches across the country on April 11. The Anti-Defamation League told Newsweek it has so far heard chatter of such marches in more than 40 cities.
"This suggests a potential appetite for large-scale events in the spring and summer by right-wing extremists that we are concerned about and monitoring," said Joanna Mendelson, ADL's associate director.
Progressive and far-left groups, including chapters of Antifa—a broad umbrella anti-fascist ideology with a decentralized network of local organizations—are set to face down any far-right presence.
Last weekend's clashes in Salem, Oregon are a good example. Far-left activists fought right-wing protesters who gathered at the state capitol to express anger at continued lockdown measures.
Far-left activists attacked vehicles driven by right-wingers, prompting one man to get out of his car and aim a loaded pistol at counter-protesters. Police arrested him.
Anti-fascist Twitter accounts praised the violence. "Beat em out!!!" declared the Raleigh Antifascists Twitter page, posting a video of a car driven by far-right activists being pelted with stones as it drove past the capitol.
Lieutenant Treven Upkes of the Salem Police Department told Newsweek the city saw a drop in activity immediately after January 6, but that this won't last. In Salem, police are concerned about what the summer might bring but consider themselves prepared.
"Expect more of what we saw last year," he said, adding "our main goal is to not be caught off guard."
The central concern, Upkes said, is when the far-right and far-left turn up at the same time with the intention of clashing. "Our main goal is to keep everybody separate," he aid, "and then try and break up those smaller incidents as quickly as possible so that people don't decide to use a firearm."
Salem, along with Lansing in Michigan, was one of the cities that got an unwelcome preview of January 6. On December 20, far-right demonstrators stormed the Salem Capitol sending lawmakers running for safety.
"We kind of saw what was coming at the U.S. Capitol and understood the dangers that could occur," Upkes said, adding that since the incident Salem police have "created a much tighter network for these events," including liaising with other law enforcement officials in the region about potential threats.
Karen McDonald, the Democratic prosecutor for Orange County, Michigan, is also worried.
Her state knows the danger, its capitol in Lansing having been stormed by far-right protesters in April 2020 and a plot to kidnap and kill Governor Gretchen Whitmer—again by a far-right group—foiled in October.
Even now, state GOP leaders are joking about assassinations of their Democratic opponents. "I am concerned about what's going to happen this summer, for all these reasons," McDonald told Newsweek.
The year ahead has many potential flashpoints, including the trial of former police officer Derek Chauvin, who is accused of murdering George Floyd, the killing that sparked last summer's Black Lives Matter protests across the world.
One of the darkest chapters of the summer was written in Kenosha, Wisconsin, where teen shooter Kyle Rittenhouse killed two people and wounded another in a confrontation between protest groups. Rittenhouse's trial will begin in November.
Such cases will almost certainly attract major protests. Matthew Feldman, the director of the Centre for Analysis of the Radical Right and a professorial fellow at the University of York in the U.K., said these events will draw extremists for a "show of force, or attempting to gain new followers," though could also serve as sparks for something more serious.
Extremists are also guaranteed valuable media coverage around such flashpoints. "If you turn up to a protest and you are described as a right-wing extremist, the press for the entire country will be there to photograph you," Feldman said.
Lieutenant Joseph Nosalik of the Kenosha Police Department told Newsweek that the city was not a center of political violence before last summer, adding that law enforcement in any city were unlikely to share intelligence regarding expected clashes with the media.
"What I continue to see in our nation is clashes between groups that are motivated by ideologies that are very divisive—that is unfortunate," Nosalik said.
"What I will say is that work in Kenosha is not done and it is the police department's expectation to continue to work with the community we serve. There are always lessons to be learned."
Washington, D.C.'s Metropolitan Police told Newsweek the force is not currently aware of any intelligence that hints at future unrest in the coming months, though it "constantly reviews and evaluates all areas of our daily activities to include the past year's unrest."
The FBI also said it was "constantly gathering and sharing information with our law enforcement partners," though declined to say whether it had any specific indications of coming unrest.
Portland, too, was a center of controversy last summer. There, Trump deployed federal agents to suppress racial justice protests. Such agents grabbed protesters off the streets, bundling them into unmarked vehicles in their bid to take the momentum out of the protests.
Sergeant Kevin Allen of the Portland Police Department declined to comment on whether coronavirus restrictions being eased might prompt more violence, adding the department has no specific intelligence suggesting intensified clashes between protesters.
"We are preparing for the possibility of civil unrest," Allen said. "We have seen events, particularly during the warmer months, for the past few years."
"We review our responses and their effectiveness after each deployment of resources," Allen told Newsweek.
"How that will impact our future responses, I can't say. We don't discuss specific tactical planning beforehand. But we have seen how important it is to share verified public safety information during an event, and keep the scope of the event in perspective.
"We hope to share more with our community as the planning continues."
There is no crystal ball for predicting what will happen as coronavirus restrictions lift, but the ADL's most recent "Murder and Extremism" report found that the number of right-wing murders increased last year even as the overall murder rate dropped; potentially down in part to the pandemic.
"We are concerned about the potential for violence perpetrated by right-wing extremists considering this increasing trend and the lifting restrictions," Mendelson told Newsweek. "The anger and vitriol we saw on January 6 will not dissipate anytime soon."
Alex Newhouse, the research lead at the Middlebury Institute's Center on Terrorism, Extremism, and Counterterrorism, warned that a year of political turmoil has helped extremist groups recruit and organize, which will pose a new challenge in post-lockdown America.
"I think as things start loosening and people start coming back out once in the streets, that pent-up impatience has a significantly high risk of boiling over into something more physical," Newhouse said.
January 6 was a setback for far-right groups, exposing their membership and tactics while inviting more scrutiny from law enforcement and lawmakers. But the coordination between groups outside the Capitol should be taken seriously, Newhouse explained.
"Something is fundamentally changing in the way that these movements are organizing," he told Newsweek, noting increasing technical sophistication and intergroup coordination.
Meanwhile, there appears little hope of the heat being taken out of the situation.
"One of the things that worries me the most is I don't know what the offramp is," Newhouse said. "It might just be that we're not at the peak, it has to get a little bit worse before it can get better."
This article has been updated to include comments from the Portland Police Department.