Police Seize 2,000 'Stop Killing Black People' Masks Meant to Protect Protesters From Coronavirus
Law enforcement officials seized a shipment of face masks emblazoned with the messages "Stop killing black people" and "Defund police" that were intended to protect people from the coronavirus while protesting the death of George Floyd.
The shipment interruption was first reported by The Huffington Post on Thursday. According to the news outlet, four packages of 2,000 masks were the first of many the Black Lives Matter affiliate group Movement for Black Lives (M4BL) ordered from an Oakland, California–based graphic design company called Movement Ink. The masks were headed to protesters in Minneapolis, the city in which Floyd died while in police custody, as well as demonstrators in New York City, Washington, D.C., and St. Louis, the Post reported.
On Friday, M4BL posted a screenshot on Instagram of an alert from the U.S. Postal Service notifying them of the seizure and advising them to contact the U.S. Postal Inspection Service for details.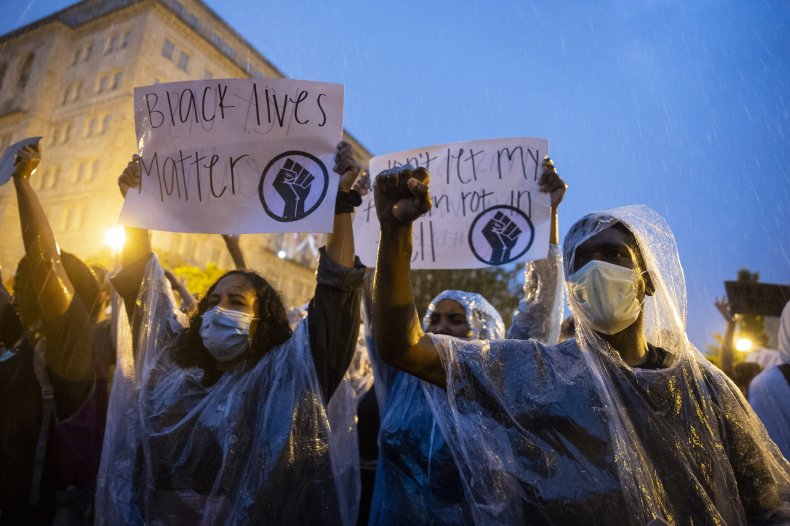 In the Instagram post, M4BL said President Donald Trump's administration has "encouraged police to riot" against protesters calling for justice after Floyd's death on May 25. Since the incident, the president's disapproval ratings have hit their highest level in six months as he criticized some local leaders for protests that led to looting and violence and suggested the possibility of U.S. military action against looters and others involved in demonstrations that turn violent.
"Now, it seems they want to ensure that people who protest for their dignity and rights are susceptible to the same deadly pandemic the Trump Administration has failed miserably at stopping," the Instagram post read.
News of the masks' seizure came less than 24 hours after the director of the U.S. Centers for Disease Control and Prevention said during a congressional hearing he was "very concerned" that the federal guidance for continued use of preventive measures to combat the virus's spread—primarily, wearing masks and practicing social distancing—were not resonating with the American public.
As the wave of protests spread across the U.S., photos of thousands of people coming together to demonstrate for justice after Floyd's death and for widespread policing reform caused health officials to warn the gatherings could trigger an early second wave of viral infections. Distributing masks was one way organizations like M4BL were trying to keep protesters protected, according to the group's social media posts.
"We need these masks to keep ourselves safe," M4BL said on Instagram. "The pandemic together with the epidemic of police brutality has escalated the grave threat to Black lives and compounded suffering for Black families."
Later Friday, the U.S. Postal Inspection Service told Newsweek the packages were sent back out for delivery after clearing an inspection.
"These packages were originally set aside for further investigation because there were indications that they contained non-mailable matter," the inspection service said. "Once postal inspectors confirmed the contents of the packages were in fact mailable, they were immediately placed back in the mail stream to be delivered at their intended destinations without further delay."
Newsweek reached out to M4BL for further comment but did not hear back before publication.
This story has been updated to include a statement from the U.S. Postal Inspection Service.