Polio in NYC: Less Than 70 Percent of Kids Vaxxed In These Neighborhoods
Data from the New York City Department of Health (DOH) shows that in several of New York City's neighborhoods, less than 70 percent of kids are vaccinated against polio. The news comes as the poliovirus was detected in the city wastewater last week.
The data collected by the DOH showed the percentages of children aged 6 months to 5 years who received all four doses of the polio vaccine as of June 30, 2022. At least five suburbs had rates of less than 70 percent, the lowest of these being Williamsburg, which showed that only 56.3 percent of the children in that area were fully vaccinated against the poliovirus.
Battery Park City came in second at 58 percent, followed by Bedford-Stuyvesant/Ocean Hill/Brownsville (58.4 percent), Bedford-Stuyvesant/Clinton Hill/Fort Greene (62.5 percent), and East Williamsburg/Williamsburg (65.4 percent).
While the percentage of children in these areas that are vaccinated may seem low, the data showed that in the city of New York overall, 86.2 percent of the children had all four doses of the vaccine.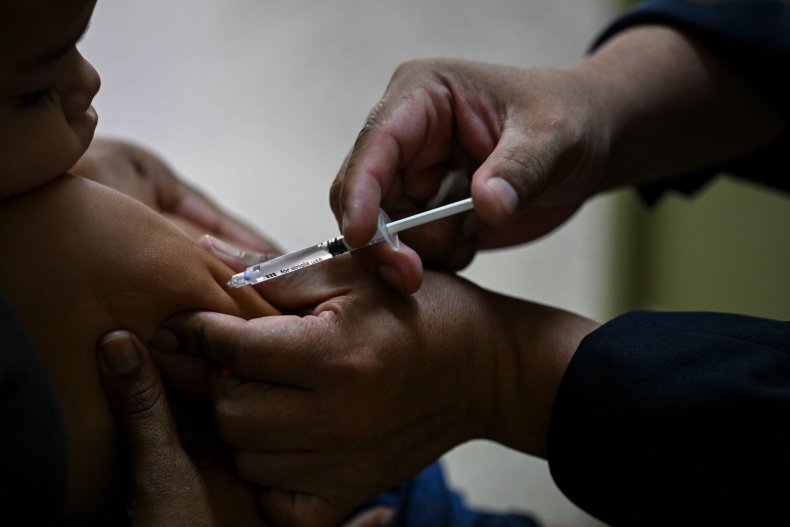 Experts say that some of the Brooklyn neighborhoods with lower vaccination rates are linked to several Hasidic Jewish communities that have become increasingly against vaccinations, according to ABC News.
Walter Orenstein, a polio expert at Emory University and former director of the United States' National Immunization Program, told ABC News, "We need to work with them [Hasidic communities], to better understand what vaccines are, how they work and all the efforts that are made to assure they're not only effective, but safe before they're made available."
The lower percentage of children vaccinated for polio is a slight cause for alarm to some experts as polio was detected last week in wastewater and sewage samples in the city. The news broke of the new detection just a few weeks after the first U.S. polio case was detected in over a decade in an unvaccinated man from Rockland County.
City Health Commissioner Dr. Ashwin Vasan said in a press release last week, "With polio circulating in our communities there is simply nothing more essential than vaccinating our children to protect them from this virus, and if you're an unvaccinated or incompletely vaccinated adult, please choose now to get the vaccine. Polio is entirely preventable and its reappearance should be a call to action for all of us."
According to the Centers for Disease Control and Prevention (CDC), symptoms of polio include sore throat, fever, tiredness, nausea, headache and stomach pain, which typically will go away on their own. However, polio can often lead to meningitis or severe paralysis, and can even cause death.
The CDC also recommends that kids receive four doses of the vaccine, and should receive one dose at each age: 2 months old, 4 months old, 6-18 months old, 4-6 years old. If you are an adult who has not received a polio vaccination, the CDC says that adults can also receive their vaccinations anytime.
Newsweek reached out to the New York City DOH for additional comment.