Pompeo Praises Crown Prince, Says Cutting Saudi Ties Would Be 'Grave Mistake' for America
Secretary of State Mike Pompeo has published a gushing op-ed praising the U.S. relationship with Saudi Arabia, despite global scrutiny of the conservative kingdom's human rights abuses and foreign policy.
Writing in The Wall Street Journal, Pompeo argued that the relationship between Riyadh and Washington was vital in creating peace in the Middle East, especially given the expanded influence of Iran.
Saudi Arabia and its Crown Prince Mohammed bin Salman—son of King Salman, heir to the throne and considered de facto ruler—have come under international pressure following the murder of dissident journalist Jamal Khashoggi in the country's consulate in Istanbul on October 2.
The crown prince is widely believed to have been behind the assassination of the American resident and columnist for The Washington Post. President Donald Trump has been criticized for his apparent apathy toward the killing, seemingly accepting the crown prince's denials of involvement at face value and ignoring the conclusions of experts, allies and even the CIA.
Pompeo admitted that the prospect of building closer ties with Riyadh "isn't popular in the salons of Washington." Nonetheless, he argued the Saudi regime "is a powerful force for stability in the Middle East" and warned that "degrading U.S.-Saudi ties would be a grave mistake for the national security of the U.S. and its allies."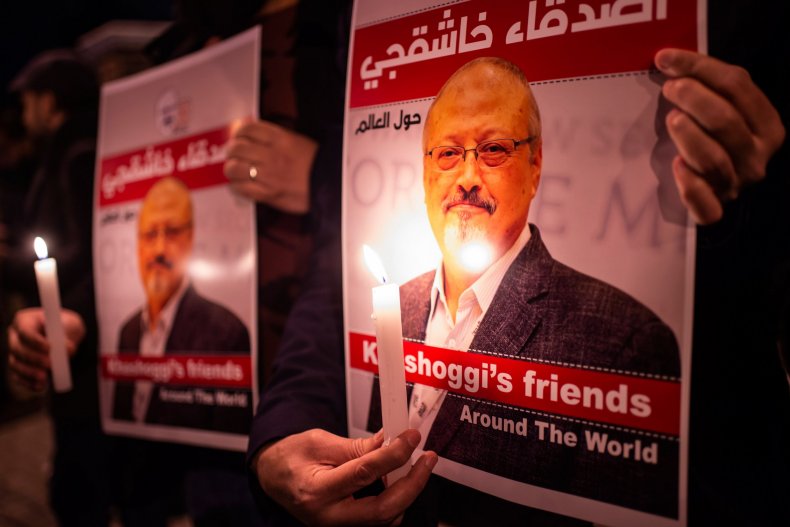 He said Saudi Arabia has supported democracy in Iraq, assisted in the refugee crisis caused by the war in Syria, helped the fight against the Islamic State group, known as ISIS, and established closer ties with Israel. "Saudi oil production and economic stability are keys to regional prosperity and global energy security," he added.
Much of the article was concerned with Saudi Arabia's help in containing Iran, considered one of America's most prominent adversaries by the Trump administration. Pompeo described Iran as "a cause, not a nation," and claimed that "an emboldened Iran would spread even more death and destruction in the Middle East, spark a regional nuclear-arms race, threaten trade routes, and foment terrorism around the world."
He also accused Saudi critics of hypocrisy, suggesting "the people using the Khashoggi murder as a cudgel against President Trump's Saudi Arabia policy are the same people who supported Barack Obama's rapprochement with Iran—a regime that has killed thousands worldwide."
"Where was this echo chamber, where were these avatars of human rights, when Mr. Obama gave the mullahs pallets of cash to carry out their work as the world's largest state sponsor of terrorism?" he asked, referring to the 2015 nuclear deal that lifted crippling sanctions on Iran in exchange for restrictions on its nuclear program.
Pompeo framed the war in Yemen through the White House's anti-Iranian perspective. The bloody conflict has seen Saudi Arabia and its Gulf allies attempt to destroy Iran-backed Houthi fighters, who rose up against the government in 2015.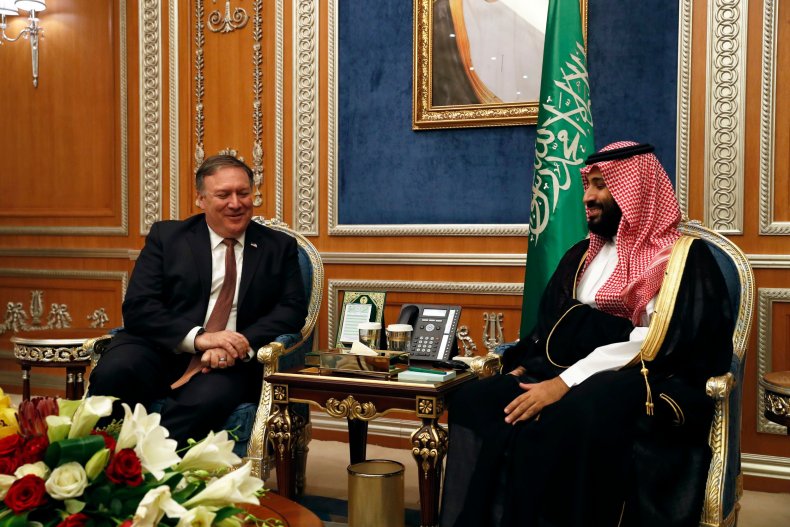 More than 100,000 people are thought to have died, according to the Associated Press, and millions more face starvation as airstrikes and ground offensives choke supply lines and destroy infrastructure. Saudi Arabia has been accused of war crimes for airstrikes targeting hospitals, schools, markets and mosques, while economic blockade exacerbates food and water shortages.
The U.S. and its Western allies have assisted the Saudi-led coalition through logistical support, munitions sales and target selection in coalition command and control centers. Though the U.S. has said it will no longer provide midair refueling for Saudi warplanes over Yemen, Western support for the war remains significant.
The Trump administration has argued that U.S. involvement allows the U.S. to mitigate the worst excesses of the anti-Houthi forces, though critics say American involvement lends legitimacy and expertise to the coalition's brutalization of the Yemeni people. "Without U.S. efforts, the death toll in Yemen would be far higher," Pompeo claimed.
Pompeo also praised Salman's modernizing reforms in Saudi Arabia—a deeply conservative Sunni Muslim kingdom in which religious leaders have long held significant power. These include giving women the right to drive, allowing women to attend soccer matches, permitting music concerts, opening theaters and curtailing the influence of the religious police.
"The crown prince has moved the country in a reformist direction," Pompeo wrote, failing to mention the zealous crackdown on human rights, feminist, religious freedom and pro-democracy activists. Indeed, even as the female driving ban was lifted, several women who fought for the right for many years were detained and disappeared into the opaque Saudi justice system.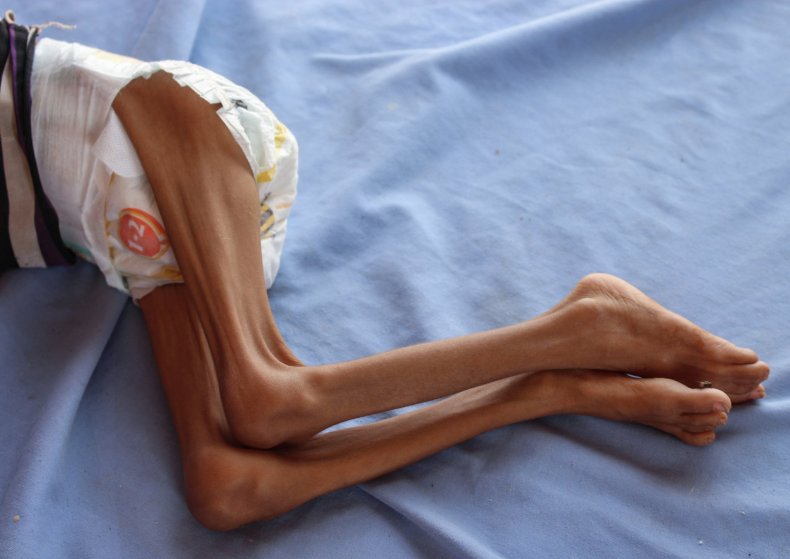 But, Pompeo warned, "abandoning or downgrading the U.S.-Saudi alliance would also do nothing to push Riyadh in a better direction at home."
"The U.S. doesn't condone the Khashoggi killing, which is fundamentally inconsistent with American values—something I have told the Saudi leadership privately, as well as publicly," Pompeo continued. He listed measures taken in response, including visa revocations and sanctions on several Saudis thought to be involved in the murder. Pompeo added that if more information comes to light, "further punitive measures" will be considered.
Still, the secretary of state suggested that the administration's near-total support of Saudi Arabia is beneficial to American goals and part of its "putting America first" ideology. He ended the article by praising "President Trump's pragmatic—and correct—approach to the U.S.-Saudi relationship."
On Tuesday, Trump continued his defense of the Saudi regime, the Post reported. Discussing whether the crown prince ordered the killing, the president told reporters, "Maybe he did and maybe he didn't…. But he denies it, and people around him deny it."
According to the Post, CIA officials have "high confidence" that Crown Prince Mohammed directly ordered Khashoggi's assassination. But Trump said Tuesday, "The CIA did not say affirmatively he did it, either, by the way. I'm not saying that they're saying he didn't do it, but they didn't say it affirmatively."
The White House is also under pressure amid reports that CIA Director Gina Haspel is being blocked from briefing the Senate on the murder. Pompeo and Secretary of Defense Jim Mattis will deliver a briefing on U.S.-Saudi relations behind closed doors on Wednesday, as senators prepare to vote on cutting off American support for Riyadh's Yemen campaign.
Haspel traveled to Istanbul to hear audio tapes of Khashoggi's murder recorded by Turkish intelligence in order to brief Trump. Asked if it was true the White House ordered her exclusion, national security adviser John Bolton told reporters, "Certainly not," according to CNN. He did not specify whether a representative of the intelligence community would attend Wednesday's briefing.