'Poopetrator' Caught Committing 'Fecal Assault' on Wigs in Beauty Store
Wichita Police recently snuffed out a foul-smelling situation at a local business.
The department announced Tuesday that they identified a woman who allegedly defecated in the middle of an aisle inside a Mid-K Beauty Supply store on May 10, damaging numerous wigs in the process.
"Yes, you read that right," police said in social media posts published on Facebook and Twitter. "The defecation was significant enough that eight wigs were destroyed as a result, and the business would like to know who the poopetrator is so they can pursue criminal charges."
The incident was captured on the store's video surveillance system, police added, "but for the good of all of you we are not posting the footage of the offending fecal assault."
They went on to say that any public assistance in locating "public enemy number 2" was appreciated.
Wichita Police Officer Trevor Macy told Newsweek that the suspect caused about $200 worth of damage, according to the store. She was identified by detectives.
"I believe the surveillance footage and the evidence left behind helped discover what had occurred," Macy said. "At this time it is believed to have been intentional."
Appropriate charges are currently being determined.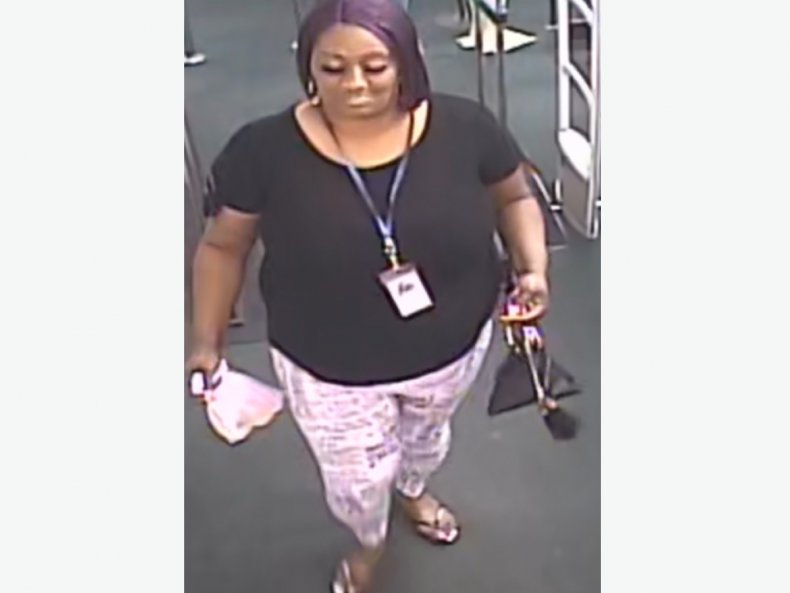 In cities like Columbus, Ohio, public defecation and urination is unlawful in public spaces, structures or on private property and can lead to criminal charges.
Municipal code in Nevada dictates that urinating or defecating in public is a criminal offense punishable by a fine between $100 and $1,000 and/or up to six months in jail.
In Colorado, urinating in public is a crime due to a public indecency law that "makes it illegal to knowingly expose your genitals to someone else in a way that is 'likely to cause affront or alarm.'"
Poughkeepsie, New York, penal code stipulates that anyone found guilty of urinating or defecating in public is subject to a fine of up to $1,000 or 15 days in jail, or both. A second offense carries harsher penalties.
The Cleveland Clinic said that fecal incontinence, also called anal incontinence, describes bowel movements that "cannot be controlled" and involve stools that leak out "at unwanted times." The condition can be treated by diet adjustments, medications or surgery.
The post has resulted in a litany of jokes online. The department's Facebook post received more than 2,000 comments and was shared another 3,400 times.
"Let's hope you can wipe this case clean and flush away the memories," one Facebook user commented. He received a reply from the department, which read, "This might be one of those cases that sticks with us."
"You know, it's considered good form to at LEAST go to a corner," another user said.
Even police departments in other states chimed in with the humor.
"[Eight] wigs? Did you look for this human in Taco Bell?" commented the River City, California, department. "That usually does it to me (although the best I could do is 6 wigs)."
There was also an influx of Amber Heard-related jabs due to testimony in her Johnny Depp defamation trial, regarding her allegedly defecating on a bed. She has denied the allegation.
It caught the attention of Wichita Police.
"We've already confirmed that this is NOT Amber Heard so please stop calling and emailing that info! Thanks!" the department said on Facebook.