Possible Active Shooter Safety Pods In Schools Enrage Twitter Users
In the wake of the mass shooting in Uvalde, Texas, the discussion surrounding safety pods being installed in some schools has enraged people on Twitter.
The tragedy at Robb Elementary School in Uvalde, Texas, in which 19 children and two adults were killed, was the second deadliest school shooting. Now, the discussion surrounding safety in schools has escalated, and the debate on gun reform laws has continued to polarize majorities.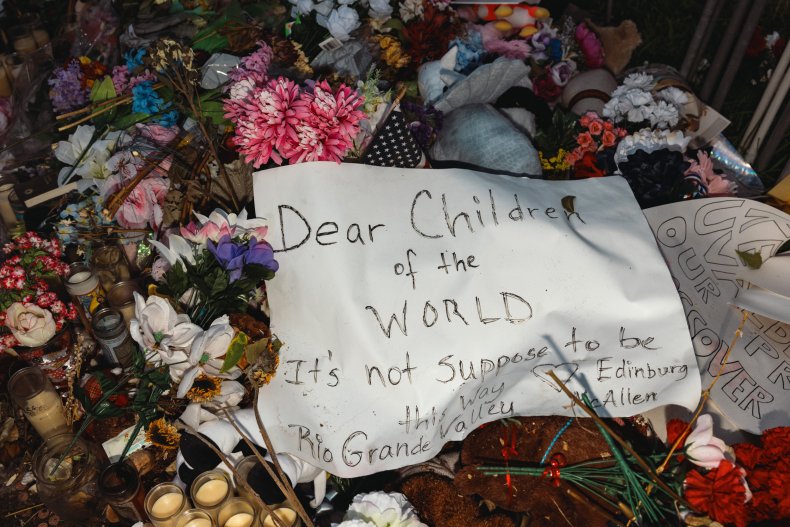 While some legislators across the U.S. have proposed arming their teachers and providing more police presence on campuses when classes resume in the fall, one survey showed that the majority of teachers don't want to be armed.
Meanwhile, others are discussing the idea of installing safety pods in classrooms, which has infuriated some Twitter users.
Amassing over 72,000 likes as of publication time, writer Hannah Grieco tweeted a photo of one of the white safety pods, writing, "Just got a PR email asking me to write about these new classroom safety pods. I hate everybody."
The safety pods, which are reportedly from National Safety Shelters, were initially used as tornado shelters, but serve a dual purpose in active shooter situations.
The Quitman School District in Arkansas first installed several shelters in 2018 before adding several more in October of last year. In a press release from the school district, which was shared with Newsweek, one parent was quoted as having said, "I'm so glad my children are here so they and I can have the peace of mind knowing that whether it's a tornado or a nut with a gun, my kids are protected."
Quitman School District Superintendent Dennis Truxler wrote in the press release that the district's student enrollment increased by approximately 20 percent after installing the pods, citing "parents' desire to send their kids to a safer school."
However, many Twitter users feel differently. Health economist Eric Feigl-Ding tweeted, "PROFITEERING—'Schools that install safety pods can see an increase in revenue due to higher enrollment, as parents feel secure in dropping their children off at schools that offer greater protection from active shooters'. Only in America."
Former professional basketball player Rex Chapman also commented on the safety pods, writing, "'Classroom safety pods'. In lieu of safe classrooms. What a joke."
"We don't have space for books, desks or extra school supplies to promote learning in our schools classrooms...we have to have space for these gigantic safety pods so people can have their military grade weapons," said another Twitter user.
Another said, "instead of better gun control we have opted for *checks notes* school shooting safety pods."
While most schools are out for the summer, the U.S. continues to experience mass shootings, including a deadly shooting at a Fourth of July parade in Highland Park, Illinois. Six people were killed and at least 30 more injured.
Newsweek reached out to National Safety Shelters for additional comment.