Pramila Jayapal Pushes Against Lowering Income Threshold for $1,400 Stimulus Checks
Democratic Representative Pramila Jayapal of Washington expressed her opposition to lowering the income threshold for the next round of stimulus check during a Sunday appearance on CNN's State of the Union.
Host Dana Bash asked Jayapal if the income limit needed to stay at $75,000, or would it be alright if it was lowered, since President Joe Biden suggested that he's willing to negotiate who receives direct payments.
Jayapal responded by saying the threshold must stay the same.
"It has to. If you raise those income thresholds, you will cut out 40 million Americans who got a relief check under Donald Trump who won't get a relief check under Joe Biden," Jayapal said. "That doesn't make any political sense to me."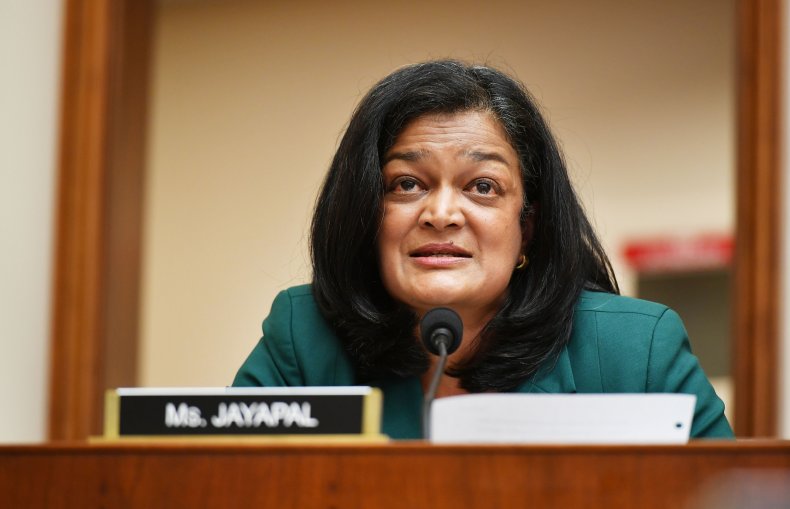 Jayapal then noted that the stimulus checks should be based on a person's most recent income instead of their income before the coronavirus pandemic.
"If you really wanted to target these checks, you would have recent income numbers," Jayapal said, noting that for most people income eligibility has been based on 2019 numbers even though "tens of millions of Americans lost their jobs in 2020."
"These income thresholds need to stay the same," Jayapal added. "We have people who are suffering...We need to get money in people's pockets, and this is the quickest way to do that."
Some Republicans and moderate Democrats have raised concerns that Americans who have not been economically disadvantaged by the coronavirus pandemic received the first and second round of stimulus checks.
These lawmakers suggested that the third round of direct payments should be more targeted, going to individuals earning $50,000 or less and couples making up to $100,000, instead of the $75,000 and $150,000, respectively, that was previously done.
Progressives have expressed their frustration with President Joe Biden for his willingness to discuss lowering the income threshold.
Jayapal, who chairs the Progressive Caucus, said lawmakers needed to fulfill their promise to provide direct payments in a tweet on February 6.
"We promised people that if we won the Senate, we would send out a $2,000 survival check. They delivered us to victory—and now we must deliver," Jayapal wrote. "Targeting checks to a smaller group fails to do that. People need help like never before, and we must put money in their pockets."
Senator Bernie Sanders of Vermont shared Jayapal's viewpoint.
"I strongly oppose lowering income eligibility for direct payments from $75,000 to $50,000 for individuals and $150,000 to $100,000 for couples," Sanders wrote in a February 6 tweet. "In these difficult times, all working class people deserve the full $1,400. Last I heard, someone making $55,000 a year is not 'rich.'"
Newsweek reached out to Jayapal's office, but didn't hear back in time for publication.