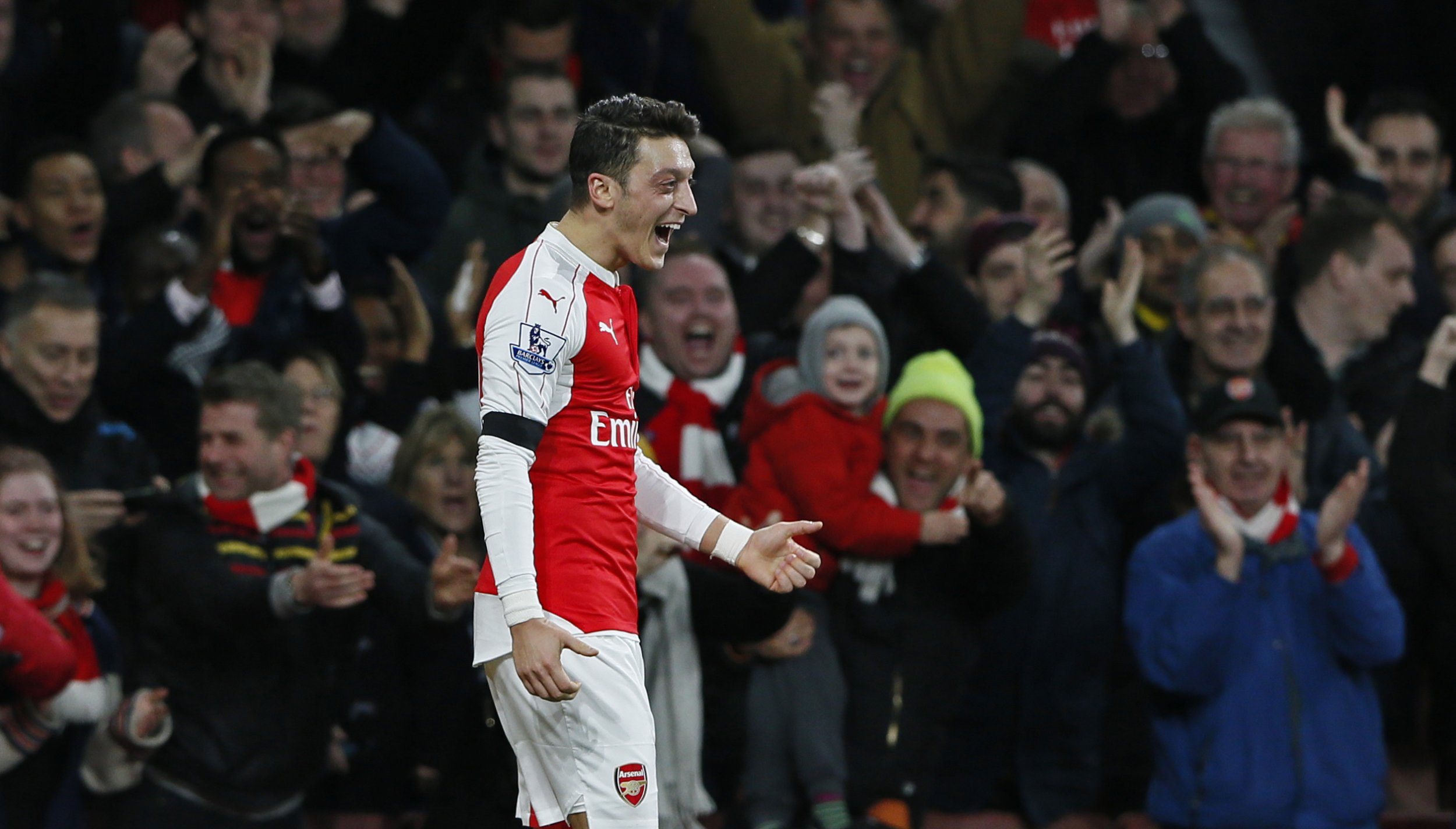 The Christmas-time fixtures come thick and fast for Premier League teams and, as such, they can often have an enormous influence on the final league table.
Arsenal ended the festive season on top of the pile, while Aston Villa look cut adrift from the pack. The five conclusions we drew from this holiday's Premier League football:
Going top of the table was the easy part—but can Arsenal stay there?
A routine victory over Bournemouth on December 28 took Arsenal top of the division by one point over Leicester City, which plays Manchester City Tuesday night. Another assist by Mesut Ozil, Arsenal's German midfielder, coupled with a goal, led manager Arsene Wenger to compare his influence and style to that of Dennis Bergkamp, a club legend. Everyone knows, though, that Ozil has been the crucial figure in Arsenal's rise to the Premier League summit.
But now the hard work starts. Chasing down a leader, with the accompanying adrenalin rush and lack of pressure, is fun. Usurping that leader means all the pressure is transferred to you, and with that comes fear and tension. Arsenal's 4-0 defeat to Southampton on Boxing Day showed the club still lacks consistency at crucial moments. Watching how it copes as a frontrunner will be fascinating.
Tottenham has the mettle to chase down the leaders
And this is a surprise, because often—too often—its recent seasons have been dashed by bad luck and unfulfilled promise. But the win away at Watford on Monday showed the kind of grit that Mauricio Pochettino, the club's manager, has been trying to instill in his team.
Having taken the lead through Erik Lamela—whose fine performances are proof that no player should be judged on his first season in the Premier League—Tottenham was pegged back by an equalizer from Odion Ighalo, the Watford striker. A previous iteration of the team, under more lackadaisical leadership than Pochettino's, might have folded. Instead it stormed back and snuck an 89th-minute win. These are the signs of a team prepared to scrap for points. Combine that with the quality that Tottenham possesses and the team can start to look towards challenging for the league.
Defensive errors have doomed Aston Villa
It appears inevitable, following the 2-0 defeat away to Norwich City at its Carrow Road home, that Aston Villa will be playing outside the Premier League for the first time in its history next season. The gap between Villa and Swansea City, which sits just outside the relegation zone, is 11 points, and Villa will also need to jump over Sunderland and Newcastle if it is to survive. The situation is all but impossible.
Norwich painted Villa's struggles in neon paint, for all to see. The first goal, when Villa captain Micah Richards allowed Jonny Howson far too much time to hammer home a volley, and the second, when Villa defender Kieran Richardson forgot—or could not be bothered—to run, giving Norwich striker Dieumerci Mbokani the chance to get in a successful header, both showed defensive frailties. Villa's attack is weak, but its defense is the area that has condemned the club to all but certain relegation.
Stoke City has become the Premier League's great entertainer
It is faintly staggering to think that when Stoke came into the Premier League, in the summer of 2008, it was derided as overly physical—a perception that was only strengthened when, in February 2010, defender Ryan Shawcross tackled Aaron Ramsey and accidentally broke the Arsenal midfielder's leg.
Under Mark Hughes, who took over from Tony Pulis as manager in May 2013, there has been a quiet revolution and thrilling attackers such as Xherdan Shaqiri, who scored twice in the 4-3 victory at Everton on December 28, are now taking the place of leaden-footed, brutalist midfield blunderers. Hughes' deftest touch, though, has been to blend those fleet-footed attackers with the likes of Shawcross, a burly defender, ensuring that Stoke has kept its toughness while gaining speed and skill. Those qualities have made it, six years on from its Premier League debut, one of the division's most fearsome propositions.
Southampton's regression is frustrating but understandable
A club can't sell as many valuable assets as Southampton has over the past two summer transfer windows and expect to keep its place towards the top of the league, let alone make progress. Its first season, in 2014-15, under Ronald Koeman was remarkable—it finished seventh and qualified for Europe, despite selling around £81 million ($120 million) worth of talent. Last summer it was again pillaged, losing defender Nathaniel Clyne to Liverpool, and Morgan Schneiderlin, its key midfielder, to Manchester United.
That talent drain has led to inconsistency, exemplified by the club's loss away to West Ham United on Monday night. To its supporters, it may appear that Southampton's main problem lies on the pitch. But that's not the whole story. The real issue is in the background—in the rush to make money off the talent it has developed, Southampton has stalled.
Uncommon Knowledge
Newsweek is committed to challenging conventional wisdom and finding connections in the search for common ground.
Newsweek is committed to challenging conventional wisdom and finding connections in the search for common ground.
About the writer
Sportswriter at Newsweek.