'President Javanka': Ann Coulter Says Ivanka Trump and Jared Kushner Run the White House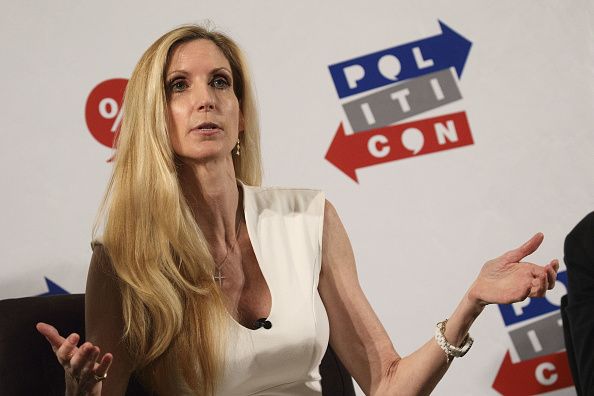 Conservative firebrand Ann Coulter has panned President Donald Trump's White House, suggesting that the president's daughter, Ivanka Trump, and her husband, Jared Kushner, are the "actual commander in chief," and that "this is not what anyone voted for."
Coulter made the comments in an op-ed for right-wing website Breitbart, citing a new book by investigative reporter Vicky Ward titled Kushner, Inc.: Greed. Ambition. Corruption. The Extraordinary Story of Jared Kushner and Ivanka Trump, which Coulter described as opening the lid on "our actual commander in chief: President Javanka."
Summarizing the book, Coulter describes a presidency that has been co-opted by "Javanka" for their own personal gain. "Until Trump's nomination was a virtual lock, Jared was back in New York pretending not to be related to him," Coulter wrote.
"Only after Trump had racked up a slew of primary wins did a lightbulb go on in Jared's head: Hey! This presidential campaign could be great for business! According to a close associate, Jared viewed the campaign as a terrific 'networking opportunity.'"
It is not the first time the commentator has criticized Donald Trump or his family members, despite being among his most ardent admirers during his presidential campaign. She has been outspoken in her disappointment at Trump's decision to end the government shutdown without securing border wall funds, claiming the president had failed his base.
"HEY! Who bet me that @realDonaldTrump was actually going to 'close the border'?" Coulter tweeted at the beginning of April after the president granted Mexico a 12-month period to tackle illegal immigration and drugs, continuing her critique of the president.
Coulter has also turned her attention towards Jared and Ivanka, tweeting in January: "Maybe the solution to the border crisis is not deporting 22 million illegals but one Jared Kushner."
More recently, tweeting about Ivanka Trump, Coulter said: "Dems demanding documents from Ivanka. They need to be more specific. She is a VERY high powered woman. Do they want documents on belts and handbags? Or shoes? If so, pumps or stilettos?"
For his part, Trump has hit back at Coulter over her comments, suggesting in February that the commentator was "off the reservation," and in March describing her as a "wacky nut job" over her criticism of his progress on the border wall.