In Return to Chicago, President Obama Calls for Merrick Garland's Nomination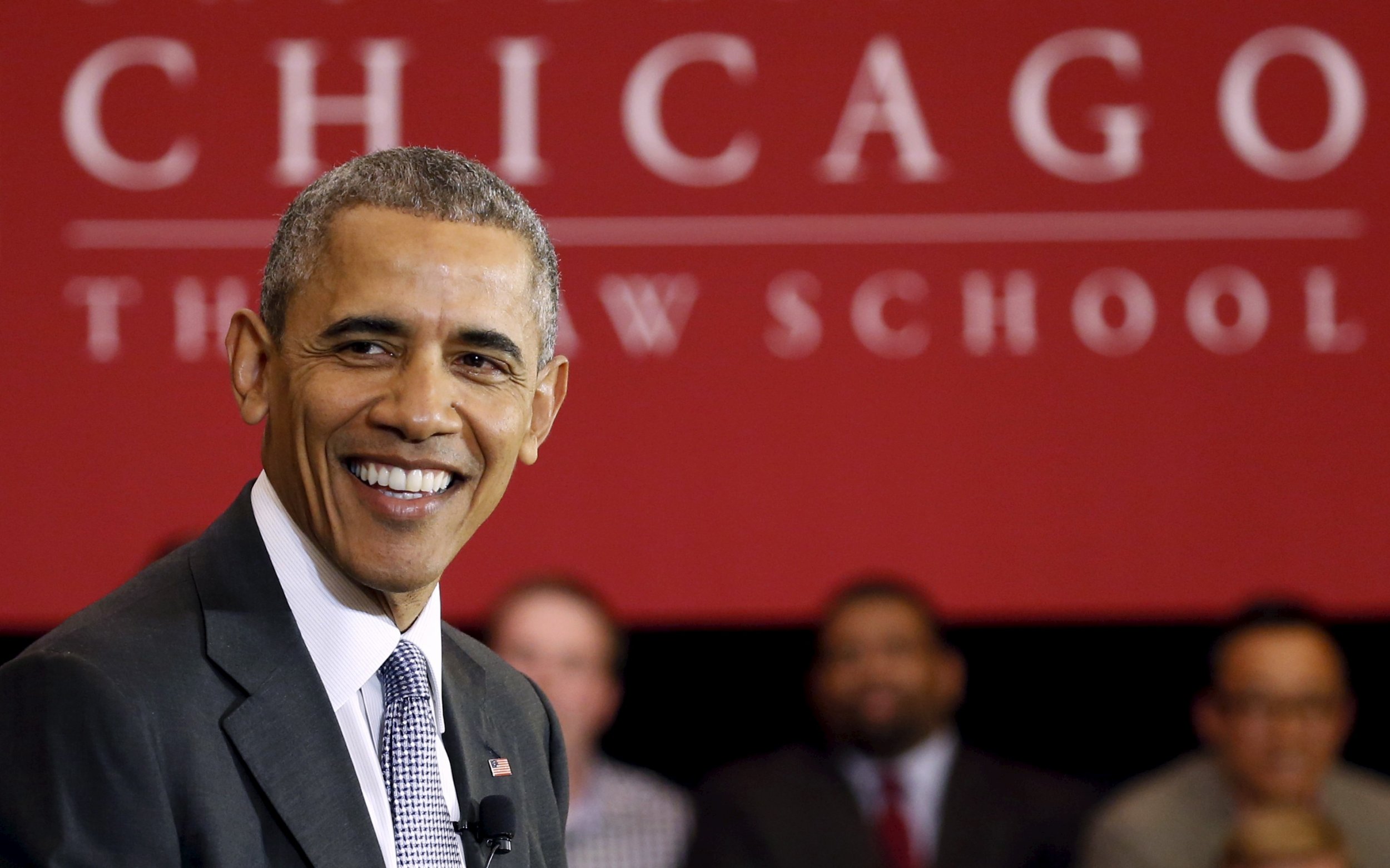 In his return to the University of Chicago Law School on Thursday afternoon, President Barack Obama said no one has denied Merrick Garland, his nominee for the Supreme Court, as being anything but an "extraordinary jurist who is indisputably qualified" to serve on the highest court of the land.
"It is uniformly viewed by not just Democrats but also Republicans…that he is as good of a judge as we have in this country right now," Obama said while speaking to students and faculty at the school. "He's fair, he's smart, he's objective, he's a consensus builder, he shows judicial restraint, he's appreciative of the unique role of the court, but also respectful of the other branches of government."
"No one has plausibly made an argument that this is not the kind of person that we'd want on the Supreme Court," he added.
Obama visited the university, where he taught constitutional law for more than a decade, to discuss with students and faculty the Senate's constitutional duty to provide Garland a hearing and vote. Last month, he nominated Garland, a federal appeals court judge who was raised in the Chicago area, as his choice to fill the vacant seat on the Supreme Court left by Justice Antonin Scalia when he unexpectedly died on February 13.
As they did just hours after Scalia died, top Republicans continue to say they won't give Garland a hearing. Their argument, which is supported by the Republican presidential candidates, is to wait for the next commander in chief to choose Scalia's replacement.
As Obama pointed out on Thursday, not only are Republicans, spearheaded by Senate Majority Leader Mitch McConnell, unwilling to hold a vote, but they have refused to hold hearings on Garland to find out what he thinks.
"It's not just a matter of who's occupying that ninth seat on the Supreme Court. It has to do with how we as a democracy operate and the particular authority that a court has to bring," he said.
Citing his commitment to appointing diverse judges to federal courts, Obama answered a question from an audience member by acknowledging Garland "is a white guy," then adding, "but he's a really outstanding jurist. Sorry."
"At no point did I say, 'I need a black lesbian from Skokie in that slot. Can you find me one?' That's just not how I approached it," he said.
Democrats have called on senators to fulfill their constitutional duty by holding a hearing and vote for Garland, as the Supreme Court faces issues ranging from immigration to abortion. The party's presidential front-runner, Hillary Clinton, has warned the pillars of the progressive movement are at risk of being overturned by the court in a single term.
The visit "is a reminder that our country and our democracy depend on the rule of law, and it is time that Republicans in the Senate stop hiding from their constituents, stop refusing to take calls from the people they represent and stop denying Chief Judge Garland serious meetings and consideration," Debbie Wasserman Schultz, chair of the Democratic National Committee, said in a statement ahead of the president's Chicago visit.
Obama was a professor and senior lecturer at the law school before he was elected to the U.S. Senate in 2004.
Scalia, a 79-year-old firebrand who was appointed by Ronald Reagan in 1986, left the court with eight justices. His death puts into question some of the court's stances on certain issues, as he held an unwavering conservative view and authored notable dissents and several groundbreaking majority opinions.
"Being a federal judge doesn't mean you have this broad writ to simply remake society," Obama said. "Ideally, you've got a political process that does that."