Trump Voter Fraud Panel's Work May Continue In Secret, Watchdogs Fear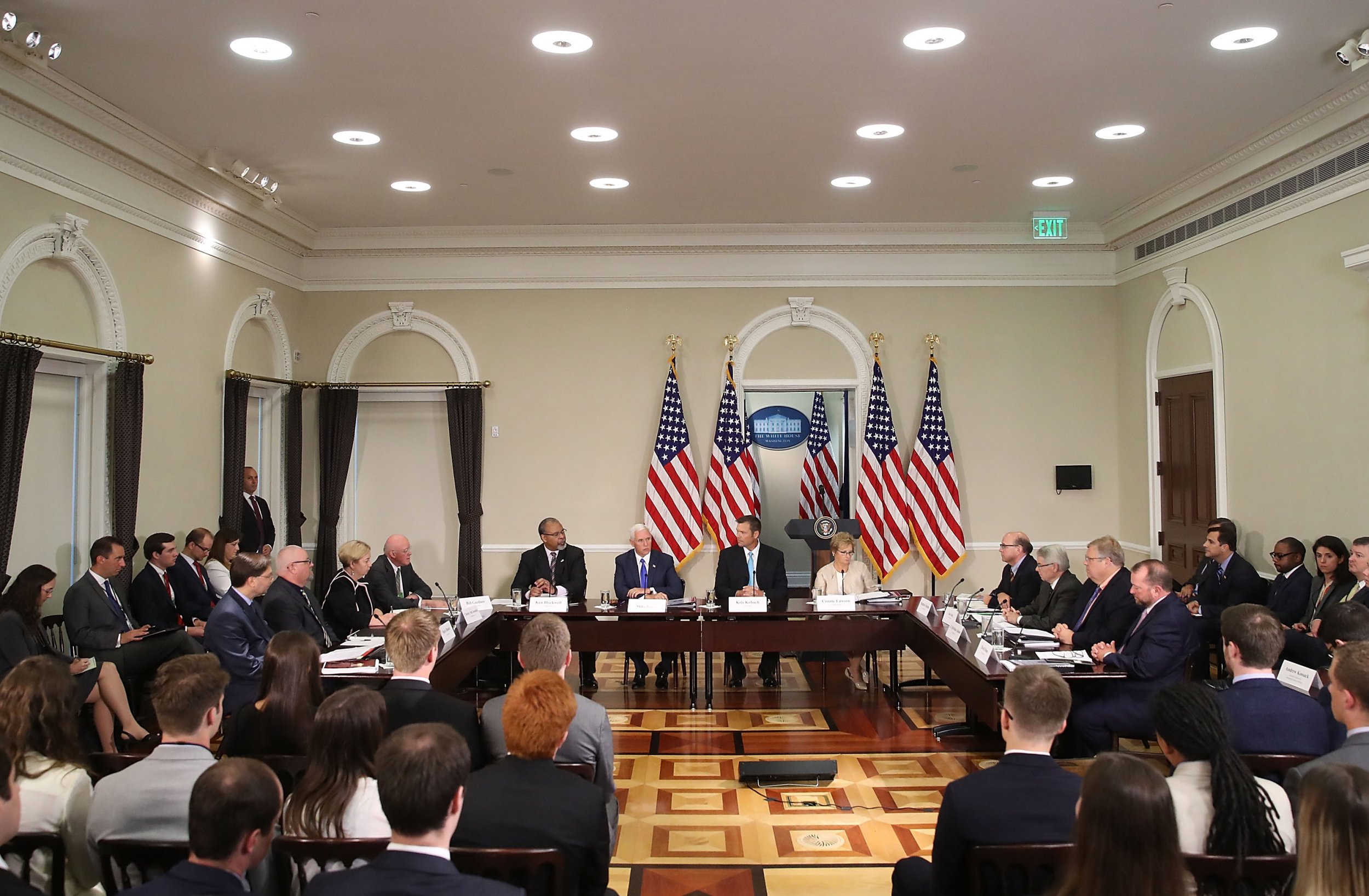 President Donald Trump dissolved what he once dubbed his "very distinguished voter fraud panel," but watchdogs and a prominent member of the now-defunct commission fear that its work will continue behind a new wall of secrecy.
Trump dumped his Presidential Advisory Commission on Election Integrity Wednesday night, claiming it couldn't carry out its mission of finding voter fraud because "many states have refused to provide the [commission] with basic information relevant to its inquiry." But in his announcement, the president, who has claimed (but never proven) that millions of people voted illegally in the 2016 election, instructed the Department of Homeland Security to "determine the next courses of action."
That set off an orchestra of new warning bells, with critics concerned that the commission might continue its work without the transparency of open meetings and records laws.
"I don't think the book's closed on this. I think the president saying he's going to shove this off to Homeland Security should alarm people," said Maine Secretary of State Matthew Dunlap, who sued the commission—while serving as a member—because he said even he couldn't get any information about what it was doing.
Ostensibly, he added, "Homeland Security could by rule do everything that most progressive people would fear happening to elections: Registration deadlines. Voter ID requirements. Restrictions on absentee balloting. Proof of citizenship."
The commission, which is also called PACEI, was set up by Trump to search for millions of ballots that were fraudulently cast and which, he claims, cost him the popular vote against Hillary Clinton in 2016. The work of the panel, officially headed by Vice President Mike Pence, was controversial from start, what with a request for detailed information about every registered voter in the United States—the very information that some states declined to provide.
And advocates and academics say PACEI was not created to improve the election system but to lay the groundwork for more restrictive voting laws. Those advocates remain on the case, even as the panel is folded.
"The fight isn't over, that's for sure," said Rudy Mehrbani, senior counsel at the Brennan Center for Justice at NYU School of Law.
The Department of Homeland Security, Mehrbani added, "should focus on securing our election infrastructure, not continue the charade" started by the voter panel (and) intimidate voters and suppress votes."
But members of the panel and the White House said the goal of PACEI was not to suppress legal votes, but to find voter fraud.
"Foes of election integrity lost their seat at the table," said Christian Adams, a PACEI member whose Public Interest Legal Foundation highlights and litigates alleged voter fraud. "Now the important work of improving the integrity of the election process will be done by people who believe in election integrity, not by those who seek to preserve vulnerabilities in the system.".He called out "news outlets and activists" for what he said was a willful choice to minimize or ignore credible evidence of "noncitizen voting, double voting, and defects in the election system."
Commission member Hans von Spakovsky, a senior legal fellow at the conservative Heritage Foundation, said Americans want "a secure system in which everyone who is eligible is able to vote and their vote is not diluted or stolen by fraudulent votes or administrative errors and mistakes by election officials."
He blamed the "unprecedented and unjustified obstruction by many state election officials" for getting in the way of that process, he told Newsweek via email. He also blamed "almost dozen meritless lawsuits that were filed against the commission by progressive advocacy groups."
The de facto leader of PACEI, Kansas Secretary of State and Republican gubernatorial candidate Kris Kobach, has not responded to multiple Newsweek requests for comment, but told Breitbart News he would be "working closely with the White House and DHS to ensure the investigations continue" into alleged fraud. He also "blasted organizations like the ACLU and NAACP, along with Democrats in Congress and on the commission, who attempted to halt the panel in its tracks," the right wing website said.
Although the commission has been officially disbanded, there are still legal and Freedom of Information Act requests pending that have not reached their conclusions.
As for Dunlap, he says the administration's excuse that information-seeking court cases derailed the commission to the point where it was better to kill than defend it is just weak.
"This notion that somehow the White House grinds to a halt because of lawsuits, to me, is absolutely laughable. I just don't buy it," he said. "I have to think that there is stuff in there there they didn't want us to see."
In the end, a White House source told Newsweek, "The consensus was that the best way to achieve the end of determining if there is widespread voter fraud...would be to operate or conduct this inquiry at an agency rather than house it at the White House, because that had a lot of limitations, including obviously the legal issues."
And, officially, Homeland Security said it was taking over the panel "in support of state governments who are responsible for administering elections, with efforts focused on securing elections against those who seek to undermine the election system or its integrity," agency spokesman Tyler Houlton in an email.
"Mr. Kobach is not advising the Department on this matter," Houlton added.
Clearly, the president is still focused on the issue, tweeting on Thursday, "As Americans, you need identification, sometimes in a very strong and accurate form, for almost everything you do.....except when it comes to the most important thing, VOTING for the people that run your country. Push hard for Voter Identification!"
But opponents of voter identification laws say they are a smokescreen to keep minorities from the ballot box.
"The President's support for voter ID laws is simply unconscionable," said California Secretary of State Alex Padilla, an early critic of PACEI. "Voter ID laws disenfranchise American citizens, including the elderly, young, poor, and persons of color, who are less likely to have a government issued ID and are therefore prevented from casting a ballot. The president should address Russian interference in our elections rather than creating roadblocks for Americans to vote."
Experts say there is virtually no voter fraud in America, with rates between 0.0003 percent and 0.0025 percent, according to the Brennan Center.
Trump Voter Fraud Panel's Work May Continue In Secret, Watchdogs Fear | U.S.